Events
Woodlands Symphony Undergoes Transformation for 2020
By |
THE WOODLANDS, TX – With the end of their spring season cut short, an always optimistic Woodlands Symphony Orchestra (WSO) went into action looking for new ways to stay alive this year. "There will be music in the air this fall – for all," according to Darryl Bayer, Artistic Director of WSO.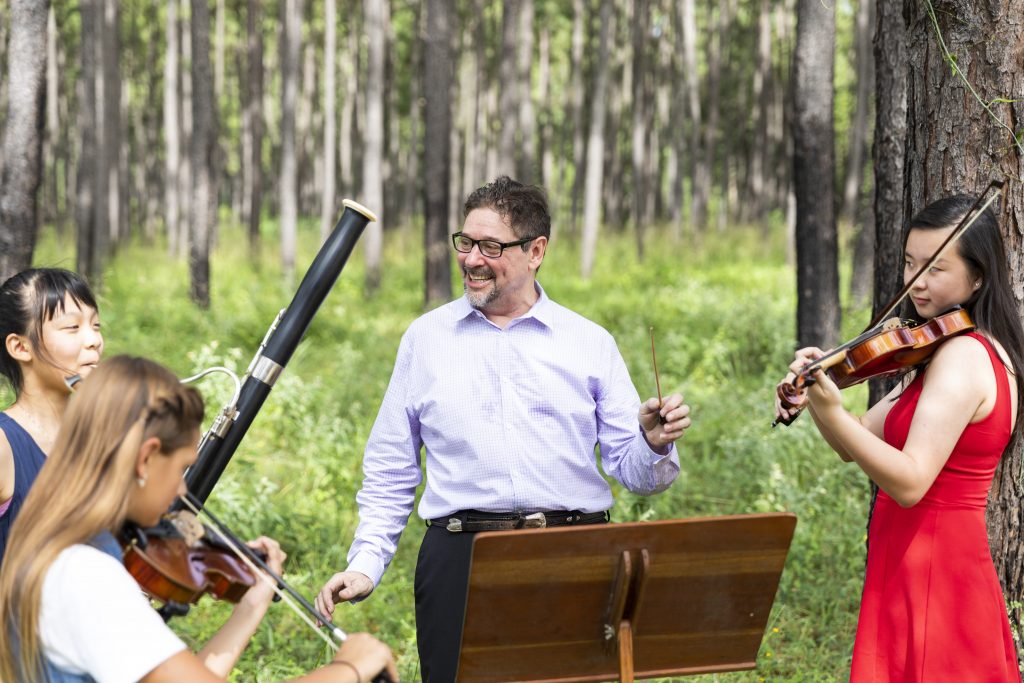 The first wave of restructuring began with partnering alongside two Woodlands music schools: Celebration Music School and Ethos School of Music. Celebration will host The Woodlands Area Youth Symphony (WAYS) for their rehearsals and concerts and Ethos with offer a band for home school students and the Woodlands Jazz Project. These three groups, under the direction of Maestro Bayer, with give the next generation of symphony, band, and jazz band musicians classes with a safe place to play while being trained up as future members of The Woodlands Symphony. Students will also have master classes and lessons offered by members of WSO along with opportunities to excel as featured soloists.
The second phase begins with a commitment to bring more outdoor concerts to the area for safe spacing and a family style atmosphere. This begins on September 19th partnering with The Woodlands Parks Department and Points North Theatre for an event at Northshore Park. The WSO will showcase their brass and percussion section for a feature concert followed by a production of Shakespeare's The Tempest where they will serve as the show's pit orchestra.
The WSO will continue their tradition of performing a free Christmas Concert this December with the location and date pending local approval. The symphony is also actively seeking additional Woodlands organizations that would offer to host an outdoor concert during the cool autumn weather.
The third wave is called Symphonic Metamorphosis. Each year the symphony names their season with a theme that will resound for the year. The orchestra will undertake a metamorphosis in a manner to combat Covid-19 with safe spacing for musicians and in doing so will break some traditions that are centuries old. Symphonic Metamorphosis is also a composition by 20th century composer Paul Hindemith and this piece will be featured on a major concert in 2021.
Registration and auditions for WAYS, Woodlands Jazz Project and Ethos Band are now open with limited enrollment. In response to Covid-19, Darryl Bayer is personally handling all requests to help those auditioning navigate the process and to answer questions. Please email director@woodlandssymphony.org or call/text: (832) 257-3048. Learn more on the symphony's website at www.woodlandssymphony.org.
The Woodlands Symphony Orchestra (WSO) is a successful fine arts addition that continues to enhance the cultural experience of The Woodlands and surrounding cities north of Houston. This not-for- profit organization works side-by-side with government (Arts in the Parks/Woodlands Parks and Recreation for Free Concerts) churches (Handel's Messiah Free Concert at Lord of Life Lutheran and this year at First Baptist Church The Woodlands and The Woodlands Methodist Church) and with schools (Lone Star College Montgomery – Home of the Woodlands Area Youth Symphony) to create opportunities for students and amateur musicians to perform alongside WSO professional musicians AND has initiated a new educational outreach program: Woodlands Area Youth Symphony (WAYS) — a student orchestra reaching out to Conroe, Tomball, Magnolia, Willis, Oak Ridge, Spring, Klein and The Woodlands.