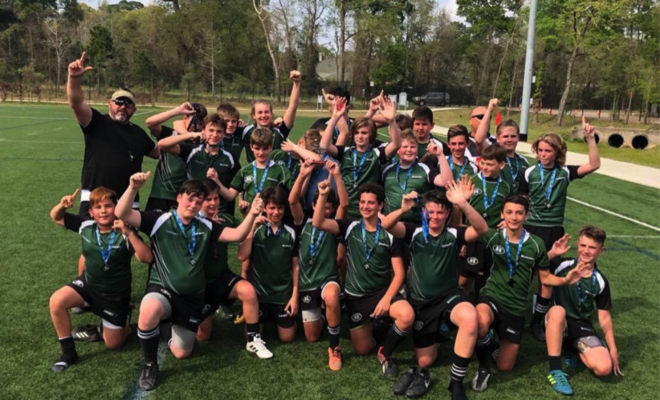 Fitness & Sports
Woodlands Youth Rugby holds inaugural Come and Take It Tournament
By |
The Woodlands, TX – The Woodlands Youth Rugby Club held its first 'Come and Take It' Rugby Tournament in The Woodlands, TX over Spring Break. Nearly 650 players representing 37 teams from across Texas descended upon The Woodlands Township Gosling Sports Fields on March 16th and 17th. Both boys and girls ranging in age from 5 to 18 came together for what is being recognized as the largest Rugby tournament to ever be held in the State of Texas according to officials with Rugby Texas, the youth rugby organizer for the State of Texas.
"As the defending state champions at the varsity level, Woodlands Rugby symbolizes excellence on the field. We have an amazing, capable Board and family of volunteers coupled with an incredible venue and are so proud to be able to bring so many players and teams to our hometown," said Charlie Hopkins, President of Woodlands Youth Rugby Club.
La Cueva Rugby, the 2017 Varsity State Champion from New Mexico and Pumas Rugby Unam, the number one U-18 team from Mexico, joined teams representing all areas of Texas. Pumas Rugby Unam defeated Woodlands Rugby on their own turf to win the Boys High School Bracket, while Woodlands Rugby Grades 1/2, Grades 5/6 and Grades 7/8 took home the CUP (First Place) and were crowned the Inaugural Champions of the 'Come and Take It' Tournament for their age groups.
More than 200 athletes ranging from Kindergarten to 12th Grade, representing Woodlands, Conroe, Montgomery, Klein, Tomball and Spring areas participate in the Woodlands Youth Rugby Club. The Club, founded in 2008, is a non-profit organization committed to providing community-based, recreational and competitive rugby programs for boys and girls.
Woodlands Youth Ruby Club is a multi-school club sport and competes in the Texas Youth Rugby Association playing both TYRA (Multi-School Clubs) and Texas High School Rugby Conference THSRC (Single School Teams).
For more information, see www.woodlandsrugby.org and www.rugbytexas.org
Top Photo: Woodlands Rugby's 7th and 8th Grade Team celebrate their Inaugural 'Come and Take It" Tournament Championship for the Boys Junior High Bracket this past weekend.