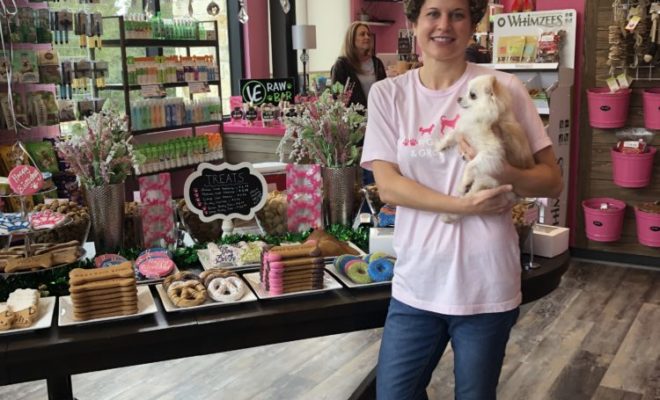 Pets
Woof Gang Bakery & Grooming Now Open in Creekside Park Village Green
By |
THE WOODLANDS, TX – The Howard Hughes Corporation has announced the opening of Woof Gang Bakery & Grooming as the newest tenant to join Creekside Park Village Green, located in Creekside Park Village Center in The Woodlands.
Woof Gang Bakery & Grooming is the leading specialty retailer of pet food, pet supplies and professional pet grooming in North America, with more than 110 locations across the United States.
"We are pleased to have Woof Gang Bakery & Grooming join the lineup at Creekside Park Village Green," said Rip Reynolds, Vice President of Retail and Commercial Land for The Howard Hughes Corporation. "Their store is a wonderful addition for the pet community within Creekside Park and The Woodlands."
Woof Gang Bakery & Grooming offers pet products such as leashes and collars, health pet foods, bones and chews, and baked treats for furry friends. The 1,731-square-foot store provides full-service grooming as well as a self-wash room for self-service grooming.
"Having been in the pet industry for ten years and as a resident of Creekside Park, I knew The Woodlands would be the perfect place to add another neighborhood pet store to my portfolio," said Kelly Ross, owner of Woof Gang Bakery & Grooming. "Woof Gang is committed to the well-being, health and happiness of pets with a service-oriented approach."
Creekside Park Village Green is located at 26400 Kuykendahl Road between Creekside Forest Drive and New Harmony Trail. Creekside Park Village Green highlights a scenic tree-lined park with lush perennial landscaping, pergolas and a water splash pad.
Retailers and restaurants located in Creekside Park Village Green include Artisanat Home Décor, AT&T, Creekside Family Eyecare, Creekside Park Family Dentistry and Cosmetic Dentistry, Creekside Village Dry Cleaners, Crust Pizza Co., Cupcakes and Bubbles, CycleBar, Edward Jones, EXIT Lone Star Realty, Fielding's Local Kitchen + Bar, Hand & Stone Massage and Facial Spa, Huntington Learning Center, The Joint Chiropractic, Jordan's Sweet Shoppe, Levure Bakery & Patisserie, Nails of America, Register Real Estate, Reserve Salon & Spa, Shogun Japanese Sushi & Grill, Club Pilates, Subway, UPS Store, Vein Clinics of America, The Woodlands Allergy, Asthma & Immunology Center and Woodlands Family Dental.
Joshua Sebesta with S&P Interests represented Woof Gang Bakery & Grooming while Rip Reynolds from The Howard Hughes Corporation represented the developer.
The Woodlands is a 28,000-acre master planned community located 27 miles north of downtown Houston. Throughout its 45-year history, The Woodlands has led the way among master planned communities that practice environmental preservation. It is home to over 117,000 people, and nearly 68,000 people work in the community. The Woodlands is one of the top-selling master planned communities in Texas and the nation. The Woodlands was named "Trailblazer of the Year" in 2018 by the Greater Houston Builders Association. The community was also consecutively named "Humanitarian of the Year" in 2017 and 2016 and "Master Planned Community of the Year" in 2015 by the Greater Houston Builders Association. For more information, visit www.thewoodlands.com.
The Howard Hughes Corporation owns, manages and develops commercial, residential and mixed-use real estate throughout the U.S. Its award-winning assets include the country's preeminent portfolio of master planned communities, as well as operating properties and development opportunities including: the Seaport District in New York; Columbia, Maryland; The Woodlands, The Woodlands Hills, and Bridgeland in the Greater Houston, Texas area; Summerlin, Las Vegas; and Ward Village in Honolulu, Hawaiʻi. The Howard Hughes Corporation's portfolio is strategically positioned to meet and accelerate development based on market demand, resulting in one of the strongest real estate platforms in the country. Dedicated to innovative placemaking, the company is recognized for its ongoing commitment to design excellence and to the cultural life of its communities. The Howard Hughes Corporation is traded on the New York Stock Exchange as HHC. For additional information visit www.howardhughes.com.