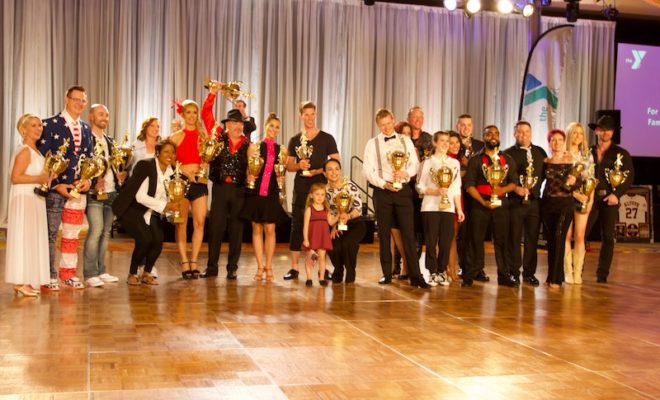 Events
Stars dance for a Cause in The Woodlands
By |
On Thursday, April 12, 2018, volunteer "community stars" and dance professionals took to the dance floor at the 6th Annual "Dancing with The Woodlands Stars" to compete for votes and raise funds for The Woodlands Family YMCA. Every dollar raised – from ticket purchases, auction items and online votes – benefitted to The Woodlands Family YMCA.
The Woodlands Family YMCA provides more than $600,000 annually in financial assistance to local families. The support and funds raised from the event makes community-strengthening Y programs like swim lessons, after school care and youth sports available to everyone regardless of age, income or background.
The unique charity event was held at The Woodlands Waterway Marriott and featured 12 local leaders as the live dance entertainment including:
Lisa Brooks: Consolidated Communications
John Garrett: RE/MAX Carlton Woods
Whitney Montgomery: Memorial Hermann The Woodlands Medical Center & The Woodlands Lifestyles & Homes Magazine
Krystal Hopton: CHI St. Luke's Health The Woodlands
Dan Altom: The Woodlands Young Learners Academy
Dr. Jenifer Powers: Texas Children's Hospital The Woodlands
Dr. Jay Kovar: Tomball Regional Emergency Physicians PA and Phi Air Medical Texas
Jen Bruse: Hello Woodlands
George Musselman: Bogart Wealth
Marc Atnipp: FDI Creative
Henry Stevens: Investment Advisory Services Inc.
Cindy Bryson and Justin Staats: Veteran Heroes for Freedom
Patricia Rochester of Patricia's Dance Lessons partnered with the Y to provide the dance partners, lessons and choreography for the community stars.
Dana Tyson of Sunny 99.1 and Ted Oberg with ABC13 were the emcees of the evening, also including live and silent auction, dinner, and dancing after the performances.
Raising over $6,500 for the cause, Whitney Montgomery of  Memorial Hermann The Woodlands Medical Center & The Woodlands Lifestyles & Homes Magazine and her parter Jorge Barquet of Country Dance Houston won first place in the dance competition.
Visit the Hello Woodlands Facebook page for more photos and videos from the evening!
First organized in 1886, the YMCA of Greater Houston is one of the city's leading nonprofits dedicated to strengthening communities through youth development, healthy living and social responsibility. The YMCA, a United Way of Greater Houston agency, seeks to serve all – regardless of age, income, faith or background and we welcome everyone. In the greater Houston area, 36 YMCA centers, one overnight camp and hundreds of program sites nurture the potential of children and teens, improve the city's health and well-being, and provide opportunities to give back and support neighbors. Anchored in the Houston community, the Y has the long-standing relationships and physical presence not just to promise, but to deliver lasting personal and social change. To learn more, call 713-659-5566 or visit ymcahouston.org.
For more information and details about the event, visit ymcahouston.org/dancing-with-the-woodlands-stars.