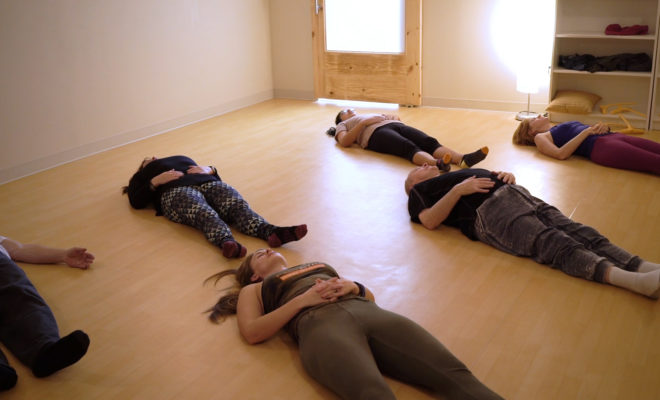 Fitness & Sports
Yoga providing relaxation, more energy at Body & Brain Conroe
By |
The Woodlands, Texas – Health. Happiness. Peace. That's Cherie Clark-Moore's goal for members at her new holistic yoga center, Body & Brain Conroe on FM 1488.
Body & Brain Conroe offers more than just yoga classes. Owner and chief instructor Cherie Clark-Moore strives to foster a sense of community. "In each class, we engage with each other and share our experience, and everyone is encouraged to stay and bond over a cup of healing tea after class."
Clark-Moore works with members to understand more about their physical and emotional goals and regularly checks in with them to gauge their progress and how she can best help them achieve their goals through regular classes.
"There's always a meditation time," said Chris Beck, a retiree who aims to attend classes four to five times a week. Over many months of continuous yoga, both Beck and his ex-wife have seen a significant reduction in knee pain and increased energy and relaxation.
Rooted in a rich Korean tradition, Body & Brain's style of yoga incorporates stretching and movement, breathing, and meditation all with a deep awareness of one's body.
"I'm enamored with it," said Ana Maidenberg, who's been taking yoga for 11 years and attending Clark-Moore's classes for the last 18 months. "You really get in touch with both your body and your brain—it's not about seeing what poses you can get into, but healing and feeling the energy everyone brings to the class to help you focus on what you're there to do."
Clark-Moore also finds that increasing numbers of her members are referred by doctors and chiropractors for a variety of ailments.
"Through the personalized introduction and healing sessions, people come to understand the condition of their body and mind and how that may be related to other areas of their life," explained Clark-Moore. "I help people understand the body's energy meridians and the relationships between different parts of our bodies. Discomfort in one area may actually be indicating an energy blockage from imbalance or stress in another area."
Clark-Moore encourages people to invest in a year of yoga classes to enhance their quality of life, increase energy and activity and reduce stress.
"I want people to understand, it's not selfish to take time for yourself," said Clark-Moore added. "We find it hard to invest time and money on ourselves, but I've done it and have seen the dramatic impact it can have on your life."
Maidenberg finds routinely attending Body & Brain classes alleviates her "mom guilt" of taking time for herself.
"I committed to making this part of my routine and self-care," said Maidenberg. "It's great to be in a room with a lot of busy people who care about their own health. Cherie's a busy mom of twins, a busy wife, and a busy business owner, and she gifts us this space to release the weight of our responsibilities."
"By the end of each class, I feel more relaxed and in a better mood. I have more energy to go about my day," added Beck.
Clark-Moore experienced the impact of yoga on her personal life, after moving to The Woodlands in 2014 with two-and-a-half-year-old twin girls for her husband's job. "Before finding this practice, I felt anxious and uptight most of the time. Through Body & Brain's classes and programs, I've let that stuff go, and I'm much happier. And when I'm happier, my kids and family are too."
"I realized I can change myself—manage my stress, my anxiety, my emotions. I can be a better example for them," she added.
Body & Brain Conroe also offers personalized healing sessions and aura readings, in addition to regular classes and workshops. Family classes and men's only classes are also planned in the coming months. For more information and class schedules, visit https://www.bodynbrain.com/conroe.
By Sarah Greer Bartnick. Sarah Greer Bartnick covers businesses and events in The Woodlands and provides communication strategy services to local clients. After attending Baylor University, Sarah spent a decade in Washington, DC, as an aide at the White House and U.S. Capitol and as a strategic communication consultant to government clients through a large consulting firm. She lives in The Woodlands with her husband, two young children and Havanese puppy.