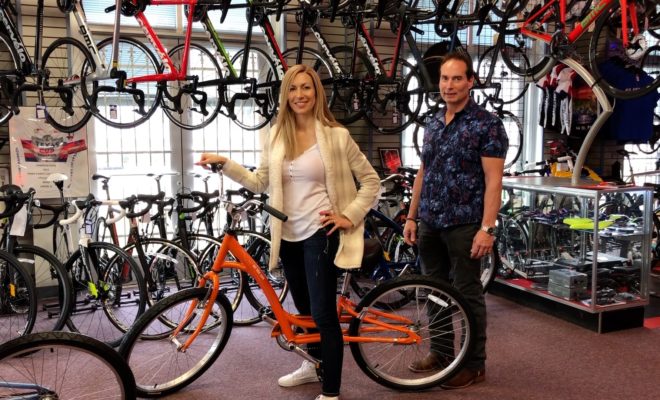 entertainment
Bike Lane donates bicycles to Inspire Film Festival
By |
Bike Lane, a family owned bike shop located at 17937 Interstate 45 S in Shenandoah, Texas, has been serving The Woodlands area since 1995. Not only is their team dedicated to helping beginners to professional athletes with all of their bicycle needs, but they are also passionate about giving back to the community.
When the Inspire Film Festival, the five day film festival in The Woodlands, was faced with a transportation dilemma, it's no surprise that Ken Thurlow, the owner of from Bike Lane, was ready to help. The festival's production and technical crews needed a quick easy way to travel from film to film at four locations throughout The Woodlands from February 15th through the 19th. Ken gladly stepped in and donated three Smoothie bicycles, easy for cruising and transportation, in the colors of the Inspire Festival – light blue, dark blue and bright orange.
Watch what happened when Jenn Bruse from Hello Woodlands visited Bike Lane on the Hello Woodlands Facebook page!
The Inspire Film Festival is dedicated to entertaining and inspiring audiences with films and stories that celebrate the human spirit. The festival will be showcasing 13 feature length films and 18 shorts that will be played at four locations in The Woodlands: Cinemark 17 & XD (Tinseltown), Cinemark in Market Street, Insperity Pop Up Theater, and Waterway Square as well as events at Glade Gallery. The films were selected based on their ability to enlighten as well as entertain audiences, and all are beautifully shot in fascinating locations around the world.  Each screening will be followed by a lively panel discussion with the filmmaker and/or subject of the film, and pass holders will be able to attend a number of informal meet and greet events around The Woodlands. Learn more about the festival and purchase passes at www.inspirefilmfest.com.
Have you seen the "Go See Ken" bumper stickers around town – or even around the world? GO SEE KEN® started in 2015 by Ken's fiancé – now wife – who was told to "Go See Ken" when looking for a local bike shop. As other cyclists, clients, and fans begin using the phrase "Go See Ken" – the idea and the bumper sticker was born.
Whether you're in need of service, advice, or a new bicycles, Ken and his team are ready to help. Bike Lane carries a wide selection of bikes and accessories, including road triathlon, BMX, casual and kid's bicycles plus a wide assortment of clothing and helmets to get you and your family peddling. Learn more about Ken and Bike Lane at www.bikelanehouston.com and follow Bike Lane on Facebook here.