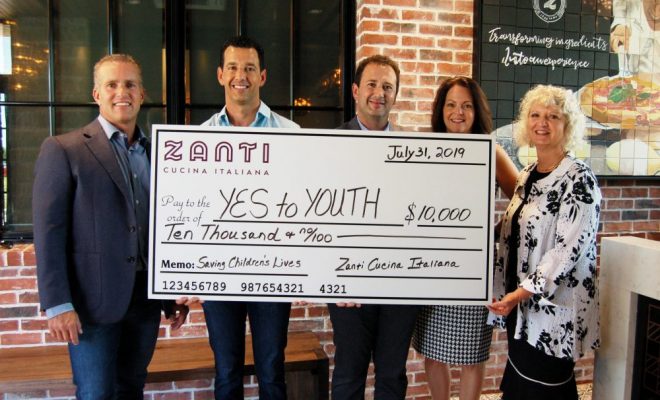 Lifestyle
Zanti Cucina Italiana Donates $10,000 to YES to YOUTH
By |
THE WOODLANDS, TX – The newly-opened Zanti Cucina Italiana restaurant has recently donated $10,000 to YES to YOUTH – Montgomery County Youth Services from proceeds raised during its soft opening.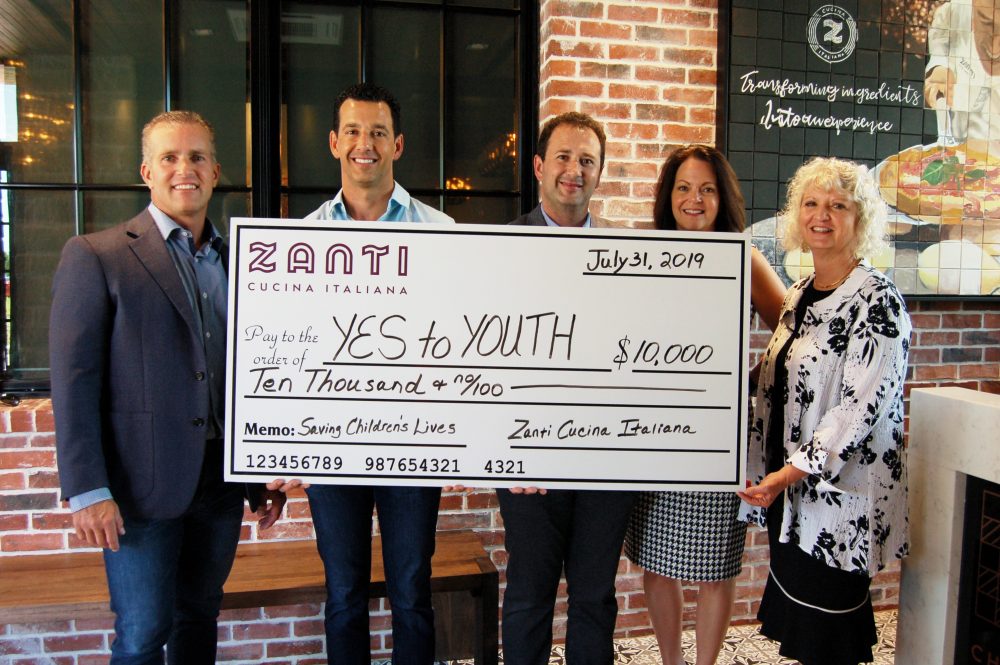 Located in the Westgate Crossing Shopping Center at the corner of 10000 Research Forest Drive and Egypt Lane in The Woodlands and Magnolia area, Zanti Cucina Italiana offers authentic, traditional Italian cuisine in a high-end, yet casual, atmosphere.
It is owned by the Pelaez brothers, who come from a long line of family-owned hospitality businesses. They learned about YES to YOUTH by Brent Everson of Everson Developments, the developer of the Westgate Shopping Center. The Everson family along with Brent's parents Lloyd and Jacque Everson have been long-time supporters of the organization.
YES to YOUTH is a nonprofit organization (formally called Montgomery County Youth Services) that provides crisis counseling, shelter programs, prevention services and empowerment to young people to strengthen families, teach the youth that they are worth it, they deserve safety and security, and that they will succeed in life. Services include individual, group and family mental health counseling; presentations and school counseling in crisis situations; suicide prevention for youth and families; BridgeWay Emergency Youth Shelter (for ages 10-17); street outreach for homeless teens; and Healthy Support Program for pregnant and parenting teens.
"We are passionate about supporting local charitable organizations, and when Brent told us about the important services that YES to YOUTH provides for kids in need, we knew we wanted to focus on contributing to that charity," said Santiago Pelaez. "We are proud to support such a worthwhile nonprofit organization that is making a difference in the lives of so many young children in need."
Dannette Suding, CEO of YES to YOUTH, added, "We are so grateful to Zanti Cucina Italiana. Their generous donation will help us continue to save children's lives as we house battered and abused children. Additionally, we will be able to continue our mental health counseling to help prevent teen suicide and teach children they are loved and that we care about them. Childhood is such a precious time and Zanti's is helping keep it that way. We are so grateful for their giving hearts that help us take care of these children."
Zanti Cucina Italiana is a member of The Woodlands Area Chamber of Commerce and the Magnolia Parkway Chamber of Commerce. Zanti Cucina Italiana is open for lunch and dinner seven days a week. For more information, visit www.zanticucina.com.