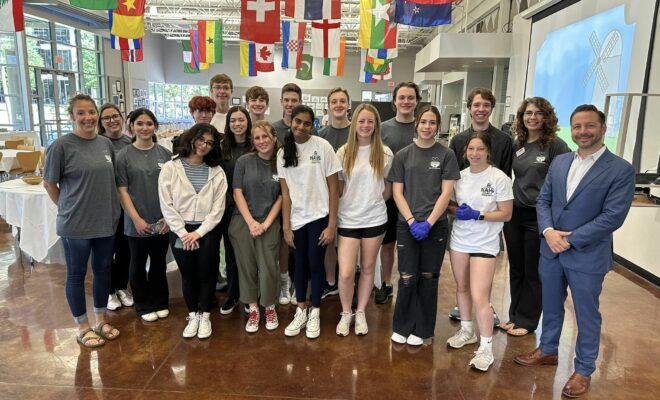 Photo Credit: Jennifer Bruse
Events
17th Annual Empty Bowls raises funds for Interfaith Food Pantry
By |
The John Cooper School National Art Honor Society (NAHS) students continued its tradition of raising funds to help fight hunger in our community by sponsoring the 17th Annual Empty Bowls Project on Saturday, April 22. The 2023 Empty Bowls was held in Sims Student Center on The John Cooper School Campus from 10:30 a.m. to 2 p.m.
View photos from the event on the Hello Woodlands Facebook page:
The National Art Honor Society at The John Cooper School is a student led organization whose mission is to build strong connections to their school and local community while fostering creativity and empowering each other through the arts. NAHS members volunteered to help with every aspect of the event, from checking in guests and engaging some of John Coopers youngest Empty Bowls participants to serving soup and demonstrating how the bowls are made.
Empty Bowls is a grassroots movement by artists and crafts people in cities and towns around the world to raise money and awareness for food related charities to care for and feed the hungry in their communities. Empty Bowls supports food-related charitable organizations around the world and has raised millions of dollars to help end hunger.
The public was invited to this annual event that has helped to raise over $125,000 over the past 16 years to support those families facing food-insecurity within The Woodlands Community. The event's activities included face painting, coloring, crafting for the kids, and a silent auction.
All proceeds will go to support Interfaith of The Woodlands Food Pantry, a food pantry that is available to individuals and families who are facing food insecurity. Interfaith's Food Pantry program includes Nutrition Every Weekend which provides backpacks of food for children at risk of hunger over the weekend during the school year, Seniors Eating Well a grocery delivery to homebound senior adults, On The Go Market Days a mobile food pantry that takes food assistance to high need areas, and Veggie Village which is two community gardens that provide fresh organic produce to the Food Pantry.