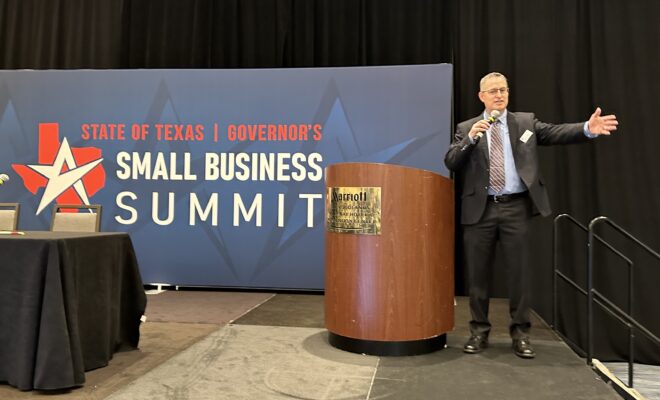 Photo by Tiffany Marascio, Hello Woodlands
Business
2023 Governor's Small Business Summit – The Woodlands
By |
THE WOODLANDS, TX – The 2023 Governor's Small Business Summit – The Woodlands was held on June 15, 2023 at The Woodlands Waterway Marriott Hotel & Convention Center, to assist entrepreneurs and their team members, those wishing to start a small business, and anyone looking to learn more about small organizational operations. The summit was hosted by The Governor's Office of Small Business Assistance, in partnership with the Texas Workforce Commission and The Woodlands Area Chamber of Commerce.
View photos of the event on Hello Woodlands' Facebook page here:
Topics included essential business issues including cybersecurity, funding, continuing education, and marketing. Resource providers from federal, state, and local agencies were on hand to provide information about specific aspects of running a small business. Additionally, attendees had access to free headshots during the event.
There were four panels, moderated by local experts in their fields. Guests were given the opportunity to ask questions during the panels and speak with the panelists after the summit.
The panels included:
Cybersecurity: Protecting Your Company in a Digital Economy
Moderated by: Gil Staley, CEO of The Woodlands Area Economic Development Conference
Workforce Development: Micro-Credentialing & Certifications
Moderated by: Nick Wolda, President of Visit The Woodlands
Access to Finance & Funding
Moderated by: Winston Labbé, Lead Lender Relationship Specialist of the U.S. Small Business Administration
Marketing & E-Commerce Essentials
Moderated by: Linda Nelson, Director of Business Development & Marketing of Memorial Hermann The Woodlands Hospital
The marketing panel included Jennifer Bruse, Owner and Founder of Hello Woodlands.
Resource providers included: Gulf Coast Workforce Solutions, Houston Community College – Entrepreneurial Initiatives and Community Relations for Women of Color, Lone Star College, Port Houston, Southwest Trade Adjustment Assistance Center, Texas Department of Agriculture, Texas Department of Information Resources, Texas Department of Insurance – Division of Workers' Compensation, Texas Department of Insurance – Occupational Safety and Health Consultation, Texas Manufacturing Network (TMAC), Texas Workforce Commission, Texas Veterans Commission, U.S. Department of Agriculture – Texas Rural Development, and the U.S. Small Business Administration.