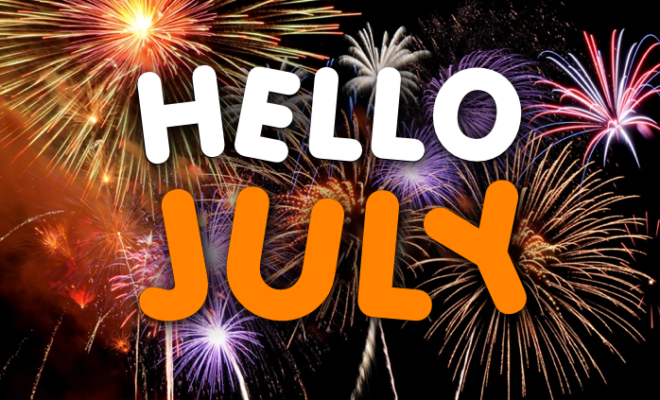 Calendar
31 Things to Do in July
By |
Hello July! Discover what's happening with Hello Woodlands' "31 Things To Do" monthly guide featuring events, activities, locations, and ways to get involved in your community.
Join us this July by trying new activities and attending events in and around The Woodlands, Texas. Be sure to follow us on social media at @HelloWoodlands and subscribe to our email newsletter to stay updated for upcoming events, ticket giveaways, live videos, photos, and so much more!
CLICK HERE TO DOWNLOAD THE 31 THINGS TO DO GUIDE
31 THINGS TO DO – JULY 2019
FEATURED EVENTS
Sign up for YMCA Dragon Boat Races! Are you looking for a unique, fun and easy team-building outing? YMCA Dragon Boat is for you. The event will be held September 26-29, 2019 and promises teamwork and camaraderie at their best, and allows participants to visit and play with old friends and make new friends. Working hard to reach your goal as a team and having FUN! Who will take home the coveted "Dragon"? The event features 6 different team activities, but the Dragon Boat Races are the main event. Teams participate in one 4 hour bracket, morning or afternoon, during the 4 day event. Register Here
July 3 – Houston Symphony Star-Spangled Salute – The FREE Independence Eve tradition is back! The Star-Spangled Salute marks the beginning of the Independence Day celebrations for many locals – it's a perfect way to unite together, remember our veterans and enjoy patriotic hits from across the years. Gates open at 6:30 pm and Show starts at 8:00 pm. Learn More
July 4 – Valley Ranch 4th Fest – Mark your calendar for Thursday, July 4th from 2:00 pm to 10:00 pm for a jam packed day full of Texas Country concerts, featuring Pat Green, JB & The Moonshine Band, Max Stalling, and Jody Booth PLUS food trucks, BBQ cook-off, cirque acts, and plenty of activities for the entire family to enjoy. Bring your lawn chairs and blankets to celebrate America's Independence with a fireworks show! Purchase Tickets
July 25 – U.S. Army Field Band & Soldier's Chorus Free Concert – The internationally acclaimed United States Army Field Band and Soldier's Chorus of Washington, DC will continue its long tradition free public performances as part of the Pavilion's 30th Performing Arts Season. This is a free event and tickets are not required. Gates open at 6:00 pm, Show starts at 7:00 p.m. Learn More
Visit the Hello Woodlands Calendar for MORE events, event information, details, directions, and links!
CLICK HERE TO DOWNLOAD THE 31 THINGS TO DO GUIDE
JULY EVENTS
July 1-31 – Register for Sunny Dayz Teen Camps – For the second year in a row, The Woodlands Township will offer a distinctive camp just for teens between the ages of 13 and 15. Sunny Dayz Teen Camp is offered at the Recreation Center at Rob Fleming Park. Teen campers will participate in gym games, outdoor activities, weekly field trips, participate in service projects around the community, and swim at Rob Fleming Aquatics Center, separately from Sunny Dayz camp. Register Here
Come soar with us! The Woodlands Methodist School provides an exceptional, Christian education for all ages from 18 months through 8th grade. Submit your child's 2019 – 2020 enrollment application today and become an Eagle. Find more information at twmschool.org and schedule a tour by calling (281)822-8220.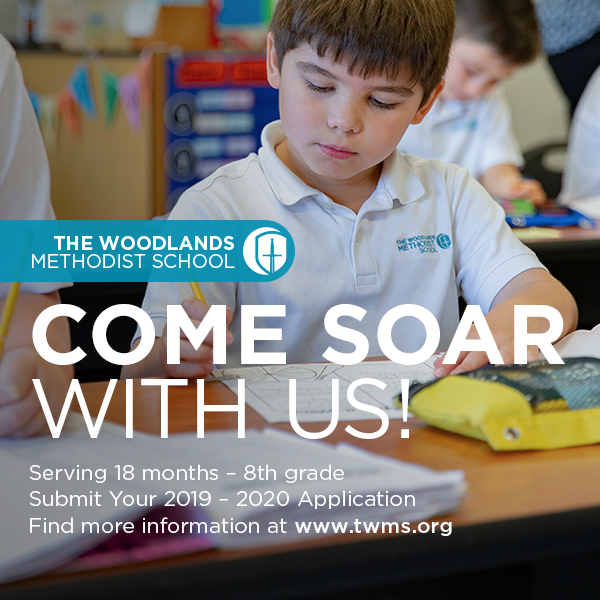 Tickets go on sale July! Purchase your Tickets for the Signatures Author Series – The 15th Annual Signatures Author Series on Friday, December 6 will feature bestselling American novelist Maria Semple, author of 3 novels, including Today Will Be Different, Where'd You Go, Bernadette and This One Is Mine. The movie version of Bernadette is due out this August featuring Cate Blanchett. Reserve early for best seats! A portion of the proceeds will benefit a local literacy organization. Purchase Tickets
July 1, 8, 15, 22, 29 – All About Moms Support Group – A support group for new mothers and their babies (0 – 1 year) facilitated by a Registered Nurse. Meetings are held every Monday from 10:00 – 11:30 a.m. (except holidays) at Memorial Hermann The Woodlands Perinatal Educational Classroom. Due to the time, attention, and safety of the class, please make other arrangements for older children. Learn More
July 1-7 – Military and First Responder Appreciation Week – The shops at Old Town Spring will be showing appreciation for all those that serve and protect our communities, from donating a portion of their sales to a worthy charity to offering discounts and giveaways to all that serve. Learn More
July 2 – Comedy Magic Show – Head to the South Regional Library to see professional magician John O'Bryant use magic and comedy to encourage children to read and help them realize that whatever they want to learn can be found in a book. This program is most appropriate for children over the age of 3. Showtimes are at 10:00 a.m. and 11:00 a.m. Learn More
July 4 – Red, Hot, & Blue Festival – Celebrate freedom in The Woodlands with great food, live entertainment, children's activities and family fun at multiple locations around The Woodlands! The event culminates with one of the largest fireworks displays in the Greater Houston area.All sites will feature live music beginning at 6:00 p.m. with bands playing until the Fireworks Extravaganza at approximately 9:30 p.m. Learn More
July 4 – Splash Day at Township Pools – Cool off on the Fourth of July at one of the Township's community pools! The lifeguards at each pool will select a special theme and provide free activities and refreshments while supplies last. Pools will be FREE to all residents from 10:00 a.m. to 6:00 p.m. with activities occurring between noon and 4:00 p.m. Learn More
July 4 – Oak Ridge North July 4 Parade & Car Show – Head to Oak Ridge North for the annual 4th of July parade, party in the park and classic car & truck show. There will be a patriotic parade around the city, ending in Marilyn Edgar Park. with music, kids entertainment, food and of course the classic car & truck show. Learn More
July 4 – Tomball's July 4 Celebration & Street Festival – Scheduled to perform an evening of Country tunes and Southern Rock is Texas Country Music Hall of Fame group, The Posse. There will be a special patriotic tribute to America and its veterans, food vendors, and a giant kids' zone, followed by an aerial fireworks display at dusk. Admission and parking are free. Learn More
July 4 – Animal Shelter Reading – Who Rescued Who has partnered with Montgomery County Animal Shelter Texas and Lone Star Animal Welfare League to redirect attention from the noisy, frightening sound of fireworks – to calm reading voices. All are welcome to come read, play music, or simply chat with a shelter animal. Lonestar Animal Welfare League will sponsor FREE microchips at MCAS on July 4th. The five dollar admission per person includes a "backyard BBQ meal," refreshments and admission to read. Learn More
July 6-7 – Newsies The Musical – Stop the Presses! This Disney film turned Tony-winning Broadway hit inspires everyone to fight for what's right and seize the day. Based on the 1992 motion picture and inspired by a true story, Newsies features a Tony Award-winning score by Alan Menken (Little Shop of Horrors, Sister Act) and Jack Feldman, and a book by Tony Award winner Harvey Fierstein (Kinky Boots). Featuring the now-classic songs "Carrying the Banner," "Seize the Day," and "Santa Fe," Newsies is packed with non-stop thrills and a timeless message, perfect for the whole family and every audience. Purchase Tickets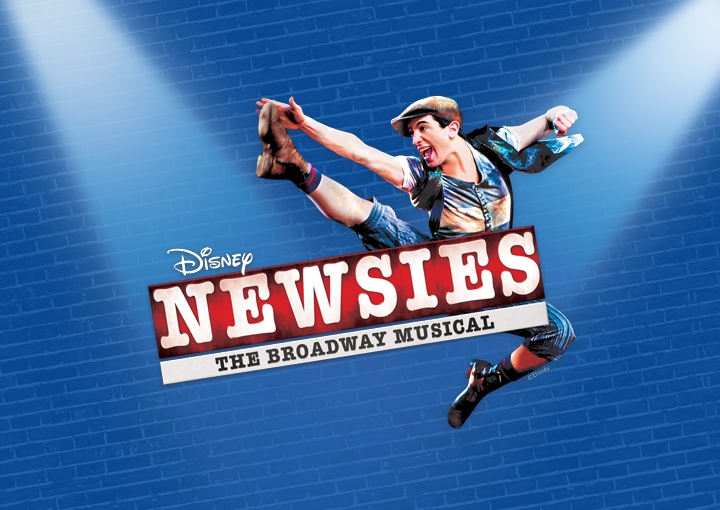 July 7 – Santana with The Doobie Brothers – Santana's smooth guitar and distinct sound make their way to The Pavilion once more with special guests The Doobie Brothers as part of the Supernatural Now Tour. Learn More
July 9-12, 16-19, & 22-26 – Camp Glade – Sign up your young artist for Camp Glade! The Glade Arts Foundation is offering a diverse summer program of exciting art experiences for kids from age 7 to 14. Kids will have the opportunity to gain fresh perspectives and find their passion in studio art through weekly immersive classes, or enhance their techniques while being introduced to art history and other art-related topics. Courses are 3 hours each, divided by age groups, offered in the mornings or afternoons to fit your summer schedule, and range from studio art to improvisational jazz. Register Here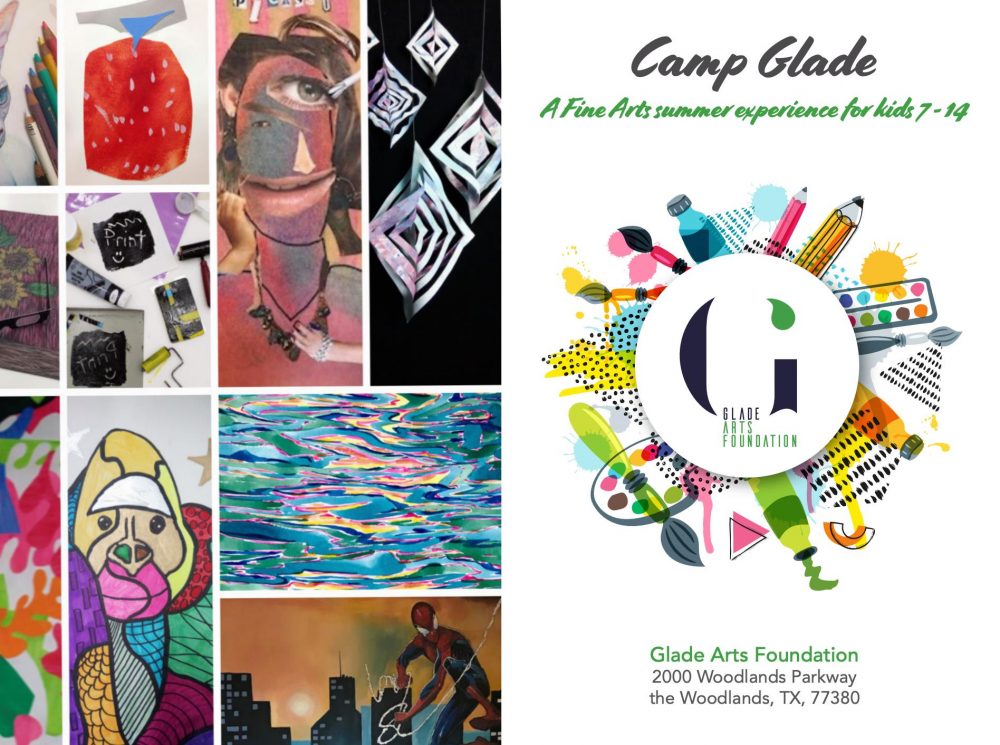 July 11 – Conroe Market Days – Enjoy free live music, food trucks, vendors, and fun in Heritage Park! Derek Spence (George Strait tribute band) will be performing in the park from 7:00 pm – 9:30pm. Shop for produce, jams, honey, soaps, and other items from local vendors. Learn More
July 11, 18, 25 – Rock the Row – Experience Hughes Landing on scenic Lake Woodlands with free, live music Thursday evenings from 7:00 to 9:00 p.m. Rock the Row features local and regional bands playing a variety of favorites from classic rock and pop to Motown during the summer and fall. Learn More
July 12 – The Woodlands Children's Museum Birthday Party – Celebrate the museum's 9th year at its current location! Entertainers will be at the museum throughout the day, and children will have opportunities to create birthday hats and paper cupcakes in the Muse, the museum's art bar. Learn More
July 12 – Family Bingo Night – Unplug and tune in to old-fashioned family fun at a monthly Family Bingo night, hosted by The Woodlands Parks and Recreation! Enjoy a fun-filled evening with your family and friends playing Bingo for various fun prizes. Snacks and water provided. Learn More
July 12 – Date Night Cooking Class: Grilling and Macarons – Wild Stallion Vineyards has organized the ultimate date night! Guys will be learning grilling techniques along with creating a special sauce for steaks, while ladies learn special techniques to make macarons! Tickets must be purchased in advance. Purchase Tickets
July 13 – Free Family Movie Night – Dr. Seuss' The Grinch will play on July 13 with a special "Christmas in July" appearance by Santa Claus, who will be available from 6:30 pm – 8:30 pm at Creekside Park Village Green. Kids' interactive music will be played from 6:30 – 8:30 p.m. before each movie begins. Learn More
July 13 – Conroe Art League Monthly Artist Reception – Come see a new exhibit of member's art and meet the artists. Enjoy a glass of wine or other beverages with both sweet and savory snacks and the announcement of Madeley Award by Marianne Madeley Metcalf. The artist reception is open to the public. Learn More
July 13 – 2nd Saturday at The Depot – Grab your picnic baskets & lawn chairs and come on down to the historic Tomball Depot for a free family friendly affair! There are free games & activities starting at 6:00 pm and the hit movie The Grinch will begin playing at dusk (around 8:00 pm). Learn More
July 14, 20, 27 & 28 – Public Safety Open House – Experience the lights and sirens of public safety equipment, explore a fire truck, police patrol vehicle, and learn more about National Night Out at this free event! Each open house will take place at a different fire station in The Woodlands. Learn More
July 15 – "Looking Together" Dementia Support – The Alzheimer's Association and the Glade Arts Foundation are partnering to present "Looking Together" at Glade Gallery, an art and culture program for individuals in the early stages of dementia to attend with their families and friends. Learn More
July 20 – YMCA Kids Triathlon – Children ages 6–12 are eligible to register and experience the fun and excitement of a triathlon at the YMCA at Branch Crossing. It's a morning of friendly competition and physical activity that can lead to a lifetime of fitness. The event is designed for all skill levels and previous triathlon experience is not required. Postrace activities will include refreshments, face art, balloon art, mascots, music, games, photos booth, awards ceremony and sponsor booths. Early Bird registration ends June 30. Registration fees increase on July 1. Registration closes at noon on July 17. Register Here
July 20-21 – Apollo 11 50th Anniversary Celebration – The historic 1907 Depot Museum in Tomball is taking part in a regional celebration of the 50th Anniversary of the Apollo 11 moon landing. This educational exhibit presents the historic mission in video, photos, a miniature diorama and more. Accompanying the display is a second exhibit honoring the NASA Railroad and its many years supporting America's space program at the Kennedy Space Center in Florida. Admission and parking are free. Learn More
July 23 – Nest for Newbies Breast Cancer Support Group – The Nest for Newbies, a breast cancer support group, is a safe haven for women who have been newly diagnosed with breast cancer. This is a five month program, held once a month at noon with a different topic each time. We will cover different topics, learn from one another and give encouragement. Please RSVP to the Canopy front desk by calling 713-897-5939. Learn More
July 27 – CampShe Ladies Self Defense Class – This Self Defense class features expert Tisha Butler, owner of The family way Dojo. CampShe is a new ladies social night out company – a "girl scouts" for grown-ups! Come to each monthly event to enjoy new experiences and meet new friends. Your ticket includes: 2 drink tickets, heavy appetizers, expert speaker with fun activity, and swag bag valued at approximately $40. Register Here
July 27 – Don McLean in Concert – The "American Pie" singer is heading to Dosey Doe for one night in concert. He holds 1 of the 5 greatest songs of all time rated by the National Endowment for the Arts, the RIAA and The Grammy Hall of Fame. Purchase Tickets
CLICK HERE TO DOWNLOAD THE 31 THINGS TO DO GUIDE
Plan ahead for August! Visit our online calendar, subscribe to our Email Newsletter, follow us on social media at @HelloWoodlands, and check back for a list of 31 things to do in August 2019! Contact us at info@hellowoodlands.com to tell us events, activities, locations, businesses, and non-profits we should feature and visit in August!