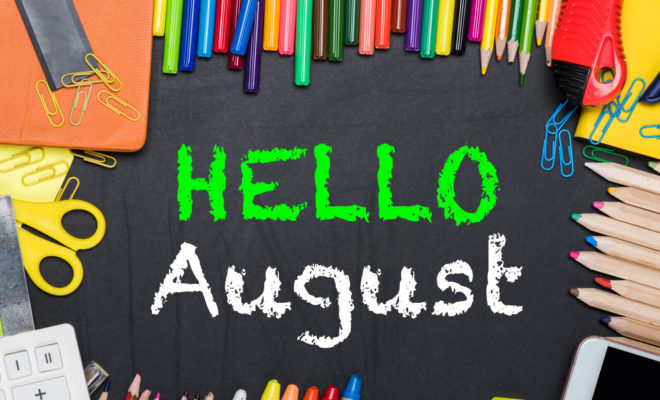 Calendar
31 Things to Do in August
By |
Hello August! Discover what's happening with Hello Woodlands' "31 Things To Do" monthly guide featuring events, activities, locations, and ways to get involved in your community.
Join us this August by trying new activities and attending events in and around The Woodlands, Texas. Be sure to follow us on social media at @HelloWoodlands and subscribe to our email newsletter to stay updated on upcoming events, ticket giveaways, live videos, photos, and so much more!
31 THINGS TO DO – AUGUST 2019
FEATURED EVENTS
August 29 – Raiders of the Lost Ark by The Houston Symphony – The film that gave the world one of its greatest movie heroes, Indiana Jones, is back and better than ever before! Relive the magic on the silver screen with the original great adventure Raiders of the Lost Ark with John Williams' epic score performed live to picture by a full symphony orchestra! Lawn and Mezzanine seating is free. Gates open at 7:00pm and show starts at 8:00pm. Learn More
Visit the Hello Woodlands Calendar for MORE events, event information, details, directions, and links!
AUGUST EVENTS
July 15 – August 12 – Stuff the Bus School Supply Drive – Stuff the Bus with Guaranty Bank & Trust! Join us at drop-off locations in Conroe and Willis from July 15 through August 12 as Guaranty Bank & Trust in Conroe collects school supplies for some of our most underserved schools in our area. Learn More
Come soar with us! The Woodlands Methodist School provides an exceptional, Christian education for all ages from 18 months through 8th grade. Submit your child's 2019 – 2020 enrollment application today and become an Eagle. Find more information at twmschool.org and schedule a tour by calling (281)822-8220.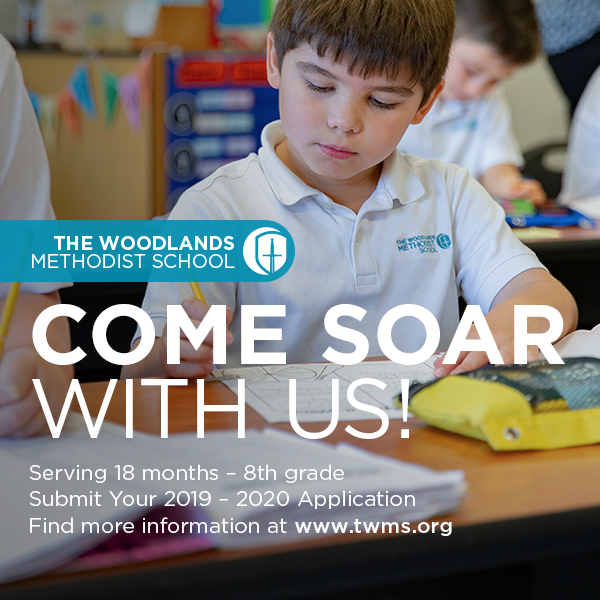 Tickets go on sale July! Purchase your Tickets for the Signatures Author Series – The 15th Annual Signatures Author Series on Friday, December 6 will feature bestselling American novelist Maria Semple, author of 3 novels, including Today Will Be Different, Where'd You Go, Bernadette and This One Is Mine. The movie version of Bernadette is due out this August featuring Cate Blanchett. Reserve early for best seats! A portion of the proceeds will benefit a local literacy organization. Purchase Tickets
August 1-September 2 – Houston Restaurant Weeks – More than 250 of the most popular restaurants will participate in Houston Food Weeks by serving specially priced multi-course prix fixe menus that include brunch, lunch and dinner. The event is put on 100 percent by volunteers and all of the donations from participating restaurants goes directly to Houston Food Bank. Learn More
August 1, 8, 15 – Rock the Row – Experience Hughes Landing on scenic Lake Woodlands with free, live music Thursday evenings from 7:00 to 9:00 p.m. Rock the Row features local and regional bands playing a variety of favorites from classic rock and pop to Motown during the summer and fall. Learn More
August 2 – Superhero Day – Wear your favorite Super Hero costume and enjoy decorating capes and taking photos with Wonder Woman at 10:30 a.m. & 12:30 p.m. and Spider-Man at 11:30 a.m. & 1:30 p.m. at The Woodlands Children's Museum. Super Reader Jan will be reading at a special Storybook Theatre at 11:00 a.m. Enjoy caricatures by Jonathan all day at no additional cost. Learn More
On the fence about shared offices? Try WORKSUITES in The Woodlands for 5 full days with no commitment or out of pocket expense! Visit the NEW location in The Woodlands at at 2001 Timberloch Place, Ste 500 and learn more at https://bit.ly/WORKSUITESTheWoodlands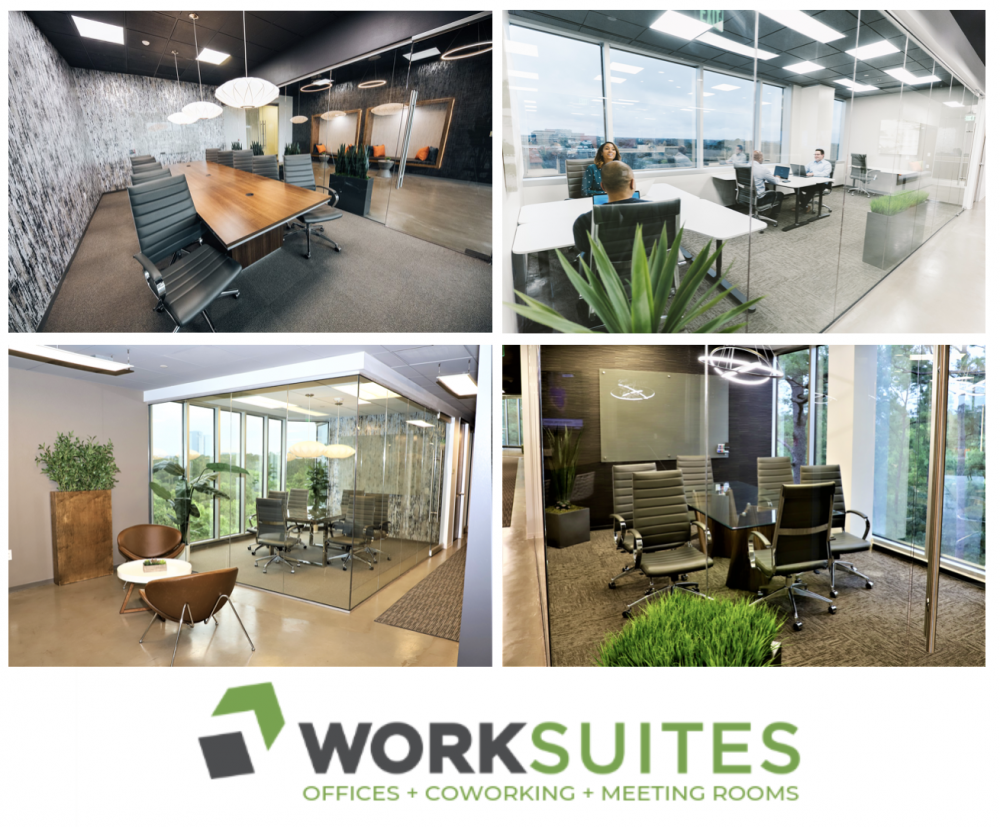 August 2 – Tomball Night – This family friendly, free event starts at 5:00 p.m. and ends after the firework display at approximately 9:45 p.m. There will be live entertainment, kids activities, food & drinks, and shopping. Participating local businesses stay open late offering specials, give-aways and door prizes. Learn More
August 3 – Spring Fire Department Badge Pinning Ceremony – The Spring community is invited to celebrate with the Spring Fire Department as its newest firefighters receive their badges. Learn More
August 3, 10, 17, 24, 31 – The Woodlands Farmer's Market – The market is open EVERY Saturday 8:00 a.m. – noon, rain or shine! The Woodlands Farmer's Market is organized by the Grogan's Mill Village Association and supports their philanthropic activities. Find fresh vegetables, fruits, meats, prepared foods, salsas, honey, eggs, plants, Indian, Mexican and Mediterranean foods, seasonal products such as pumpkins, and more. Learn More
August 5 – Family Game Night – Free family fun for all ages! Head to the South Montgomery County Library on Lake Robbins Drive for a night of board games and refreshments. Learn More
August 5, 12, 19, 26 – All About Moms Support Group – This support group is for new mothers and their babies (0 – 1 year) facilitated by a Registered Nurse. Meetings are held every Monday from 10:00 – 11:30 a.m. (except holidays) at Memorial Hermann The Woodlands Perinatal Educational Classroom. Due to the time, attention, and safety of the class, please make other arrangements for older children. Learn More
August 9 – Family BINGO Night – Unplug and tune in to old-fashioned family fun at a monthly Family BINGO night at The Rob Fleming Recreation Center. Enjoy a fun-filled evening with your family and friends playing BINGO for various fun prizes! Snacks and water provided. Learn More
August 9 & 10 – Scrapbook Convention – Shop from your favorite manufacturers, new products, embellishments, & ideas will get your creative juices flowing – and creating! Learn about a creative new world inside the classrooms at The Woodlands Waterway Marriott. Work on projects, catch up with friends, and have some fun. Learn More
August 10 – The Beauty of Cancer Photoshoot – The Celebrate Your Life organization will host their annual photoshoot at the Glade Arts Foundation celebrating survivorship. If you, or someone you know, are a cancer patient or survivor interested in a free photo session with wardrobe, professional hair and makeup provided, this is a wonderful opportunity for you to look and feel amazing for a whole day. Following the photoshoot will be a special event where the photographs will be publicly displayed and you will be invited to attend with all your family and friends. Learn More
August 10 – Conroe Art League Artist's Reception – Come see a new exhibit of member's art and meet the artists while enjoying a glass of wine or other beverages with both sweet and savory snacks. The artist reception is open to the public. Learn More
August 10 – 2nd Saturday at The Depot – Grab your picnic baskets & lawn chairs and come on down to the historic Tomball Depot for a free family friendly affair! There are free games & activities starting at 6:00 p.m. and the hit movie Incredibles 2 will begin playing at dusk (around 8:00 p.m.). Learn More
August 10 – Free Family Movie Night – Don't miss the last free family movie night at Creekside Park Village Green. Kids' interactive music will be played from 6:30 – 8:30 p.m. before the movie begins. Lego Movie 2: The Second Part will close out the summer showings on August 10. Learn More
August 10 – 7th Annual Boots vs. Badges Softball Game – In celebration of National Night Out, come out and cheer on your local public safety personnel! Watch the Montgomery County Sheriff's Office and The Woodlands Fire Department battle it out at the annual Boots vs. Badges Softball Game. The free family fun event is something you don't want to miss. Learn More
August 10 – Invasive Plant Species Workshop – The Woodlands Township will host a free workshop at the HARC Building on Saturday, August 10, 2019, to train volunteers to accurately identify and remove invasive plant species. Learn More
August 13 & 27 – "Crafternoons" Crafting – If you've got hundreds of "pins" on Pinterest, but just can't get started, or you would like to meet other Pinterest and craft fans, Crafternoons is for you. There will be free crafts that attendees can create and take home while supplies last. No advanced skills are needed – just show up ready to have fun, meet other community members, and create something amazing! All ages welcome, but be aware that crafts are intended for adults and older children. Free supplies and instructions provided, no registration needed. Learn More
August 15 – Real Men of Montgomery County Style Show – The Montgomery County's "real men" will model for a cause at the Conroe Chamber of Commerce's Style Show! This event helps benefit a local nonprofit and the 2019 Charity Partner is the Montgomery County Food Bank. Tickets are $30. Learn More
August 15 – Summer Movie Night at Burroughs Park – Bring the family, lawn chairs, and blankets and join us for a free movie under the stars! Crafts begin at 7 p.m.; the movie Lilo & Stitch begins at dusk. Popcorn and drinks will be provided. Learn More
August 15 – Lineage Society Fair – Please join us if you are interested in becoming a member of any of the several hereditary lineage societies in our area for education, history, and service. This event is open to the public and will be held in The Genealogy Department on the 2nd floor of the Montgomery County Memorial Library in Conroe. Learn More
August 16, 23, 30 – The Artist's Way – A Spiritual Path to Higher Creativity by Julia Cameron was published in 1992 as a self-help book teaching techniques to assist people in discovering their own creativity. ave you heard about this book and wondered what it's all about? Join the group at Glade Arts Foundation There is a facilitator for this discussion group rather than an instructor. Learn More
August 17 – The Chairman's Ball – Socialize, sip and celebrate as we recognize the outgoing chairman of the board, Stuart Lapp of Stibbs & Co. and the accomplishments of The Woodlands Area Chamber of Commerce within the past year. Every year, the event's theme changes, with 2019's being "Under the Big Top." Expect an exceptional meal and a fun evening of music, entertainment and a fabulous show! Costumes or black-tie encouraged. Learn More
August 22 – Heart with Joan Jett & Elle King – Heart returns to The Pavilion and epic rock ensues. Two rock 'n' roll pioneers take over the stage for a night of some of the greatest anthems and ballads ever played. Learn More
August 23 – "Five Who Share" Breakfast – Interfaith of The Woodlands continues its tradition of honoring dedicated volunteers throughout our community with awards of service. Learn More
August 23 – Tracy Lawrence Live – Head to Dosey Doe to see Tracy Lawrence on tour in support of his new album Made in America. Learn More
August 24 – Yellow House Revisited Tour – An intimate and entertaining musical experience with the acoustic sounds of Jason Boland, Cody Canada and Mike McClure at Pacific Yard House. Learn More
August 24 – Sting Ray Anthony "Jukebox Rocks" Rock 'n Roll Extravaganza – Join Sting Ray Anthony, who performs with Branson's "Legends in Concert," with his unparalleled tribute to Ritchie Valens and other Rock & Rollers of the 50's. Sting Ray has delighted audiences and has them up on their feet dancing and singing to the greatest Oldies ever written as he "Rocks the House" at Crighton Theatre. Featuring the ultimate Tribute band "Spin Out." Learn More
August 24 – 12th Annual Duck Race – This family friendly event is free and open to the public. The Community Assistance Center will launch 5,000 rubber ducks into the Rob Fleming Aquatic Center pool. As they race their way to the finish line, the crowd cheers on their ducks for a chance to win fabulous prizes. Proceeds will support Community Assistance Center programs which provide immediate basic needs assistance. Learn More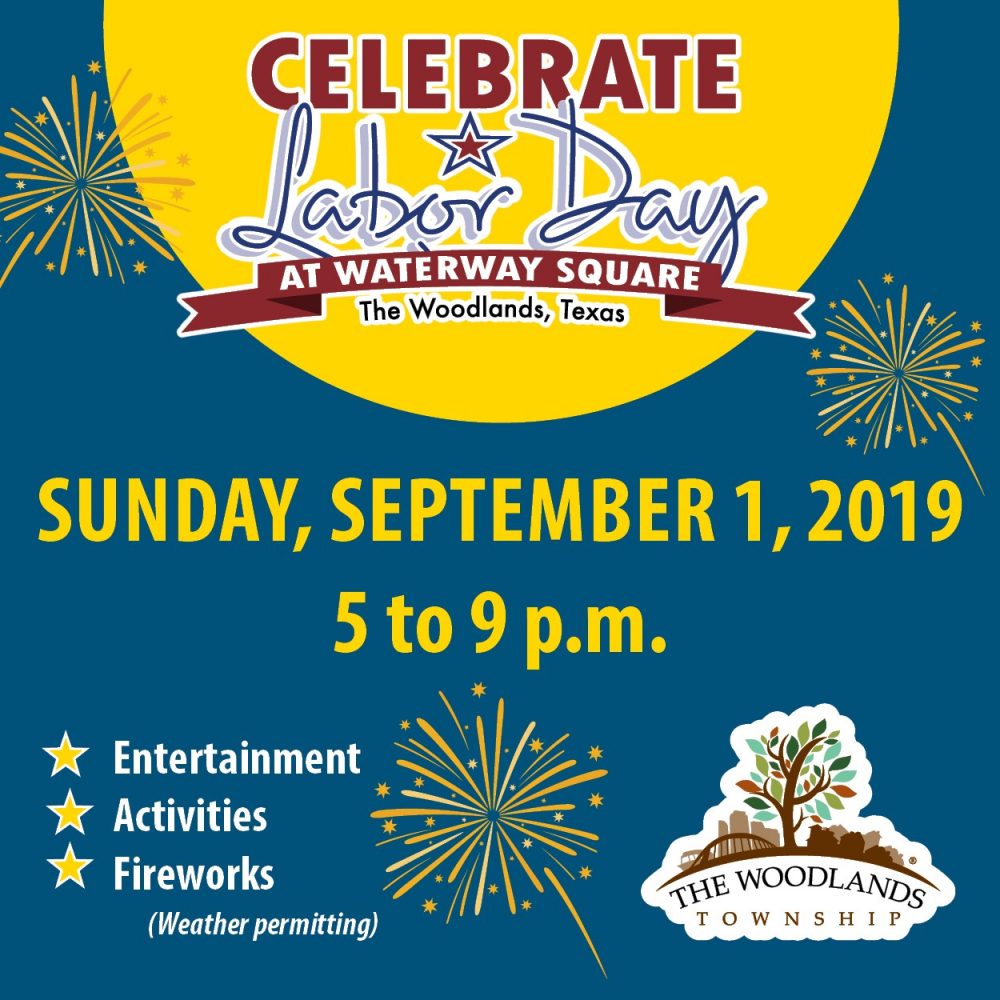 Plan ahead for September! Visit our online calendar, subscribe to our Email Newsletter, follow us on social media at @HelloWoodlands, and check back for a list of 31 things to do in September 2019! Contact us at info@hellowoodlands.com to tell us events, activities, locations, businesses, and non-profits we should feature and visit in September!