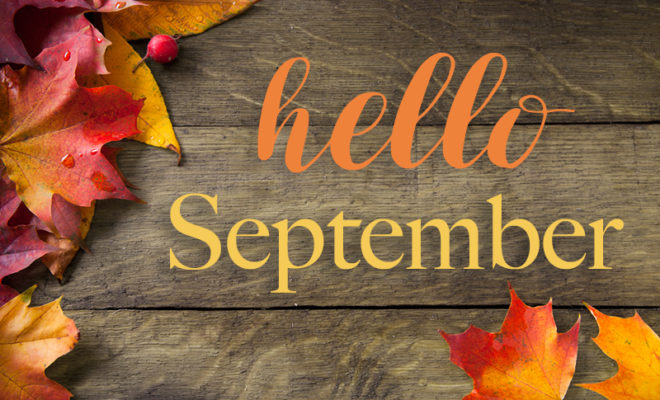 Calendar
31 Things to Do in September
By |
Hello September! Discover what's happening with Hello Woodlands' "31 Things To Do" monthly guide featuring events, activities, locations, and ways to get involved in your community.
Join us this September by trying new activities and attending events in and around The Woodlands, Texas. Be sure to follow us on social media at @HelloWoodlands and subscribe to our email newsletter to stay updated on upcoming events, ticket giveaways, live videos, photos, and so much more!
31 THINGS TO DO – SEPTEMBER 2019
FEATURED EVENTS
September 11 – A Symphony of Heroes performed by The Houston Symphony – The Houston Symphony helps us remember and honor the real superheroes we meet every day – first responders, military and more – with the triumphant scores of the silver screen's greatest hero hits. Lawn and mezzanine seating is free; reserved seating is $20. Gates open at 6:30pm and show starts at 7:30pm. Learn More
September 26-29 – 21st Annual YMCA Dragon Boat Team Challenge – Are you looking for a unique, fun and easy team-building outing? YMCA Dragon Boat is for you. The YMCA does all the planning and facilitating – all you have to do is register, recruit your team and show up ready to play. The event promises teamwork and camaraderie at their best, and allows participants to visit and play with old friends and make new friends. The event features 6 different team activities, but the Dragon Boat Races are the main event. Learn More
Visit the Hello Woodlands Calendar for MORE events, event information, details, directions, and links!
SEPTEMBER EVENTS
September 1 – Labor Day Celebration – Celebrate Labor Day in The Woodlands! Relax and enjoy the fruits of your labor at Waterway Square on Sunday, September 1, 2019 from 5:00 to 9:00 p.m. with live music, children's activities, strolling entertainers, a pie eating contest and fireworks! Learn More
September 1-30 – Back to School Peanut Butter Drive – Let's work together to stock the shelves at the Montgomery County Food Bank. Peanut butter is one of the most requested items each year and it's packed with protein. Over 76,000 people are food insecure in Montgomery County of which 29,000 are children. That is 1 in 4 of your neighbors, or colleagues who lack the most basic need – food. Monetary donations will also be accepted. Bring your jars in for donation to Guaranty Bank & Trust, 244 S Loop 336 W, Conroe, TX 77304. Learn More
Serving The Woodlands for 30 years! Register and enroll today at Paddington British Private School for ages 12 months to Kindergarten. Learn more and schedule a tour at https://bit.ly/PaddingtonBritishSchool
Paddington British School is a privately-owned child-friendly storybook setting school nestled on 3 acres of gardens. Whether you need a morning or two off, an Explorer Club or a full-time academic program, the Paddington British School will provide your child with an exciting journey of adventure and discovery! Learn more at www.paddingtonbritishschool.com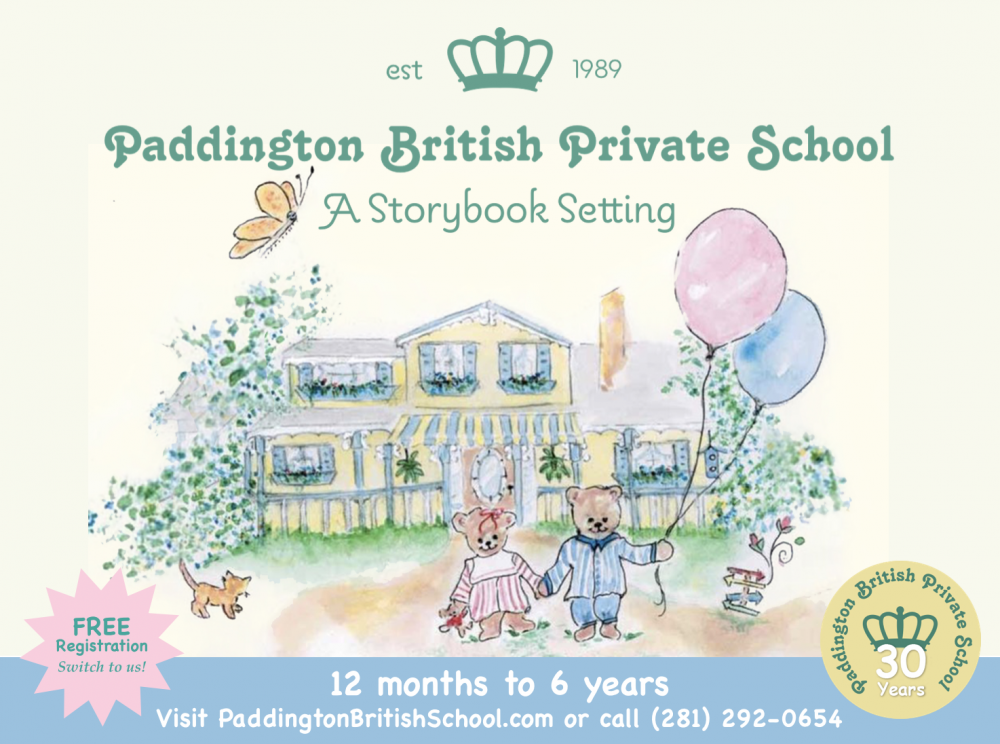 September 1-30 – Bookmark Art Contest – The 2019 Conflict Resolution Day Bookmark Art Contest is open to all Montgomery County public, private, and home schooled students in grades K through 8. The goal of this annual contest is to encourage creativity and critical thinking with regards to conflict resolution or prevention. Bookmark art themes may include peer mediation, apologizing, respect, listening, peace building, tolerance, and alternatives to violence. Winners will receive cash prizes, books for their school, and more! Learn More
September 1 – Cars & Coffee for a Cause – The Woodlands Car Club will meet at Market Street from 7:00 a.m. to 11:00 a.m. to provide a fun and creative way to give back to our community. The morning gathering uses cars to raise money to give back to our community for charity. Each quarter The Market Street Association chooses a Montgomery County-based charity that donations benefit. Learn More
Katz's in the Woodlands is hiring!
Katz's is looking for great Servers, Hosts and Bussers. Please come in and ask to speak to a manager at Katz's located at 19075 I-45, Shenandoah, TX 77385, call 936-321-1880 OR apply online at www.katzsneverkloses.com
September 2, 9, 16, 23, 30 – All About Moms Support Group – This support group is for new mothers and their babies (0 – 1 year) facilitated by a Registered Nurse. Meetings are held every Monday from 10:00 – 11:30 a.m. (except holidays) at Memorial Hermann The Woodlands Perinatal Educational Classroom. Learn More
September 5, 12, 19, 26 – Market Street's Fall Concert Series – Market Street's free, family-friendly fall concert series, featuring artists performing Top 40, jazz, Latin, cover favorites and more, returns every Thursday, September 5 through October 24, from 6 – 8:30 p.m. Guests may bring blankets and lawn chairs to sit back, relax and enjoy the performances. Learn More
September 6 – Absinthe in Art: A Cultural & Chemical History – Drink traditionally crafted absinthe cocktails and learn something new all at the same time. Join Glade Curator, Joseph Staley, and Glade Sommelier, Ben Harris, for this collaborative educational experience. Get Tickets
September 6 – Sunset & S'mores – An evening climbing the Texas TreeVentures adventure course and gathering around a campfire sounds like a pairing as great as chocolate and roasted marshmallows! Learn More
September 6 – The John Cooper School's Homecoming Game – Join The John Cooper School on Friday, September 6, 2019 at 7:00 p.m. for the homecoming game against Legacy Prep at Pugh Field. Learn More
September 8 – Back to Renaissance Brunch – Have brunch with the cast of the Texas Renaissance Festival and celebrate their 45th anniversary with mead and brass music featuring Texas Brass Orchestra, giveaway tickets to The Texas Renaissance Festival and much more! Enjoy the grounds and museum space at Glade Arts Foundation rain or shine. Learn More
September 8, 15, 22 – Concert in the Park – Head to Northshore Park on Sundays from 5:30 to 7:30 p.m. September 8 through October 20, 2019 for the Concert in the Park! Bring your lawn chairs and picnic baskets and enjoy an evening of FREE, great music with friends and family. Learn More
September 11 – Patriot Day of Remembrance – Join The Woodlands Township for a ceremony to honor the brave men and women who tragically lost their lives during the terrorist attacks of September 11, 2001 at the Central Fire Station from 7:30 – 8:00 a.m. Learn More
September 11 – First Responders Day – Please join The Woodlands Township as we remember and thank first responders with a community gathering featuring a presentation of colors, Honor Guard, speakers and more at Town Green Park from 5:30 – 6:30 p.m. Learn More
September 11 – YMCA Senior Open House & Vendor Fair – The Woodlands Family YMCA will be opening its doors for FREE to seniors on September 11th. The Open House and Vendor Fair will give seniors a chance to see what the YMCA has to offer, whether it be exercise classes, social gatherings, volunteer opportunities or field trips. Activities will include a vendor fair, health screenings, flu shots, games, refreshments, information on Y senior programs, senior services and Medicare, demos, tours, door prizes, give-aways, a light lunch, a bingo social from 1:30 – 3:00 p.m., and much more. Learn More
Come soar with us! The Woodlands Methodist School provides an exceptional, Christian education for all ages from 18 months through 8th grade. Submit your child's 2019 – 2020 enrollment application today and become an Eagle. Find more information at twmschool.org and schedule a tour by calling (281)822-8220.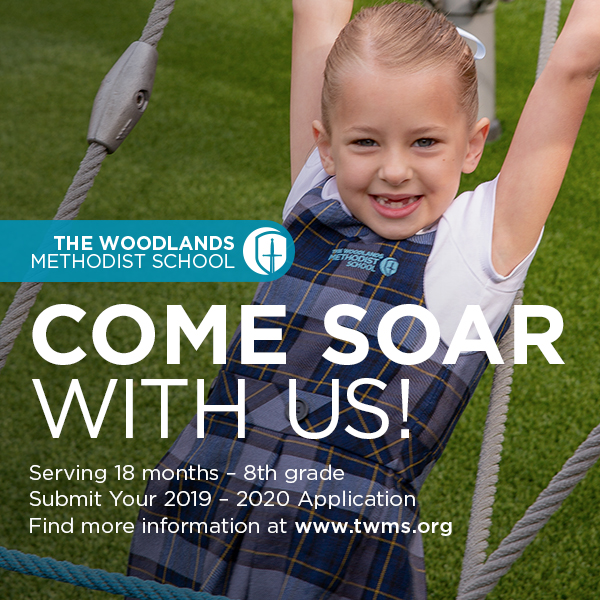 September 12 – Wine, Women & Shoes – Join us for a diamond-studded Wine, Women & Shoes event to highlight iGoPink/The Breast Cancer Charities of America's 10 years of service to the local community. Wine, Women & Shoes offers a New York-style runway show featuring local breast cancer patients and survivors as models, wine tasting, exquisite shopping from local boutiques, and the coveted "Key to the Closet" experience that offers one woman over $5,000 worth of clothes, accessories and more. Purchase Tickets
September 14 – Fast Draw Contest – Save the date! Join The Woodlands Arts Council from 10 a.m. to Noon for a FAST DRAW Contest for 7th and 8th graders at The Woodlands Mall. Learn More
September 14 – 10th Annual Woodforest Charity Run – This family friendly event takes place in scenic downtown Conroe. The 10K begins at 7:40 a.m., followed by the 5K starting at 8:00 a.m. ending with the Barkley Shoe Dash at 9:00 a.m. After the races, runners and spectators will enjoy an awards ceremony, music, food, and children's activities. Net proceeds benefit The Woodforest Charitable Foundation. Learn More
September 14 – Market Street's Fall Fine Arts Festival – Amateur and professional artists alike will showcase their paintings, photography, jewelry, metal works, sculptures, digital art, mixed media and other works of art at Market Street's 2019 Fall Fine Arts Show while enjoying live music and participating in artist demonstrations. Learn More
September 14 – Jazz Night with Tianna Hall – One night, three great jazz musicians in the art gallery setting of Glade Arts Foundation. Happy hour specials start at 5:30 p.m., concert starts at 7:00 p.m. Handcrafted cocktails, wine, and bar food selection available. Get Tickets
September 14 – Arts in the Park – Enjoy an evening with family and friends at Rob Fleming Park! Bring lawn chairs, grab a bite to eat at the food trucks and enjoy a free, live Shakespeare theatre performance of Macbeth by Upstage Theatre and The Woodlands Symphony Orchestra at 7:00 p.m. Learn More
September 16 – Celebrate Mexican Independence Day at Caffé di Fiore – Celebrate with us at Caffé di Fiore, the #1 Authentic Mexican Restaurant in The Woodlands on Trip Advisor! With lunch or dinner, guests receive 50% OFF regular and frozen margaritas. Caffé di Fiore is located at 10110 Woodlands Pkwy, The Woodlands, TX and serves breakfast, lunch or dinner all day long! Hours: Open Monday-Saturday 9am-9pm, Sunday 9am-3pm. View the menu and learn more about Caffé di Fiore at Caffe-di-Fiore.com
September 17 – Lunch & Learn! Vampire Facial Demo – Join Seychelles Med & Laser Spa on September 17th at noon for a Lunch and Learn and live demo of the Vampire Facial at 12:30pm! Attendees will enjoy a FREE lunch and watch an educational live demo on the Vampire Facial. The Vampire Facial promotes cell removal, improves the appearance of wrinkles, scars, pigmentation and dark circles under the eyes. RSVP by calling Seychelles Laser & Med Spa at (832) 813-8086 and learn more by visiting the website at https://seychellesmedspa.com/prp-therapy/vampire-facial-the-woodlands-spring-houston/
September 18 – 5th Annual Takeaway Tourette's Golf Tournament – Have a great time playing golf while helping the Texas Chapter of the Tourette Association, which supports the medical, educational and social needs of Texans with Tourette's syndrome and their families. Learn More
September 20 – Country Night at The Westin – Put your boots on and head down to The Westin for Country Night! Join us for a fantastic performance of Drywater Band and two step the night away with your favorite Country Hits. Availability and seating is limited. Must be 21 years or older. Drinks will be available for purchase. Purchase tickets
September 20 – Dueling Pianos – Enjoy an evening of fun, laughter, comedy, great music, food and drinks with friends and family. Be ready to be entertained by the world renowned pianist Gene Keene and his guest! Happy Hour Specials start at 5:30 p.m. Handcrafted cocktails, wine, and bar food selection available. Get Tickets
September 21 – Ladies Night Out, Around the World: Japan – Join CampShe for their NEW series called Around the World, First Stop Japan! Come join us on Saturday, September 21 from 7:00 to 9:00 p.m. at Angel Oaks Events and learn how to make sushi rolls, what sake is about, Sumo wrestling, and some jousting – just because it's fun. The event includes drinks, dinner, prizes, games, swag bags and lots of fun! Purchase Tickets
September 25 – 7th Annual WISE Conference – Come network with business women and listen to incredible speakers at the 2019 7th Annual WISE. Local charities Mosaics of Mercy and God's Garage are this year's beneficiaries that will receive a portion of the proceeds from the event. Learn More
September 27, 28, 29 – Matilda The Musical – Matilda The Musical, performed by Class Act Productions, is the story of an extraordinary girl who, armed with a vivid imagination and a sharp mind, dares to take a stand and change her own destiny. Children and adults alike will be thrilled and delighted by the story of the special little girl with an extraordinary imagination. Learn More
September 28 – 22nd Annual Woodlands Landscaping Solutions – Hosted by The Woodlands Township Environmental Services Department, come learn how to tap into Nature at this FREE garden event! Learn tips and tools to make your landscape a water-wise and earth-friendly oasis. Learn More
September 30 – The John Cooper School's 32nd Annual Golf Tournament – This fun-filled day of golf will feature, lunch, driving range, chipping and putting contests at 10:30 a.m., and a shotgun start at noon. A dinner and awards ceremony will begin at 5:00 p.m. Learn More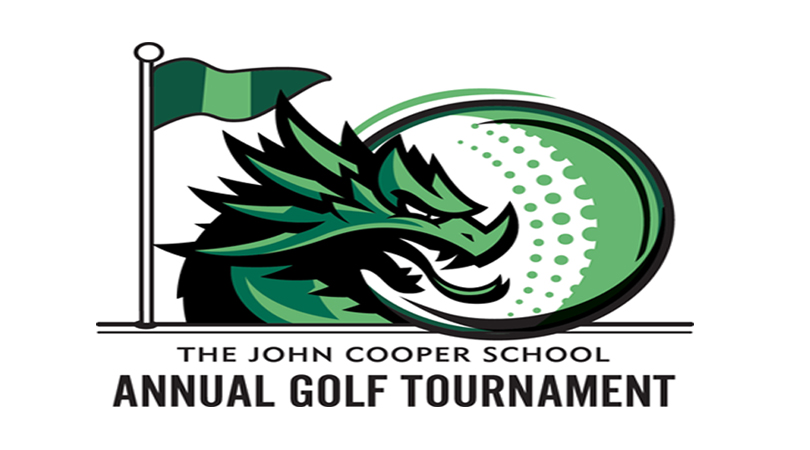 Plan ahead for October! Visit our online calendar, subscribe to our Email Newsletter, follow us on social media at @HelloWoodlands, and check back for a list of 31 things to do in October 2019! Contact us at info@hellowoodlands.com to tell us events, activities, locations, businesses, and non-profits we should feature and visit in October!