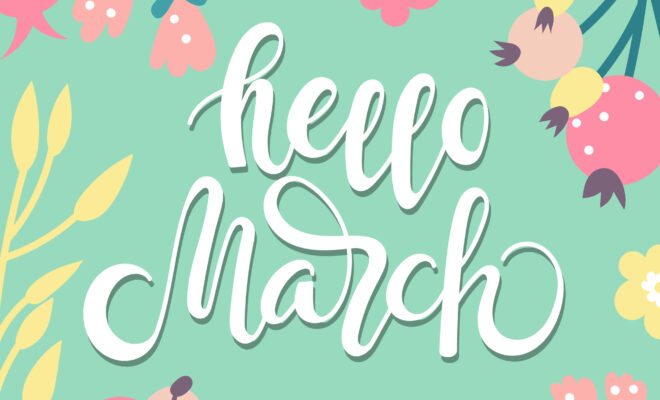 Calendar
31 Things To Do in March
By |
Hello Woodlands's "31 Things To Do" monthly guide highlights events, activities, and things to do this March in The Woodlands and Montgomery County area PLUS ways to give back and support local. Be sure to check back on Hello Woodlands for updates and events!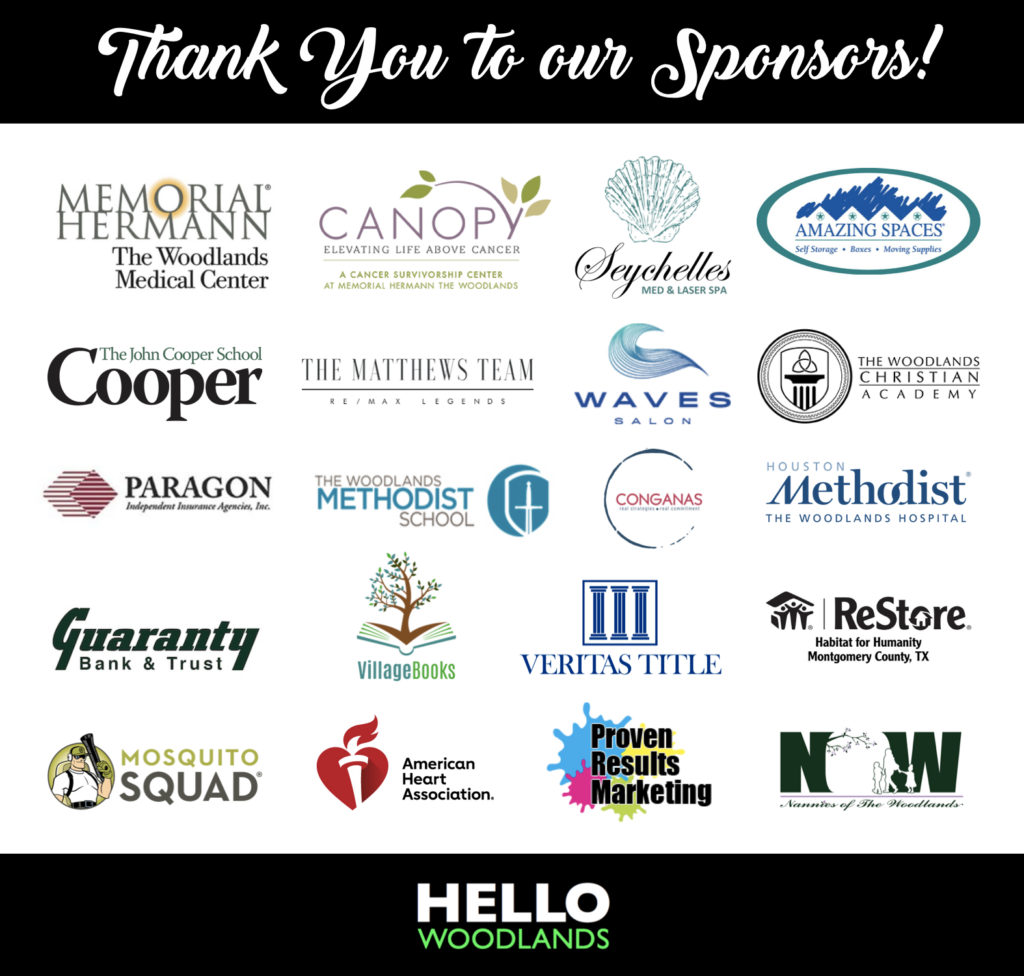 MARCH 2022
FEATURED EVENTS
February 24-March 20 – Rodeo Shuttle Service – Ride to the Bar-B-Que Contest and Rodeo on The Woodlands Express! The Woodlands Express, the Township's Park and Ride transportation service, will ferry riders from Sawdust Park and Ride to NRG Stadium for the Bar-B-Que Contest and during each weekend of the Houston Livestock Show and Rodeo, allowing attendees to enjoy all the fun without all the frustration of parking and driving. Learn more and book your ride at https://bit.ly/RodeoShuttle
March 5 & 6 – Montgomery County Home & Outdoor Living Show – Join us at the Montgomery County Home & Outdoor Living Show on Saturday, March 5 and Sunday, March 6 at the Lone Star Convention & Expo Center! The show helps you find the right professionals for any type of DIY or home improvement project you have. Create your dream home with home improvement professionals. Learn more and purchase tickets at https://bit.ly/MontgomeryCountyHomeShow
March 25 – Montgomery County Heart Ball – The 2022 Montgomery County Heart Ball will be held on Friday, March 25, 2022 at The Woodlands Resort. The annual Heart Ball, happening this year in-person, is the celebration of our collective success in driving change, funding science, championing healthy behaviors in the community and honoring survivors of heart disease and stroke. Save the date and learn more at MontgomeryCountyHeartBall.org
March 2022 – Classes and Programs at Canopy Cancer Survivorship Center – Canopy is open for classes and programs! Canopy is a cancer survivorship on the campus of Memorial Hermann The Woodlands Medical Center. Canopy is open to men and women, no matter where you were treated, and for any kind of cancer. If your life has been impacted, whether you were the patient or the caregiver, you have a safe haven at Canopy. View Event Calendar and learn more
March 2022 – Purchase tickets to the Fidelity Investments The Woodlands Waterway Arts Festival! Celebrating 17 years, Fidelity Investments The Woodlands Waterway Arts Festival is a jewel of the Texas fine arts tour and ranked among the top arts festivals in the country! Set along the scenic banks of The Woodlands Waterway and in Town Green Park, festival guests have the unique opportunity to enjoy a vibrant outdoor art gallery with music, food and kid's activities while shopping for art created by fine artists from around the world and nation! Selected artists display unique original artwork ranging across a variety of mediums at the festival. Voted as the best event in The Woodlands, the arts festival is a long-standing springtime tradition for families and locals. Save the date for the 2022 festival set for April 9 & 10, 2022. Purchase tickets today at https://bit.ly/WWAF2022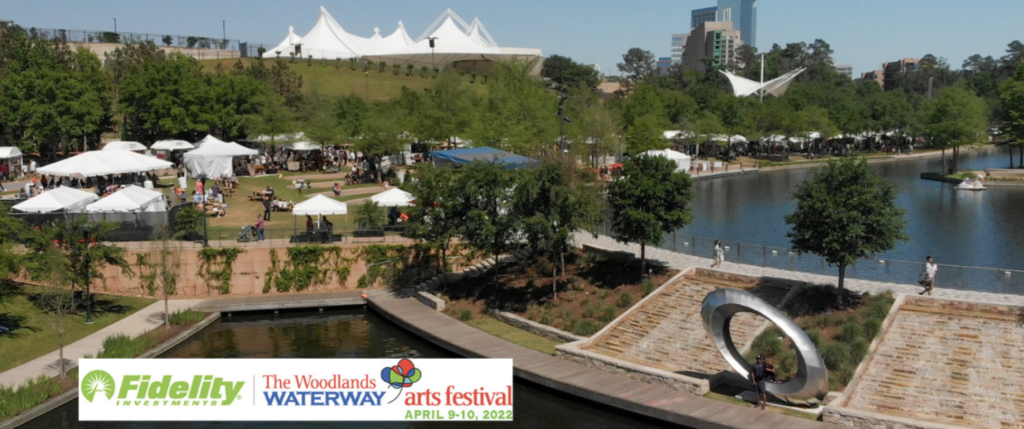 THINGS TO DO
Anytime – Volunteer, Make a Donation, or Get Involved in a Local Nonprofit Organization! – Learn more about nonprofit organizations in Montgomery County by watching our "Nonprofit of the Month" video interviews here.
Thursday–Sunday – Local Farmer's Markets – Visit a local farmer's market in Montgomery County! Learn more about The Woodlands Farmer's Market, Montgomery Sip-and-Stroll Farmer's Market, Tomball Farmer's Market, Main Street Market, and more on the Hello Woodlands Calendar. Learn more
January 21 – March 5 – 32nd Annual SCI://TECH – Starting in January, more than 4,500 K-12 students will have the chance to find "Solutions through Science." 32nd Annual SCI://TECH Events kicked off on January 21 and run through March 5. Visit www.efta-us.org/scitech for a full calendar of activities. Registration is open for SCI://TECH 2022 volunteers to support STEM learning. Volunteers can sign up here for one shift or all day! Training is provided on-site, so no experience is necessary! Learn more
March 2 – Ash Wednesday Services – Ash Wednesday is the beginning of Lent, the 40 days before Easter. The service for Ash Wednesday is a time when we begin a season of remembering the sacrifices of Christ on His journey to the cross. Join The Woodlands Methodist Church for an Ash Wednesday midday or evening service at The Woodland Campus with beautiful music, a meaningful message, and the imposition of the ashes or at the Woodforest Campus with a contemplative walk-through prayer experience with prayer stations and the imposition of ashes. Learn more at https://bit.ly/AshWednesday2022
March 2-28 – Montgomery County Food Bank Mobile Markets – Mobile Markets are temporary drive thru distribution centers where pre-packaged bags of groceries will be provided to Montgomery County residents in need, while supplies last. Residents can drive up to the Mobile Market, stay in their car, and MCFB's partner agencies and trained volunteers will load the groceries safely into their car. View March dates and locations here
March 4 – Women Who Rock Luncheon – United Way Women Who Rock Luncheon at The Woodlands Waterway Marriott on Friday, March 4 will salute extraordinary young parents in our community and empowers them to continue their education through the Women Who Rock Child Care Scholarship, which underwrites child care and resources for deserving young parents who are committed to pursuing post-secondary education. United Way Women Who Rock salutes extraordinary parents in our community and empowers them to continue their education through the Women Who Rock Child Care Scholarship. Learn more
March 5 – The Woodlands Marathon – The Legacy Capital Woodlands Marathon is a Boston Qualifier, the fastest course in Texas on average and one the top 25th fastest courses in the country. It qualifies close to 11% of its registered runners in the marathon for the Boston Marathon. The marathon, half marathon, 5k, 10K and 2k Fun Run traverse the streets of Town Center and the community on a pretty flat course, finishing on the scenic The Woodlands Waterway. Learn more
March 5 – Shenandoah Arbor Day Event – The City of Shenandoah, with the help of the Shenandoah Civic Club, is again sponsoring the celebration of Arbor Day from 9 am to noon at the Shenandoah Public Works Complex (south of Municipal Complex), featuring: Plant and seed exchange, tree seedlings, education and community resources, "hands on gardening" experience for children, master gardeners to answer questions, and garden/tree-related demonstrations and displays. Learn more
March 5 – The John Cooper School Gala – The John Cooper School will host a live, in-person Gala at The Woodlands Waterway Marriott Hotel and Convention Center, following the annual two-week online auction. This biennial event will include cocktails, Big Board and Live Auctions, dinner, and dancing! Sponsorships and individual tickets will be available for this event to benefit our incredible students and faculty of the School. Purchase Tickets
March 6, 13, 20 & 27 – Concert in the Park – Concert in the Park is a popular family tradition of music and fun for all ages, held Sundays at Northshore Park from 5:30 to 7:30 p.m. in March & April. Coolers, picnic baskets, blankets and lawn chairs are permitted. Glass is prohibited. Learn more
March 7 – All Things Instagram – If you are looking to grow on Instagram and utilize this social media channel to close more deals this year, this is the class for you. This class will entail a broad overview of Instagram, how to optimize your profile, how to utilize the different feeds within the app, content strategies, and more! Online or in person, you don't want to miss this class hosted by Veritas Title Partners The Woodlands. Register Today
March 8, 10, 14 & 15 – Events at Village Books – Village Books is a community-focused, independent bookstore selling new books and gifts located at 9955 Woodlands Parkway in The Woodlands, Texas. Learn more about Village Books and upcoming events at myvillagebooks.com
March 8 – An Evening with Dr. Khawaja Azimuddin, Author of "The Boy Refugee" – Dr. Khawaja Azimuddin is a gastro-intestinal surgeon in Houston. As a child he spent two years in a refugee/civilian prisoner of war camp. After almost 50 years he is finally telling his story and hopes to bring attention to the current refugee crisis.
March 10 – An Evening with Award-Winning Author Alda P. Dobbs – Alda P. Dobbs is the author of the historical novel Barefoot Dreams of Petra Luna and its followup The Other Side of the River (September 2022). Her debut novel was nominated for the Texas Bluebonnet Master List Award and received the prestigious Pura Belpre Honor Award.
March 14 & 15 – Riding & Writing Summer Camp – Learn all things horse, from nose to tail: grooming, braiding, feeding, bathing, tack and most importantly – how to ride! No previous horse experience needed. Learn all things writing, from idea to prose: fiction, nonfiction, plots, descriptive language and writing methods. No previous writing experience needed. Campers will read their works at an author reception the following week. Journals provided.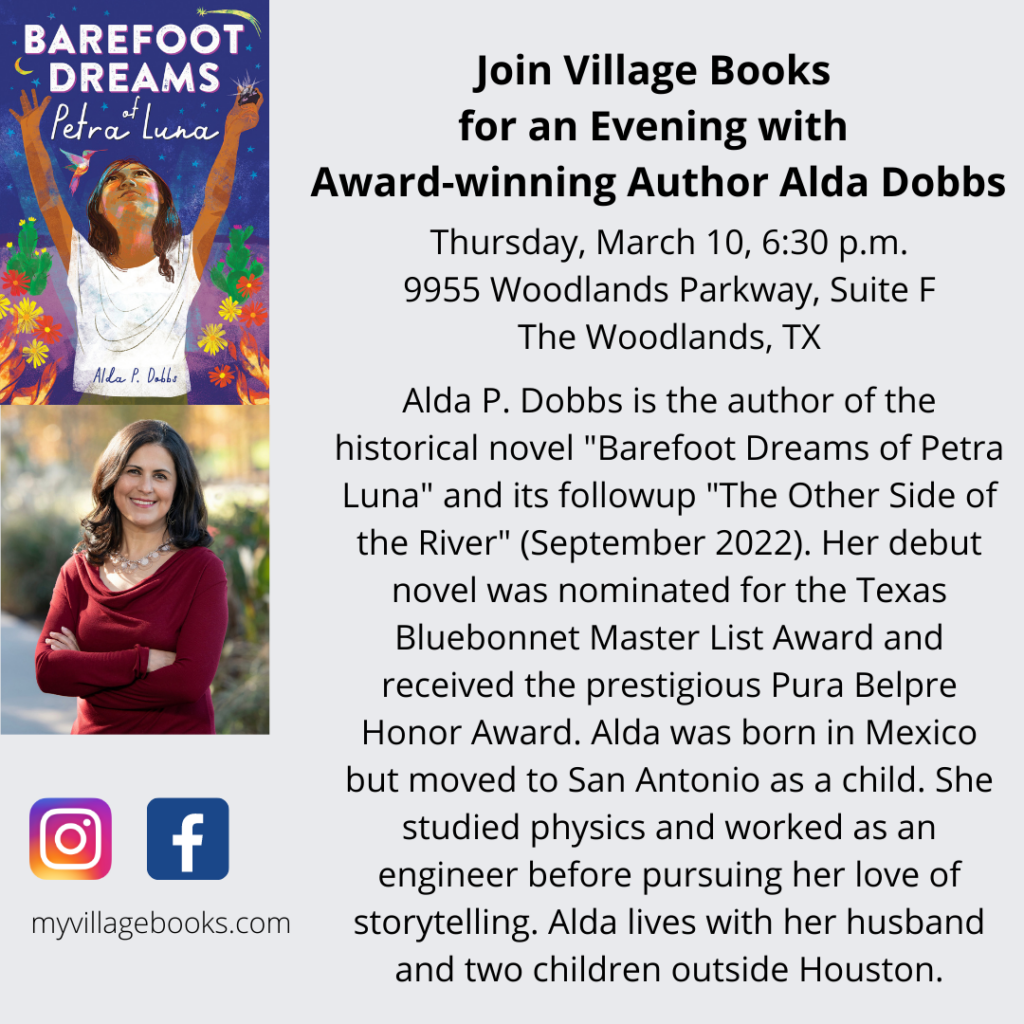 March 10 – Register for The Warrior Color Run by March 10th – The Woodlands Christian Academy will host its 3rd annual community wide Warrior Color Run, sponsored by Hunter Family Orthodontics and Parke & Rogers Dentistry, on Saturday, April 2. With music and free food, the Color Run is a family-friendly activity where participants have the option of running a 5k or 1k. Register today for Early Bird Pricing by March 10th at twca.net/colorrun
March 12 – Arts in the Park – Enjoy an afternoon at Northshore Park at the free event, Arts in the Park, from 2 to 6 p.m. featuring live stage performances, local vendors selling original artwork, children's activities, Youth Art Contest and more! Learn more
March 12 – HeBrews First Year in Magnolia Bash – Celebrate HeBrews Coffeehouse's One Year Anniversary in Magnolia on Saturday, March 12 from 6:30 to 8 p.m. with a worship night! It will be a night to remember with special guest Nashville recording artist Nathan Sheridan and OVR FLW worship. HeBrews will have an outside stage with lighting, street tacos, and coffee specials. Join us this Friday night for a special outside worship night! Learn more
March 17, 24 & 31 – Spring Concert Series – Live music at Market Street is back as the Spring Concert Series lineup features artists performing Top 40, jazz, Latin, country, cover favorites and more, every Thursday, March 17 through May 12 from 6:00 – 8:30 p.m. Learn more
March 18 – Dueling Pianos Night – Enjoy an evening full of music, laughter, and fun hosted by Sean Cowin's Flight of the Keys. Doors open at 7 p.m., show starts at 8 p.m. A la carte menu, handcrafted cocktails, and a sommelier curated wine list offered. Must be 21 years of age to enter. Learn more
March 19 – Greater Conroe Arts Festival – The Greater Conroe Arts Alliance consists of 18 Performing and Cultural Arts organizations in Montgomery County Texas. The Performance and Visual Arts organizations are hosting the Greater Conroe Arts Festival on Saturday, March 19 from 10 a.m. to 5 p.m. Located in Historic Downtown Conroe, this outstanding family event features Local and Texas Artists representing all genres of The Arts. Learn more
March 19 – Soggy Doggy Swim Day – Calling all dog lovers! Bring your dog to Creekwood Park and Pond for a splash in the pond, doggy crafts, trick competitions and a fetching game! All pets must be on a leash while not swimming and must be up to date on shots. Pre- registration required. Learn more
March 19 – Honky Tonk Chili Challenge – Tomball's annual Honky Tonk Chili Challenge is an afternoon filled with live old school country music and a Chili Appreciation Society International sanctioned chili cook-off with teams from across the state. Learn more
March 24 – HarperRand Free Healthcare Information Session – Healthcare workers in The Woodlands / Conroe area are in high demand! Join HarperRand at UST MAX Center on Thursday, March 24 at 6 p.m. for a free information session and learn how easy it is for you to become a healthcare professional. Make a difference in your community today! Register today
March 25 – April 3 – Montgomery County Fair & Rodeo – The Montgomery County Fair & Rodeo has something for everyone! At the fair, enjoy family attractions, BBQ cook-off, carnival, concerts, El Dia de La Familia Hispana, and a 65 & older show. At the rodeo, you'll find the CPRA rodeo, youth rodeo, ranch rodeo, Dos Chicas barrel racing, clash of the counties, team roping, and so much more! Learn more
March 26 – Earth Day GreenUp – Team up with family and friends to target litter on pathways, along waterways, and in greenbelts. Help keep our community beautiful and enjoy the outdoors while bagging litter from streets, pathways and streams. Registration is encouraged before March 18th, to ensure enough supplies and equipment for everyone. Walk-up registration is also welcome. Learn more
March 26 – 1st Annual Creekwood Fishing Derby – Bring your fishing poles and we'll provide the bait! T-shirts are given on first-come, first-served basis. Prizes awarded for longest, heaviest, and smallest fish caught. Registration not required for this free event sponsored by The Woodlands Professional Firefighters Association. The Creekwood Fishing Derby is held at Creekwood Park Pond and is for all ages. Learn more
March 26 – Amazing Kindness Race – Have a ton of fun getting active and supporting multiple local nonprofits all in one morning at the family-friendly Amazing Kindness Race! Choose from the Amazing Race-style team relay through fun fitness challenges and service challenges put on by local nonprofits OR run or walk just the chip-timed 5K as an individual. Either way, you get to join in the party afterward with local vendors, Kate's Face Painting, and a filled custom pint glass (beer or soda)! Learn more and sign up here.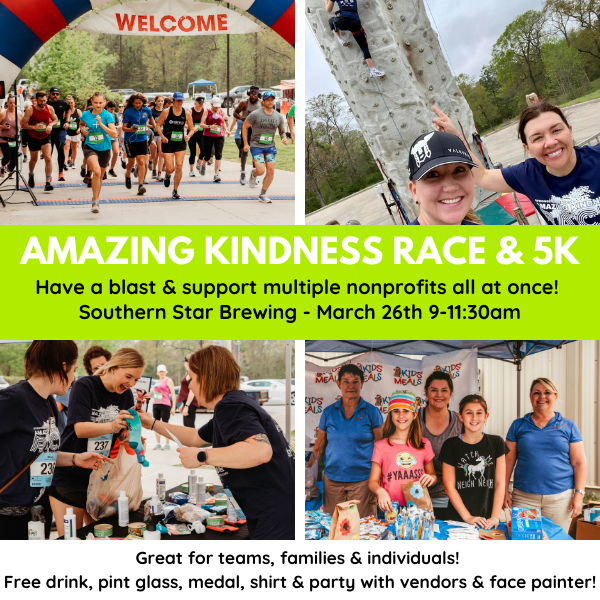 March 26-27 – TexasFest – Come and enjoy major concerts, contemporary arts and craft displays, a classic car show, frisbee dogs, and dozens of fun attractions and contests at Heritage Park in Conroe. Check out the Taste of Texas Food Garden, with delicious cuisine, and cold domestic and craft beers. National recording artists will be performing throughout the afternoon and evening on the main stage, as well as juried visual artists presenting the heritage and the culture of our great city. Admission and parking are free. Learn more
March 26 – Angel Reach Road Rally Scavenger Hunt – Angel Reach is hosting an exciting Road Rally Scavenger Hunt starting at Church Project North parking lot located in the Conroe Outlet Mall. Players will follow clues to several locations throughout the Conroe area, finishing at B52 Brewery for a family-friendly afternoon of fun. Learn more
SAVE THE DATE! April 2 – "An Enchanted Evening" Building Hope Gala – Join Habitat for Humanity of Montgomery County for an enchanted evening on Saturday, April 2 at 6:30 p.m. at The Woodlands Waterway Marriott for the 2022 Building Hope Gala. Learn more and purchase tickets at https://bit.ly/BuildingHopeGala2022
Advertisement
PET OF THE MONTH
Hello Woodlands in partnership with Operation Pets Alive will begin highlighting a "Pet of the Month" that features a local dog or cat available for foster and/or adoption in Montgomery County, Texas. Operation Pets Alive is a non-profit, all-volunteer organization striving to elevate Montgomery County to a No-Kill community through innovative programs that raise community awareness, reduce the number of dogs and cats that enter our shelters, and increase the number of dogs and cats that leave our shelters alive.
Meet our Pet of the Month, Manolo! Read more about Manolo here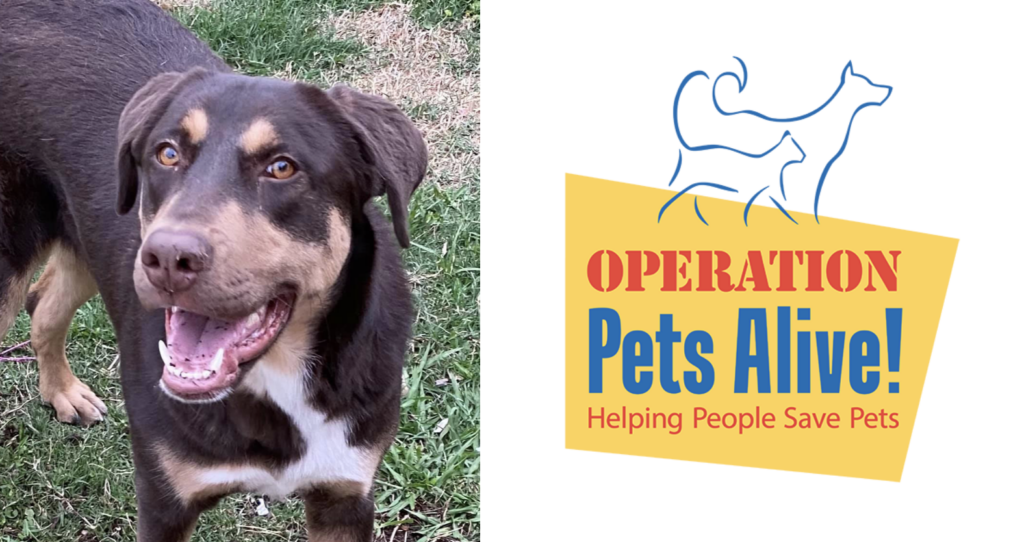 GIVE BACK
Due to the current COVID-19 pandemic, nonprofits are in need now more than ever. Organizations are working hard to maintain the quality of care they have always provided to our community.
Hello Woodlands' ongoing series "Nonprofit of the Month," featuring Randy Lovelace of Paragon Independent Insurance Agencies, spotlights several of these nonprofits. Learn more about the nonprofits' missions and meet the people behind them here.
Learn more about the Hello Woodlands Nonprofit of the Month, The NeighborBridge, and read our interview here.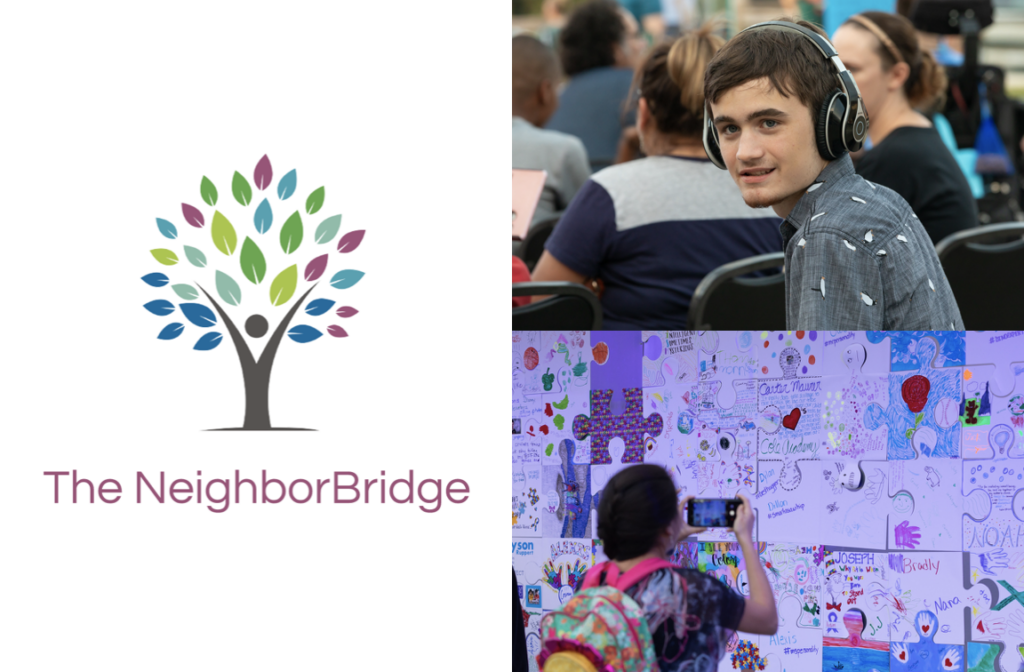 Visit our online calendar, subscribe to our Email Newsletter, follow us on social media at @HelloWoodlands, and check back for a list of 31 Things To Do in April 2022!
Contact us at info@hellowoodlands.com to tell us about events, activities, and more ways we can share about helping our community, supporting local, and things to do in The Woodlands and Montgomery County area.
Thank you for your support!