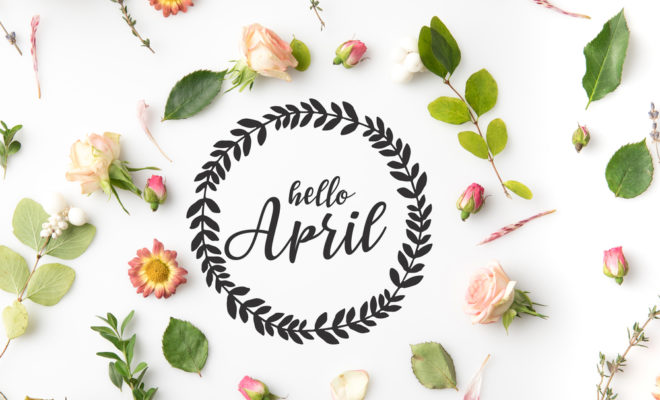 Calendar
31 Things To Do in April
By |
Hello Woodlands' "31 Things To Do" monthly guide highlights events, activities, and things to do this April in The Woodlands and Montgomery County area PLUS ways to give back and support local. Be sure to check back on Hello Woodlands for updates and events!
APRIL 2022
FEATURED EVENTS
April 2, 2022 – Warrior Color Run – The Woodlands Christian Academy will host its 3rd annual community wide Warrior Color Run, sponsored by Hunter Family Orthodontics and Parke & Rogers Dentistry. With music and free food, the Color Run is a family-friendly activity where participants have the option of running a 5k or 1k. Spectators spray runners with colored powder throughout the course, completely covering them from head to toe in rainbow colors by the time they reach the finish line. The run starts on the school's 40-acre campus and weaves through W. G. Jones State Forest. Last year, 430 registered runners participated in the community-wide event. Register for the run at twca.net/colorrun
April 9-10, 2022 – Fidelity Investments The Woodlands Waterway Arts Festival – The Woodlands Waterway Arts Festival is a jewel of the Texas fine arts tour and ranked among the top arts festivals in the country. Set along the scenic banks of The Woodlands Waterway and in Town Green Park on Saturday, April 9 and Sunday, April 10, festival guests have the unique opportunity to enjoy a vibrant outdoor art gallery with music, food and kid's activities while shopping for art created by fine artists from around the world and nation. Selected artists display unique original artwork ranging across a variety of mediums at the festival. Voted as the best event in The Woodlands, the arts festival is a long standing springtime tradition for families and locals. On April 8, the Art Dash Party will be held in the Ballroom at The Woodlands Waterway Marriott Hotel the night before the festival and celebrate an abundance of art and put the "fun" in fundraiser for The Woodlands Arts Council Student Art Scholarship program. Learn More: www.thewoodlandsartscouncil.org/festival
April 2022 – Classes and Programs at Canopy Cancer Survivorship Center – Canopy is open for classes and programs! Canopy is a cancer survivorship on the campus of Memorial Hermann The Woodlands Medical Center. Canopy is open to men and women, no matter where you were treated, and for any kind of cancer. If your life has been impacted, whether you were the patient or the caregiver, you have a safe haven at Canopy. Learn More
NEW! The Book Club is open to new attendees and is now held on the 2nd Wed of each month at 1:30 p.m.
NEW! The Camera Club is open to attendees and will be held on the 2nd Monday of the month at 11 a.m.
April 9, 2022 – The Great Garden Festival – Nature's beauty will be on full display on Saturday, April 9 from noon to 3 p.m. during The Great Garden Festival at Woodforest Development at The Palm Information Center, 251 Central Pine Street, with activities inspired by Mother Nature. Event goers can take photos with creatures from a living forest, sample treats from an edible garden, sip a frozen flower mocktail, pick up a free native tree sapling, and craft nature-themed projects. Admission to The Great Garden Festival is FREE! Learn more at https://bit.ly/GreatGardenFestival
April 16-17, 2022 – Easter Services at The Woodlands Methodist Church – Join The Woodlands Methodist Church for Easter services on Saturday, April 16 and Sunday, April 17th! Don't miss other special Holy Week events, including All Church Maundy Thursday Service, Good Friday Fish Fry and Worship (Woodforest Campus), and a special Good Friday Service. There will also be a family friendly Stations of the Cross Walk Through, where families can encounter the story of Jesus' life from the Last Supper to the crucifixion through story, sound, and interaction like you've never experienced before. Learn more at https://bit.ly/TWMCEaster
April 22,2022 – NWHC Go Red for Women® Luncheon – After nearly two years away from in person luncheons, the American Heart Association, the world's leading nonprofit organization focused on heart and brain health for all, has announced their 2022 NWHC Go Red for Women® Luncheon will return to our community in-person. This signature luncheon will be held from 11 a.m. on Friday, April 22 at The Westin Memorial City. The event is chaired by Nancy Trennel, Executive Vice President and Chief Marketing Officer at First Community Credit Union. For more information and to register to attend the Go Red For Women Luncheon, contact Kayla.Griffin@heart.org or visit NorthwestHarrisCountyGoRed.Heart.org
April 22, 2022 – New Danville's Spring Thing – New Danville's Spring Thing (formerly known as Tea on the Lawn) will be held April 22 at The Woodlands Resort and Conference Center. The Market and registration open at 10:30 a.m., the luncheon and program begin at noon. The featured speaker will be Troy Ball, a mother of two special needs children who became the first woman since Prohibition to legally build a whiskey distillery. She has attracted audiences around the country, sharing her story of resolve and resilience detailed in her book Pure Heart: A Spirited Tale of Grace, Grit and Whiskey. For tickets and more information please visit www.Spring-Thing.org.
April 30, 2022 – Jazz Fest – Swing over to Grand Central Park from 1 to 5 p.m. for smooth jazz showcasing Houston's most exciting and innovative local artists, including Shari Lavo, Tianna Hall and Jaime Casco. Complementing the performances will be a Second Line Parade led by the Boomtown Brass Band, a balloon artist, face painters and more. Food, wine and beer will be available for purchase so you can feed your love for music and your family. Parking is available at 925 City Central Ave, Conroe, TX 77304. Register today at https://www.grandcentralparktx.com/jazz_fest
THINGS TO DO
Now through April 16, 2022 – Celebrate Easter – Discover local family-friendly Easter events in The Woodlands area at www.hellowoodlands.com/easter-events-in-the-woodlands-area-2022.
Anytime – Volunteer, Make a Donation, or Get Involved in a Local Nonprofit Organization! – Learn more about nonprofit organizations in Montgomery County by watching our "Nonprofit of the Month" video interviews here.
Thursday–Sunday – Local Farmer's Markets – Visit a local farmer's market in Montgomery County! Learn more about The Woodlands Farmer's Market, Montgomery Sip-and-Stroll Farmer's Market, Tomball Farmer's Market, Main Street Market, and more on the Hello Woodlands Calendar. Learn more
March 25-April 3, 2022 – The Montgomery County Fair & Rodeo – The Montgomery County Fair & Rodeo has something for everyone! At the fair, enjoy family attractions, BBQ cook-off, carnival, concerts, el dia de la familia hispania, and a 65 & older show. At the rodeo, you'll find the CPRA rodeo, youth rodeo, ranch rodeo, dos chicas barrel racing, clash of the counties, team roping, and so much more! Learn More
March 4 – April 8, 2022 – Hal Donnelly Memorial Fish Dinner – Back by popular demand! The Brotherhood of St. Andrew at Trinity Episcopal Church The Woodlands sponsors a fish dinner that serves fried or baked fish, french fries, hush puppies, fried pickles, coleslaw, potato salad, and desserts. Dinners will be on Fridays from March 4 – April 8 from 5:00 p.m. to 7:00 p.m for $12 a plate for a fish and any sides. Learn More
April 1, 2022 – The Woodlands Celebration of Excellence Gala – After a difficult year, the Gala returns to The Woodlands Waterway Marriott Hotel and Convention Center, honor our Hometown Heroes and recognize the contribution by so many that has made The Woodlands the vibrant community it is today. Mr. George P. Mitchell inducted the first class of Hometown Heroes in 1999, as part of The Woodlands' 25th Anniversary celebration. Since this time, 139 individuals, businesses and non-profit organizations have received this honor. Learn More
April 2, 2022 – Miles for Meals 5k/10k – It is time again for our annual Miles for Meals 5k/10k Run Walk at B52 Brewing in Conroe! The 6th Annual fun run, held at B-52 Brewing Company in Conroe, has something for everyone – competitive runners, casual walkers, families with strollers, and dogs on leashes. Learn More
April 2, 2022 – The Woodlands Township Neighborhood Watch Emergency Preparedness Event – All residents and businesses invited to this fun, free, family event! This is a great opportunity to learn ways to prepare for any emergency. Various agencies will provide information at indoor and outdoor booths, and apparatus will be on site for demonstrations. Stop by and pick up your free family emergency document bag packed with preparedness materials and mini-lantern while supplies last. Speak to various government, public safety, utility and organization personnel about emergencies. Learn More
April 2, 2022 – "Freedom to Fly" Concert – Texas Master Chorale will present their spring concert, "Freedom to Fly," at John Wesley United Methodist Church at 7:30 p.m. The concert will feature an eclectic mix of music from the 1600s to modern day from classic Baroque, lush Brahms Romanticism, poignant poetry, music by Grammy-winning composer Eric Whitacre, pop melodies, and roof-raising spirituals. Learn More
April 2, 2022 – Light it up Blue – Woodforest will go blue in support of families touched by autism during Light It Up Blue, 6 to 9 p.m. at The Palm Information Center, 251 Central Pine Street. Held in conjunction with World Autism Day, the event will feature live music, recreational and therapeutic vendors, interactive activities, games, face painters, balloon artists and more. A puzzle wall will feature pieces decorated by individuals in the community. Food trucks will offer items for purchase. Free water bottles will be available while supplies last. Proceeds benefit autism housing non-profit The NeighborBridge. Learn More
April 2, 2022 – Health, Wellness and Fitness Expo 2022 – Bring your family, friends or workout buddy and visit health and fitness vendors for a health, wellness and fitness pop up event at Market Street. Check out the free health screenings available, or join in on our kid-friendly activities! The event will take place rain or shine and is open to the public. Learn More
April 2, 2022 – "An Enchanted Evening" Building Hope Gala – Join Habitat for Humanity of Montgomery County for an enchanted evening on Saturday, April 2 at 6:30 p.m. at The Woodlands Waterway Marriott for the 2022 Building Hope Gala. Learn more and purchase tickets at https://bit.ly/BuildingHopeGala2022
April 7-10, 2022 – Conroe Crossroads Music Festival – The inaugural Conroe Crossroads music presents more than 40 shows featuring a variety of music genres in locations throughout Conroe. Shows run simultaneously at the various venues with nighttime shows starting at approximately 6 p.m. and ending at closing time. There will be daytime activities that are free and open to the public. Learn More
April 7, 2022 – The "Horizons" Photography Contest Winners Opening Reception – The "Horizons" Photography Contest is a partnership of the University of St. Thomas USTMAX Center and the Conroe Art League. Members of the league participate in a competition themed "Horizons." Three winners will be selected and the photographs will be featured at USTMAX Center for 3 months. To launch the show and unveil the winning pieces, the opening reception will be held in the Gallery of the USTMAX Center. Learn More
April 9, 2022 – 2nd Annual Bags for Wags Cornhole Tournament – Join Who Rescued Who for the 2nd Annual Bags for Wags Cornhole Tournament and Vendor Event at Southern Star Brewery from noon to 8 p.m. for a great time benefitting a great cause. Learn More
April 16, 2022 – Run and Done 3.1 – The popular Run and Done 3.1 race returns to Rob Fleming Park from 7 to 9 a.m. The chip-timed 5K course winds throughout the pathway system in Rob Fleming Park, providing a scenic route and a fun, enjoyable atmosphere for participants of all skill levels. Learn More
April 16, 2022 – Eggstravaganza – Celebrate Springtime with your family at the Eggstravaganza! Enjoy coffee, donuts and fruit. Play classic games with the Bunny, go on an egg hunt and work on a fun craft to take home! Remember your basket and camera! All Ages. Learn More
April 16, 2022 – IRONKIDS Fun Run – The IRONKIDS Fun Run on Saturday, April 16 offers young athletes the opportunity to feel the excitement of competition while enjoying the outdoors and promoting healthy living. Running clubs welcome! Each athlete receives a goodie bag with a race bib, finisher shirt, medal, and the pride of calling themselves an IRONKID! Village booths/activities begin at 8:30 a.m. in Town Green Park. Learn More
April 22, 2022 – 2022 CAC Legacy Luncheon – The Community Assistance Center (CAC) is thrilled to announce their speaker for the 2022 Legacy Luncheon is Stephanie Land, author of bestselling debut memoir Maid: Hard Work, Low Pay, and a Mother's Will to Survive recounting her harrowing saga as a single mom navigating the poverty trap. Learn More
April 22-24, 2022 – Texas Mineral & Fossil Show – If you love fossils, dinosaurs, gemstones, lapidary, cabochons, handmade jewelry, crystals, meteorites, gold, silver, turquoise, pyrites, and mineral specimens – this show is for you! This family friendly show will be held at the Lone Star Convention Center. Learn More
April 22 – Earth Day Celebration – Join us on Friday, April 22 from 4 to 5 p.m at Village Books! Bug Out at Village Books with their Earth Day celebration focused on everything fantastically creepy and crawly! Learn More
April 23, 2022 – Over The Edge 2022 – Over The Edge 2022 is family friendly event where fundraisers for Camp for All rappel down The Woodlands Towers at The Waterway. Camp For All is a local nonprofit that provides a barrier-free camp experience for children and adults with special needs. Learn More
April 29, 2022 – The State of Conroe ISD – The Conroe ISD Education Foundation presents The State of Conroe ISD annual breakfast featuring guest speaker Conroe ISD Superintendent Dr. Curtis Null at the Woodforest Bank Stadium from 7:30 – 8:30 a.m. The Conroe ISD Education Foundation grants scholarships to Conroe ISD graduating seniors who wish to pursue a degree in education; and to Conroe ISD educators who wish to further their educational degrees. Learn More
April 29-30, 2022 – Magnolia Showdown BBQ Cook-Off – The annual Magnolia Showdown BBQ Cook-Off is taking place at Unity Park in Magnolia with cookers from all over Texas gathering to compete. This event is sanctioned by Lone Star Barbeque Society. Learn More
April 30, 2022 – Independent Bookstore Day – Join us on Saturday, April 30 from 10 a.m. to 5 p.m. at Village Books to celebrate Independent Bookstore Day, support our local bookstore, and enjoying a day of fun including giveaways, prizes, face painting and refreshments! Learn More
April 30, 2022 – World Tai Chi Day 2022 at Market Street – Come out to Market Street in observance of World Tai Chi Day from 9:00 am to noon and enjoy demonstrations and mini lessons by Woodlands Tai Chi. This event is open to the public! Learn More
April 30, 2022 – Montgomery County Safety Expo – Join local first responders as they share information about their agencies and their jobs. Watch demonstrations and learn about safety in the county. Learn More
April 30, 2022 – Conroe Kidzfest – Conroe's premier family festival is free to the public offering a variety of FREE activity villages, interactive games, stage performances, water activities, inflatables and more from 10:00 a.m. to 5:00 p.m. in downtown Conroe. Learn More
April 30, 2022 – 7th Annual Sterling Ridge Fishing Festival – Kids and adults can gather together and spend a morning fishing and enjoying nature at Pepperdale Park from 9:30 a.m. to noon. There will be awards for biggest fish and most fish caught in three age groups. After having fun and catching fish, there will also be the opportunity to clean up the park and pond. Learn More
April 30, 2022 – The Woodlands Christian Academy Gala: Be Bold – An Epic Event – The Woodlands Christian Academy Gala promises to be epic! The gala features dinner, entertainment by DJ Men-Yo, a silent auction, bid board, exciting raffle items, live auction, Fund-A-Need, and more! Learn More
PET OF THE MONTH
Hello Woodlands in partnership with Operation Pets Alive will begin highlighting a "Pet of the Month" that features a local dog or cat available for foster and/or adoption in Montgomery County, Texas. Operation Pets Alive is a non-profit, all-volunteer organization striving to elevate Montgomery County to a No-Kill community through innovative programs that raise community awareness, reduce the number of dogs and cats that enter our shelters, and increase the number of dogs and cats that leave our shelters alive.
Meet our Pet of the Month, Chippy! Read more about Chippy here
GIVE BACK
Due to the COVID-19 pandemic, nonprofits are in need now more than ever. Organizations are working hard to maintain the quality of care they have always provided to our community.
Hello Woodlands' ongoing series "Nonprofit of the Month," featuring Randy Lovelace of Paragon Independent Insurance Agencies, spotlights several of these nonprofits. Learn more about the nonprofits' missions and meet the people behind them here.
Visit our online calendar, subscribe to our Email Newsletter, follow us on social media at @HelloWoodlands, and check back for a list of 31 Things To Do in May 2022!
Contact us at info@hellowoodlands.com to tell us about events, activities, and more ways we can share about helping our community, supporting local, and things to do in The Woodlands and Montgomery County area.
Thank you for your support!