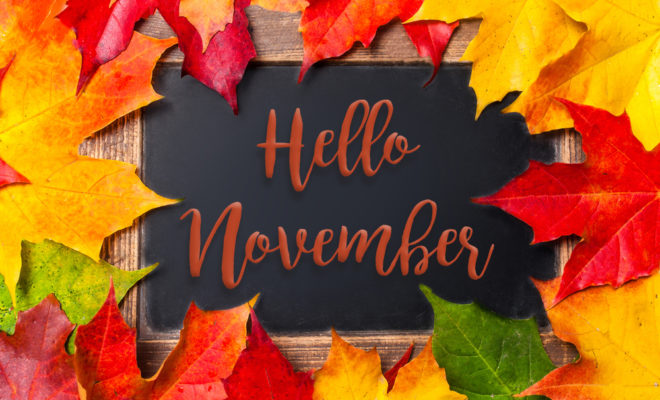 Calendar
31 Things to Do in November 2019
By |
Hello November! Discover what's happening with the Hello Woodlands' monthly "31 Things To Do" guide featuring events, activities, locations, and ways to get involved in your community.
Join us this November by trying new activities and attending events in and around The Woodlands, Texas. Be sure to follow us on social media at @HelloWoodlands and subscribe to our email newsletter to stay updated for upcoming events, ticket giveaways, live videos, photos, and so much more!

31 THINGS TO DO – NOVEMBER 2019
FEATURED EVENTS
November 9 & 10 – 24th Annual Children's Festival – The Cynthia Woods Mitchell Pavilion is transforming into a giant playground for the 24th Annual Children's Festival and the whole neighborhood is invited to hop on board! This year's festival will take place on Saturday, November 9 from 10:00 a.m. to 5:00 p.m. and Sunday, November 10 from noon to 5:00 p.m. With performers on multiple stages, character meet and greets, a special toddler area just for the youngest festival goers, arts and crafts, hands-on activities and exciting active adventures, there's something for everyone in the family to enjoy along this epic journey around the venue. Everyone is invited to join Thomas & Friends™ on a fun-filled, sing along adventure by helping Thomas plan for a special Sodor surprise party using teamwork, friendship and discovery. During story time, come on a journey with Thomas, James, and Percy or play with the latest Thomas product! Don't miss the opportunity to meet the Really Useful Engine and get your photo taken. Be sure to bring your camera to capture the special day! Visit The Pavilion website for the full Main Stage schedule. Admission is $10 per person and includes all performances and activities. Purchase Tickets
November 22-24 – Junior League Holiday Market – The Annual Junior League Holiday Market is a shopping extravaganza event that features a variety of items. From flower arrangements to personalized gifts to holiday ornaments, you can begin your holiday shopping early and even have time left over to buy yourself something special. All proceeds from this event will go directly into the community to support JLTW, Inc. programs, benefiting the communities of suburban North Houston. Purchase Tickets
Learn more about Junior League of The Woodlands, Hello Woodlands' Nonprofit of the Month, here.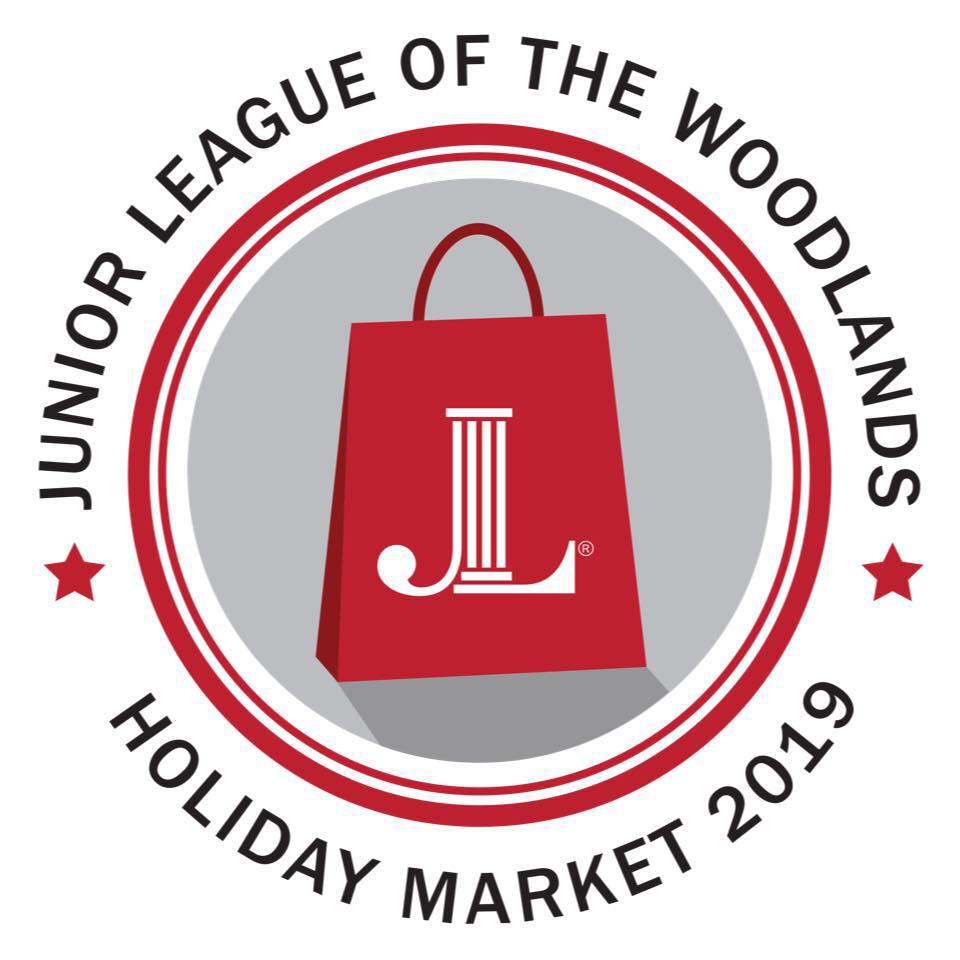 November 28 – 30th Annual YMCA Run Thru the Woods – This holiday tradition in The Woodlands on November 28 is for ALL ages and features a 1 mile kids race, 5 mile run, 3 mile run and 3 mile walk. All proceeds benefit the YMCA Annual Giving Campaign. Register Here
Visit the Hello Woodlands Calendar for MORE events, event information, details, directions, and links!
Advertisement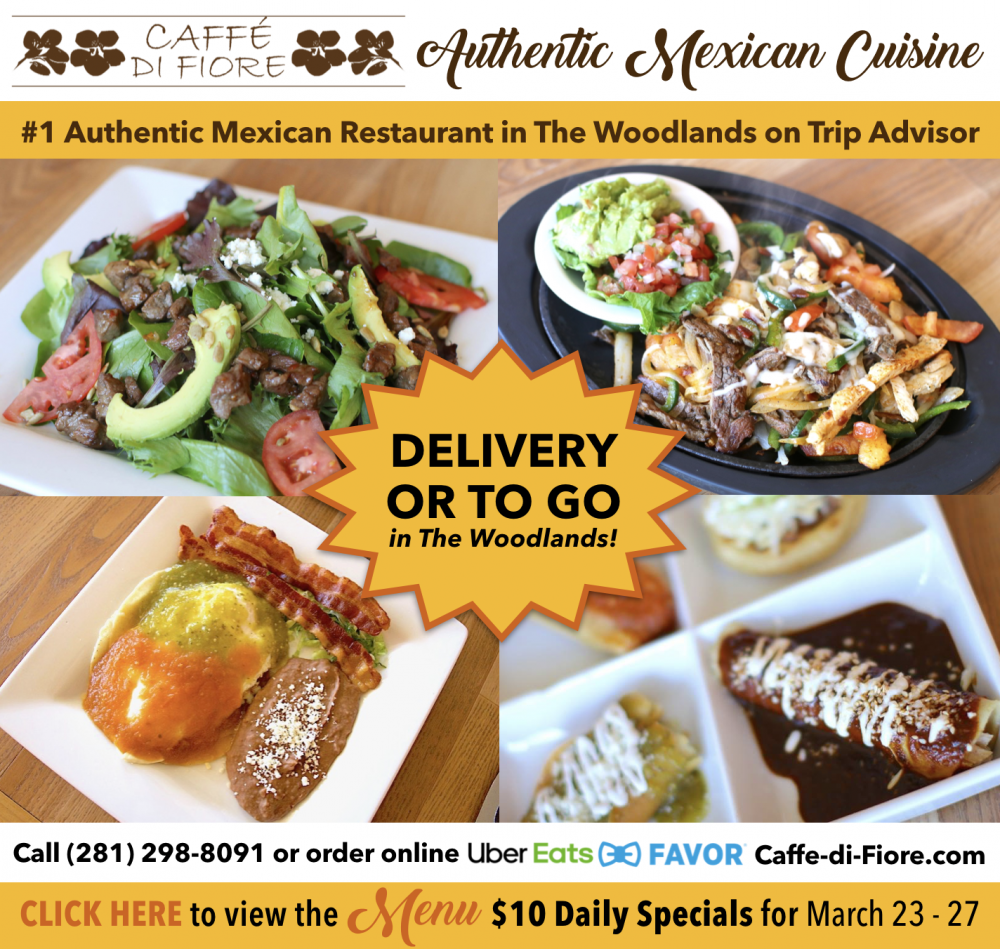 NOVEMBER EVENTS
November 1-30 – COME SOAR WITH US! The Woodlands Methodist School will be accepting applications for the 2020-2021 school year beginning November 1, 2019. The Woodlands Methodist School provides an exceptional, Christian education for all ages from 18 months through 8th grade. Find more information, visit twmschool.org. The Woodlands Methodist School admits students of any race, color and national or ethnic origin. Learn More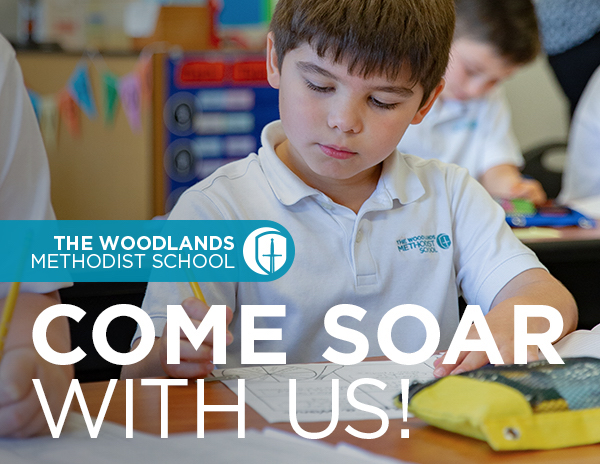 November 1 – Bridgewood Farms Charity Golf Tournament – Come join in the fun with a four man scramble in support of Bridgewood Farms, Montgomery County's oldest nonprofit organization, concluding with dinner and awards in the banquet room of the golf club. This event is vital to the success of the organization's mission to improve the lives, independence and self-esteem of teens and adults with intellectual and developmental disabilities. Learn More
November 1 – Sunset & S'mores – Enjoy an evening on the Texas TreeVentures adventure course then gather around a campfire for s'mores. The cost is $40 per person. Preregistration is required. Register by calling 281-210-2048. Participation and youth supervision requirements apply. Learn More
November 2 – Out of the Darkness Community Walk – Join the 2019 Out of the Darkness Walk to benefit the American Foundation for Suicide Prevention. Come together to raise awareness and funds for the cause and unite in solidarity and remembrance for the loved ones lost to suicide. This family friendly event will feature opening and closing ceremonies, resource tents, community organization tents, food and beverage stations, activities for children as well as memorials for all to participate in at Town Green Park. Free for all to register and participate. Learn More
November 2 – Bark in the Park Dog Walk – The free 3rd annual event, hels at Grand Central Park, 715 Camp Strake Road, starts with registration at 10 a.m. and a 1.5-mile walk at 11 a.m. followed by a chance to "raise the ruff" with Houston Disc Dogs, pet peddlers, a dog-lure course, a dog costume contest, photo booth, pup kissing booth, inflatables, food trucks and FREE pet adoptions! Proceeds will benefit Operation Pets Alive. All who pre-register receive a t-shirt and goodie bag. Learn More
November 2 – Drip Irrigation & Rainwater Harvesting Workshop – Learn how to save water, time, and money. Hands-on training will help you to set up a rainwater harvesting barrel in your yard and to convert some or all of your automated sprinkler system to drip. In addition, passive rainwater harvesting techniques such as rain gardens will be explained. This workshop, held at the Woodlands Emergency Training Center, is free but registration is required. Learn More
November 4, 11, 18, 25 – All About Moms Support Group – This support group is for new mothers and their babies (0 – 1 year) facilitated by a Registered Nurse. Meetings are held every Monday from 10:00 – 11:30 a.m. (except holidays) at Memorial Hermann The Woodlands Perinatal Educational Classroom. Due to the time, attention, and safety of the class, please make other arrangements for older children. Learn More
November 5 – ELECTION DAY
View the Hello Woodlands 2019 Election Guide including interviews with The Woodlands Township Board of Director Candidates here.
November 7 – The Woodlands North Houston Conference for Women – Natalie Saikowski Goertz of Guaranty Bank & Trust will be honored as a 2019 Trailblazer at The Woodlands North Houston Conference for Women, hosted by the Greater Houston Women's Chamber of Commerce. The Conference embraces an international network of individuals from all walks of life, backgrounds and perspectives. Recognized for its unparalleled capacity to empower and inspire women and girls, the annual conference unites internationally-acclaimed leaders and visionaries. Register Here
November 9 – 3R Bazaar – Recycle Beyond the Ordinary! Explore the 3R Bazaar at The Woodlands Farmer's Market at Grogan's Mill from 8 a.m. to 12 p.m. to receive an exclusive reusable bag to shop the market and discover opportunities to Reduce, Reuse, and Recycle. Shop local artists featuring repurposed materials or create your own upcycled masterpiece! Learn More
November 9 – JDRF One Walk The Woodlands – Join us on Saturday morning at Lone Star College-Montgomery! Team "Just Cure it" is walking to create a world without type 1 diabetes (T1D). With T1D there are no days off and there is no cure. But there is hope. This is for Cali and Ella and all the other heroes with T1D! Register (it's free!) and join our team! Join the Team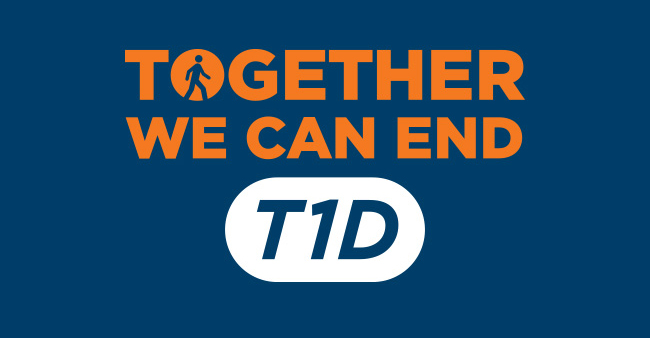 November 9 – Pop Up Books Workshop – This workshop is an introduction to the making of pop-ups for books or cards. You will learn base pop-up structures, and then combine them to create visual complexity. Some of the pop-ups to be covered are boxes, triangles, floating platforms, tabbed props, spirals, and pierced/layer if time permits. Leave with an armful of examples and ideas waiting to be explored further. All materials provided. Held at Glade Arts Foundation from 10:00 a.m. – 4:00 p.m. Learn More
November 9 – Montgomery County Nutcracker Market – Call the girls and mark your calendar for the start of Holiday shopping season! Come explore this upscale inspired indoor market with so many unique local vendors offering unique funky junque, handmade and fashion jewelry, art, antiques, women's and children's boutique clothing, home, garden and holiday decor, gourmet food items and so much more at the Lone Star Convention Center from 10:00 a.m. to 5:00 p.m. Learn More
November 11 – Veteran's Day Tribute – The ceremony will feature a presentation of colors, musical performances, a keynote speaker and more. A care package drop-off booth will also be onsite to accept donations of recommended items to be shipped to the troops abroad. The tribute is from 4:30 – 5:30 p.m. and is free of charge. Learn More
November 12 – John Cooper School Pre-K – Grade 12 Presentation & Tour – Each of the three Division Heads of Upper School (grades 9-12), Middle School (grades 6-8) and Lower School (grades 1-5) will give informative presentations and tours to families who are interested in learning more about applying to The John Cooper School for the 2020-2021 school year on November 12 at 8:45 a.m. in the Ramirez Lecture Hall of The Rock Math + Science Center. Parents are invited to meet with administrators to learn more about the curriculum and programs offered at the college preparatory day school that is a recognized leader in independent school education. The Pre-k through Grade 12 school has a current enrollment of 1,280 students and is located on 43 acres. Learn More
November 13 – Ask the Doctor – Join Canopy Cancer Survivorship Center every month for the "Ask the Doctor" series as the speaker will share valuable information and answer your questions. Lunch will be served. Please RSVP to the Canopy front desk at 713.897.5939. On November 13th at 12 p.m. come hear Dr. Divya Chirumamilla speak about Pain Management. As a caring community of hope, healing and empowerment, Canopy Cancer Survivorship Center enhances the quality of life for individuals affected by cancer and for those who support them during their journeys. At Canopy, there are a wide variety of programs and services addressing the emotional, physical and social needs of those touched by cancer. Learn More
November 13 – Fraud & Security Breakfast Seminar – Guaranty Bank & Trust is the proud presenting sponsor for the Fraud & Security Breakfast Seminar featuring Matt Davies from the Federal Reserve Bank of Dallas. Seating is limited and RSVP is required. Doors will open at 7:45 a.m. and presentation begins promptly at 8:00 a.m. Cost is $10/person. Register Here
November 14 – Walk in the Woods Nature Lecture Series – Explore nature at your backdoor! Speakers reveal our rich eco-system with a close-up view of extraordinary plants and wildlife. Offered once a month from September to November, each program features a keynote speaker and a walk through nature. Free, registration required. The topic for November is Birds of The Woodlands with Alisa Kline. Learn More
November 15 – David Caceres Band Concert and Dinner – Join Glade Arts Foundation for dinner and a concert at 6 p.m. with the David Caceres Band including an a la carte menu, handcrafted cocktails and a curated wine list. David Caceres comes from a family with a rich musical heritage. His grandfather, jazz violinist Emilio Caceres, led a popular swing orchestra in San Antonio, Texas in the 1930's & 40's. However, to jazz fans the Caceres name is familiar due to the work of his great uncle Ernie Caceres, who played saxophone and clarinet with the Glenn Miller, Benny Goodman, and Woody Herman big bands. Purchase Tickets
November 16 – Montgomery County Heart Walk – Over 50 area companies and organizations participate, alongside 5,000 families, friends and survivors in a non-competitive, family-oriented 5K walk starting and ending at Northshore Park. Learn More
November 16 – January 20 – The Woodlands Ice Rink – The Woodlands Town Center officially opens for the holidays Saturday, November 16, 2019 through Monday, January 20, 2020. The facility, located near the north gate entry of The Cynthia Woods Mitchell Pavilion and the intersection of Lake Robbins Drive and Six Pines Drive, features ice skating in a main room with lighting, a state-of-the-art sound system, tables for parties and concessions. Learn More
November 16 – The Music of ABBA Live – The world's biggest ABBA show is taking the stage at Dosey Doe – The Big Barn. The 12 piece band features amazing vocals & stunning costumes. Enjoy favorites such as Dancing Queen, Gimmie Gimmie Gimmie, Take a Chance On Me, Knowing Me Knowing You, Name of the Game, and Mama Mia. Dinner is included with ticket price. Learn More
November 19 – The Nest for Newbies – This breast cancer support group is a safe haven for women who have been newly diagnosed with breast cancer. This is a five month program, held once a month at noon with a different topic each time. The topic for November is How to Cope with Anxiety and Fear. Please RSVP to the Canopy front desk by calling 713-897-5939. Learn More
November 21 – The Lighting of the Tree at Market Street – Market Street will kick off the holiday season with the lighting of its 70-foot Christmas tree, synchronized to twinkling lights and holiday music in Central Park. As part of the evening's festivities, one deserving family or individual, nominated as the 2019 Official Lighting Luminary, will light the tree in front of the cheering crowd. Kicking off a holiday season of events, the celebration continues with live musical performances, entertainers and holiday carriage rides. Learn More
November 22 – Princess Day – Children and adults are encouraged to wear their finest royal apparel to the Princess Day celebration at The Woodlands Children's Museum. Visitors can meet Pocahontas and other guest princesses, train to be a knight, create majestic works of art and enjoy performances by Native American dancers. Recommended for ages 7 and under. Learn More
November 22 – City of Tomball Christmas Tree Lighting – Kick off the holiday season at the lighting of Tomball's Christmas tree at Depot Plaza. There will be live music, sweet snacks and hot chocolate, activities, Santa and Mrs. Claus along with their elf buddies. Free admission and parking. Learn More
November 23 – The 37th Annual Lighting of the Doves Festival – The annual festival includes traditional and international performances, showcasing the cultural diversity of The Woodlands and holiday traditions celebrated around the world. Featuring snow play areas, vendor booths, children's activities and strolling entertainment, Lighting of the Doves culminates with a special appearance by Santa Claus arriving by sleigh down The Woodlands Waterway and a dazzling fireworks display. Learn More
November 23 – Tomball Holiday Parade – The annual Tomball Holiday Parade presented by the Greater Tomball Area Chamber of Commerce, features more than 100 colorful holiday floats and rolling displays, marching bands, and of course Santa Claus and his helpers. Learn More

Plan ahead for December! Visit our online calendar, subscribe to our Email Newsletter, follow us on social media at @HelloWoodlands, and check back for a list of 31 things to do in December 2019!
Contact us at info@hellowoodlands.com to tell us events, activities, locations, businesses, and non-profits we should feature and visit in December!