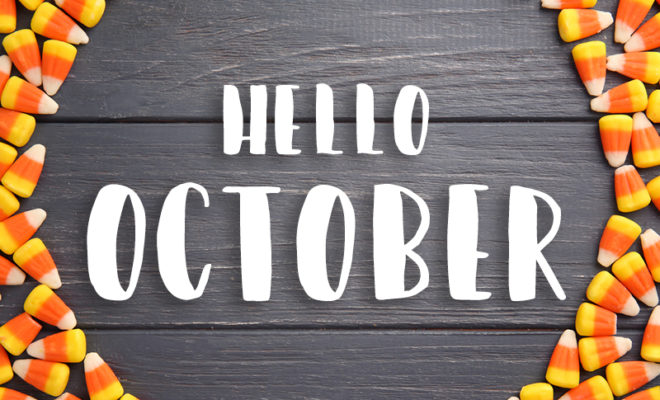 Calendar
31 Things to do in October
By |
Hello October! Discover what's happening with Hello Woodlands' "31 Things To Do" monthly guide featuring events, activities, locations, and ways to get involved in your community.
Join us this October by trying new activities and attending events in and around The Woodlands, Texas. Be sure to follow us on social media at @HelloWoodlands and subscribe to our email newsletter to stay updated on upcoming events, ticket giveaways, live videos, photos, and so much more!
31 THINGS TO DO – OCTOBER 2019
FEATURED EVENTS
October 11-13 – Conroe Cajun Catfish Festival – This family-friendly event features non-stop live music with local, regional and national performers on three stages, food vendors offering festival and Cajun favorites, arts & crafts vendors, a professional carnival, assorted community and educational exhibits, an annual Catfish Pageant and a KidZone area with activities for children and a special performance stage featuring local dance teams, community groups and entertainers. The Conroe Cajun Catfish Festival is a cultural program of the Friends of Conroe, Inc., a nonprofit community organization dedicated to furthering the common welfare and well-being of the city of Conroe, Texas. Get Tickets
October 18 – Hocus Pocus Pops – Everyone is encouraged to dress up in their Halloween costume for a chance to walk on stage during the concert. The first 100 kids to check in at Hocus Pocus Central in costume get the chance to march in the Goblin Parade. The Great Pumpkin Express train rides begin at 5:30 p.m. in The Pavilion's Gold Lot. Lawn and Mezzanine seating for the show is free. Gates open at 6:00 p.m. and show starts at 7:30 p.m. Learn More
October 19 – Restaurant Tour 2019 – BMW Houston North presents Restaurant Tour 2019 benefiting Canopy Cancer Survivorship Center on Saturday, October 19 at 6pm located at 17730 North Freeway, Houston, Texas. Come enjoy a luxurious night of specialty cocktails and local cuisine from some of the best restaurants in the city plus a silent auction, raffle items and live music! Tickets: $25 Donation. Learn more
October 23 – The Knowledge Series with Dr. Brooks – Dr. Robert Brooks of Harvard Medical School presents "Raising Resilient Children and Adolescents" on Wednesday, October 23 from 7:00 –9:00 p.m. at The Woodlands UMC – Harvest Worship Center. In Dr. Brooks' presentations for parents, families and community groups, he describes what parents and other caregivers can do to help raise resilient, caring and self-disciplined children and adolescents. The cost is $20; $25 at the door. Register Here
Until October 25 – Early Bird Registration for the 30th Annual YMCA Run Thru the Woods – This holiday tradition in The Woodlands on November 28 is for ALL ages and features a 1 mile kids race, 5 mile run, 3 mile run and 3 mile walk! All proceeds benefit the YMCA Annual Giving Campaign. Fees increase $5 per person on October 25. Register Here
Visit the Hello Woodlands Calendar for MORE events, event information, details, directions, and links!
OCTOBER EVENTS
National Night Out Events in October – National Night Out is an annual community–building campaign that promotes police/community partnerships and neighborhood camaraderie to make neighborhoods safer.
October 2 – Caffé di Fiore's 8 Year Anniversary – Celebrate with us at Caffé di Fiore where guests receive 50% OFF wine with lunch or dinner Monday, September 30 through Thursday, October 3. Caffé di Fiore, the #1 Authentic Mexican Restaurant in The Woodlands on Trip Advisor, is located at 10110 Woodlands Pkwy, The Woodlands, TX and serves breakfast, lunch or dinner all day long! Hours: Open Monday-Saturday 9am-9pm, Sunday 9am-3pm. View the menu at https://bit.ly/HelloCaffediFiore
October 2 – Dig Pink® Volleyball Games – Following a day of "Pink" activities, The John Cooper School JV (4:30 p.m.) and Varsity (5:30 p.m.) teams will play their Dig Pink games against Duchesne Academy. This is the eighth annual event to raise funds to fight breast cancer research through the Side-Out Foundation. Learn More
October 4 – Mad Hatter Tea Party – Children can take tea with the Queen of Hearts herself when The Woodlands Children's Museum presents its Mad Hatter Tea party. Children who attend can decorate cookies, create whimsical works of art, pose in a photo booth and have their faces painted. Visitors are encouraged to dress as their favorite Alice in Wonderland character. Learn More
October 5 – The Pink 5K: Sparkle Edition – Run. Walk. Make A Difference! The Pink 5K is coming BACK to The Woodlands on October 5, 2019, but with a sparkle! The Pink 5K: Sparkle Edition, will kick off Breast Cancer Awareness Month as The Breast Cancer Charities of America celebrates their 10 years of service. Learn More
October 5 – Interfaith's Celebration of Excellence Gala – Hometown Heroes honorees will be recognized for their many contributions to the community. The Hometown Heroes are composed of residents, businesses/institutions, and nonprofit organizations that serve as outstanding role models for volunteerism and dedication to The Woodlands community. Learn More
Advertisement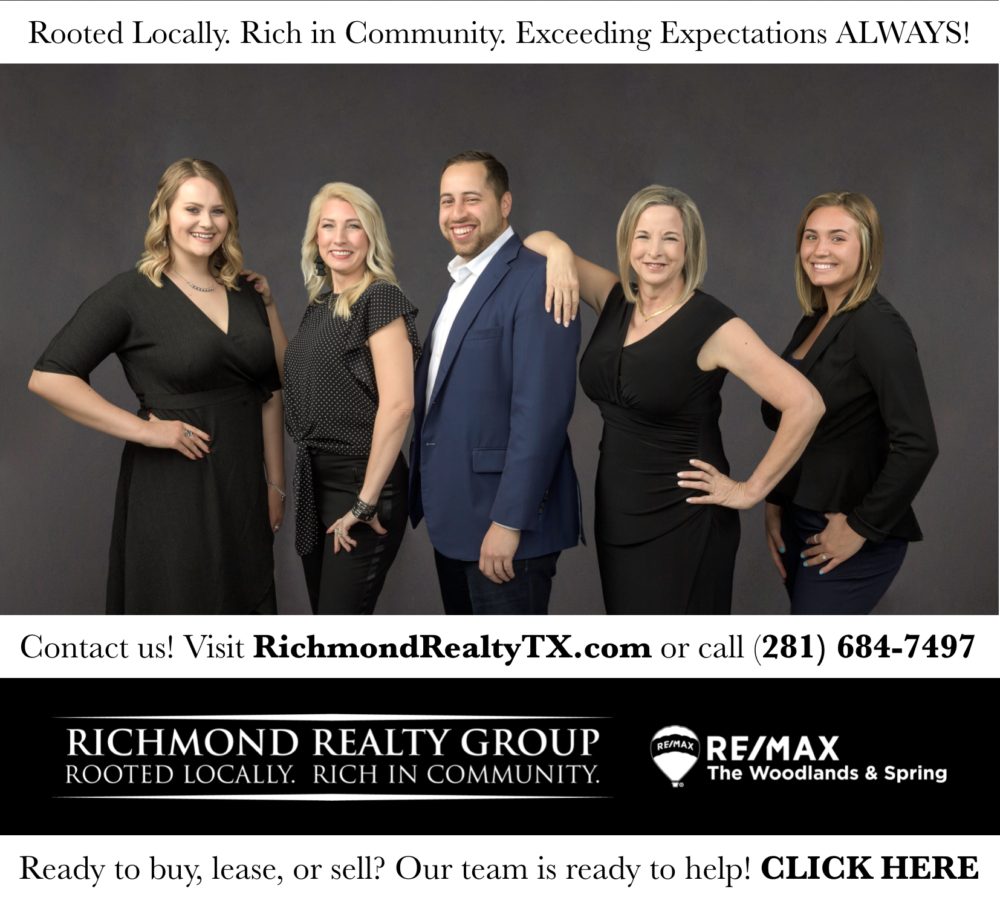 October 5 – The Origami Experience – Part geometry and part Zen, this modern art has evolved dramatically over the past 200 years. The class will begin with the basics and work with a variety of papers and models. Mindfulness and accuracy are part of the process as well as a sense of awe. All materials provided. Register Here
October 5 – Family Promise Bed Race & Chili Cook Off – This fun, family friendly event benefits homeless families with children at Family Promise. Team members are encouraged to choose a theme for their team and decorate their bed to race for bragging rights. Be sure to try some chili and vote for your favorite to win the coveted People's Choice Award. Learn More
October 5 – Oak Ridge Fall Festival – Held at Marilyn Edgar Park, Oak Ridge's 6th Annual Fall Festival is a free, family friendly event with vendors, games for kids, food, and much more. Learn More
October 6, 13, 20, 27 – Signs: The Book of Revelation – Wondering if blood moons, wildfires and floods are a sign of things to come? When catastrophe strikes, does your news feed blow up proclaiming the end is near? If you're looking for answers, join us for a message series on "Signs: The Book of Revelation" and discover the hope found in a future with Christ. This 6-week series begins on Sunday, September 8 at The Woodlands United Methodist Church. Join us in our Chapel service at 8:30 and 9:35 and our Traditional service at 11:00 a.m. Learn More
October 6, 13, 20 – Concert in the Park – Head to Northshore Park on Sundays from 5:30 to 7:30 p.m. for a free concert in the park! Bring your lawn chairs and picnic baskets and enjoy an evening of great music with friends and family. Learn More
October 6 – Pregnancy and Infant Loss Remembrance Ceremony – The Pregnancy and Infant Loss Bereavement Committee at Memorial Hermann The Woodlands Medical Center warmly invites family and loved ones to an afternoon of remembrance, comfort, and hope. Learn More
October 9 – Ask the Doctor – Join Canopy Cancer Survivorship Center every month for the "Ask the Doctor" series as the speaker will share valuable information and answer your questions. This month's topic is Breast Cancer Awareness with Dr. Diana Hook, Breast Surgeon. Lunch will be served. Please RSVP to the Canopy front desk at 713.897.5939. As a caring community of hope, healing and empowerment, Canopy Cancer Survivorship Center enhances the quality of life for individuals affected by cancer and for those who support them during their journeys. Learn More
October 12 – Memorial Hermann 10 for Texas Race – The Memorial Hermann 10 for Texas 10-mile race, 3.1 Armadillo Run 5K, and One 4 Texas Kids' Fun Run through The Woodlands will be held Saturday, October 12, 2019, from 7:00 to 11:30 a.m. at Northshore Park. After the race, participants will enjoy a Texas-sized post-race party with fun for the whole family. Learn More
October 12 – Emergency Chaplain Group's "Hope for Heroes" Gala – This year's spotlight entertainer is world-renowned "Speed Painter" Michael Israel, who has performed for United States Presidents and has millions of fans worldwide including celebrities and Fortune 100 CEOs. The gala benefits the Emergency Chaplain Group, a nonprofit organization that offers crisis chaplaincy services to emergency service personnel and their families. Purchase Tickets
October 18 – Memorial Hermann "In the Pink of Health" Luncheon – The 19th annual luncheon will feature an amazing silent auction, luxury sponsors, Dr. Rick Rigby as the keynote speaker and much more. Purchase Tickets
October 19 – The Woodlands Flea Market – The flea market provides a means for The Woodlands residents to sell unwanted household goods. Bargain hunters who buy pre-owned items keep them out of the landfill and lessen their impact on the environment. Buying "recycled" products also preserves the natural resources that are used in the manufacturing of these items. Learn More
October 19 – 11th Annual Baby Fair – The Lactation Center and Perinatal Education Program at Memorial Hermann The Woodlands Medical Center invites you and your BOO-tiful baby (or baby bump) to attend a free, community Baby Fair. Attendees are encouraged to wear costumes to this fall festival-themed, educational event. The Baby Fair is for anyone expecting, planning and/or has little ones. Learn More
October 19 – 13th Annual Sterling Ridge BBQ Challenge and Kid's Festival – Resident teams from neighborhoods in Sterling Ridge will compete for trophies and bragging rights. Beef brisket, ribs, pork, and beans will be judged. Attendees can enjoy BBQ samples plus music, games, activities, hot dogs, and drinks. This has been a very popular event and draws an estimated 1,500 to 2,000 people each year. Learn More
October 19 – Into the Woods – Join The Woodlands Charities on October 19th for the annual Halloween Party benefiting the Assistance League of Montgomery County! Learn More
October 21 – Birdies Fore Parkinson's Research Golf Tournament – Join us for a beautiful day of golf while raising funds and awareness for a cure for Parkinson's Disease. In its fifth year, the Birdies Fore Parkinson's Research tournament raises money for The Michael J. Fox Foundation and Texas Children's Hospital Neurological Research Institute. Learn More
October 22 – Lunch and Learn! Chemical Peel Demo – Join Seychelles Med & Laser Spa on Tuesday, October 22nd at noon for a Lunch and Learn and live demo of the VI Peel/Chemical Peel at 12:30pm! Attendees will enjoy a FREE lunch and watch an educational live demo on the VI Peel/Chemical Peel. RSVP by calling Seychelles Laser & Med Spa at (832) 813-8086. Learn More
Advertisement
October 24 – Canopy Expressions: Stories Through Art – Join us for an art gallery style showing of work from several brave cancer survivors at Canopy Cancer Survivorship Center. Beverages and light bites will be served while you enjoy these beautiful expressions of art. The art will be for sale, and all proceeds will be reinvested into the programs at Canopy. Learn More
October 26 – CASA Superhero Run – Costumed crusaders will use their superpowers and their feet for a good cause at the 10th annual CASA Superhero Run, Saturday, Oct. 26, in Grand Central Park. Runners and walkers will tread the Conroe community's trails for a timed 5K run/walk or 1-mile fun run beginning at 8 a.m. at Deer Lake, 715 Camp Strake Road. Costumes are encouraged and participants can power up with food and beverages at the event. Proceeds benefit CASA of Montgomery County. Learn More
October 26 – Pumpkin Patch at Market Street – Back again this season, Market Street invites local families to a pumpkin patch in Central Park to celebrate fall. The pumpkins will be available while supplies last during Market Street's business hours: 10:00 a.m. – 9:00 p.m. Suggested donations are $5 per pumpkin and will be accepted for Interfaith of The Woodlands. Learn More
October 26 – Prescription Drug Take Back Day – The Drug Enforcement Administration and Harris County Constables Office, Precinct #4 will collect unwanted medications at the site for safe disposal by the DEA. This is a FREE and anonymous service. Learn More
October 26 – 15th Annual Indian Springs Taste of the Village – In addition to sampling tasty treats from a variety of food vendors and visiting 40 booths of local businesses and community organizations, families are sure to be entertained. Entertainment includes a live band, inflatables, face painting, balloon artistry, and many walking entertainers for the kids. There will also be a raffle for two $250 gift certificates from HEB and a variety of other gift cards and prizes. Learn More
October 27 – Cochran's Crossing Fall Festival – Bring the kids for free, family friendly fun at the Fall Festival at Shadowbend Park! Learn More
October 29 – Pre-K, Kinder, and 1st Grade Information Night – Families interested in learning more about Pre-kindergarten, Kindergarten and First Grade at The John Cooper School for the 2020-2021 school year are invited to meet with administrators and teachers to learn more about the curriculum and programs offered at the college preparatory day school that is a recognized leader in independent school education. The Pre-k through Grade 12 school has a current enrollment of 1,280 students and is located on 43 wooded acres. Learn More
Plan ahead for November! Visit our online calendar, subscribe to our Email Newsletter, follow us on social media at @HelloWoodlands, and check back for a list of 31 things to do in November 2019! Contact us at info@hellowoodlands.com to tell us events, activities, locations, businesses, and non-profits we should feature and visit in November!