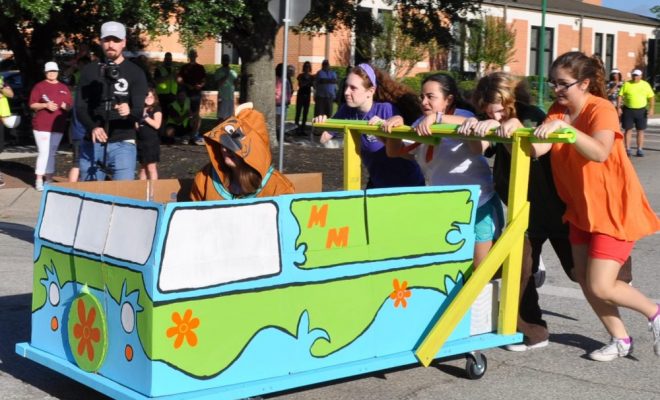 Events
Bed Races to Assist Homeless Families with Beds of their Own
By |
CONROE, TX – It is time for the 2nd Annual Family Promise Bed Races – an event like no other in our county! Teams of five will race their creative bed for bragging rights and to help our families with children change their lives through the Family Promise 90-day program in Montgomery County.
Family Promise of Montgomery County is excited to embrace a unique family fun event that supports entries from youth, students in college, local businesses, organizations, and teams with local officials. Everyone is eligible to create a team and get ready to roll down a street in a safe setting on the Lone Star Montgomery campus.
Teams of five can compete in 4 categories. Youth, Adult, Business, or Government Agency. A team consists of 4 pushers and 1 rider; who MUST remain on the bed the entire time the bed is pushed down the street. Team members are encouraged to choose a theme for their team and decorate their bed and themselves. Creativity counts and all bed costs are borne by entrants. The only requirement is that you must use at least a twin mattress or larger with 4 wheels which must have contact with the ground when crossing the finish line. Teams can register at FamilyPromiseofMC.org/bed-race-home.
"The Bed Race is undoubtedly THE most exciting fundraiser event we host. If you have not participated or witnessed the actual race you are really missing out! Challenge your co-workers, neighbors, and friends to a very UNIQUE experience and…enjoy some chili," said Shawn Holmes, President of the Board for Family Promise of Montgomery County.
Teams will race one bed at a time for bragging rights and awards. Prizes will be awarded for:
Fastest Bed (overall and by category)
Best Overall Theme with coordinated teammates
Best Construction/Design
People's Choice Awards – tickets are on sale for $1 each
Highest Fundraising Merit Award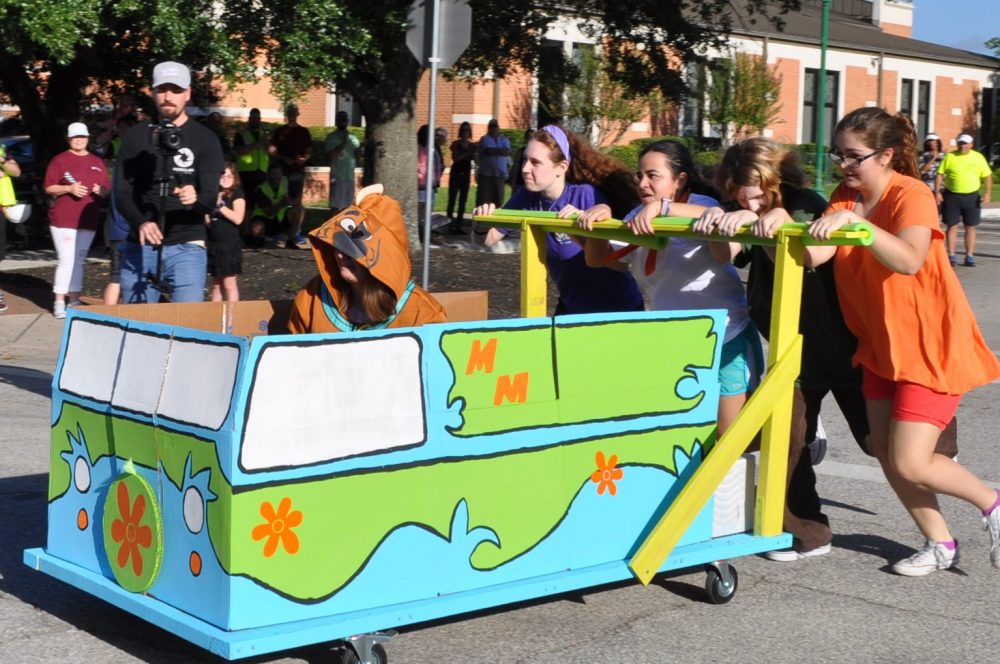 New this year is the addition of a Chili Cook Off!
Cook off teams are encouraged to "show us what you got" at an informal chili tasting event in collaboration with the bed races. Coordinated by Ryan Anderson, Board Member and Market Manager at Woodforest National Bank. All chili must be made on site and be ready for tasting at noon with judging at 12:30 pm. Additional details are available by contacting Ryan at RAnderson@woodforest.com.
Registration for both the Chili Cook Off and the Bed Race is available online, with a fee of $150 for either entry. Tickets for chili samples, voting for the People's Choice Awards, and beverages during the event will be available for $1 each. Awards will be given for the Best Chili, 2nd, and 3rd Place winners.
Schedule for Bed Race and Chili Cook off:
9:30 am Bed Drop Off and Check In
10:00 am Bed Parade and Judging
10:30 am Races Begin
11:30 am Race Awards
12:00 pm Chili Tasting
12:30 pm Chili Judging
1:00 pm Chili Awards
Annual Sponsors that support Family Promise include Cowboy Kia, 5-Point Credit Union, America's Home Place, MJR, Conroe Church of Christ, and Bleyl Engineering. Family Promise Bed Race and Chili Cook off sponsors include Planet Ford Lincoln, the Chris Havern Family, Judge Claudia Laird, Modern Woodman, Big Frog of The Woodlands, Speed Pro Magnolia, Radio The Boss and Memorial Hermann Hospital with the First Aid Station. Each Event Sponsorship includes a team entry. Sign up your teams today!
Marilyn Kasmiersky, Executive Director of Family Promise, shared they receive 150 calls a month from families with children seeking assistance. "We are unique in that we assist families in a 90-day program with shelter partners from our faith community that also offer assistance with food and basic necessities. We aim to alleviate the homelessness for families with children in our county by helping them transition into a stabilized future. Family Promise believes strong families build strong communities."
How Family Promise works:
Church partners set up bedding accommodations on Sunday afternoon for a week-long stay through the following Sunday morning. Volunteers with the church provide a morning breakfast for the guests and evening meals. Each family must leave each day for case management, seeking employment, getting their children to school or daycare, or working on their goals at the Family Promise Guest Center located near downtown Conroe. The Guest Center is where the families conduct job searches, receive case management, cook mid-day meals, do laundry, and store most of their belongings.
The faith community involvement is critical to the success of Family Promise and the families it serves. Currently there are 11 churches sharing the hosting responsibilities for a week at a time; rotating throughout a calendar year. Faith community support and donations make all the difference to an organization dependent on weekly volunteers and only 2 full time staff members and 1 part time resource specialist.
In 2018, Family Promise of Montgomery County served 15 low income families; including 31 children for a total of 48 people. The 90-day program helped parents secure stable housing, provide for their families, and be able to contribute back to their community. 67% of families in the program graduated with 90% of those securing full time employment. 4 of the families were gifted a vehicle upon graduation.
Additional programs include The ROC Program (Reaching Our Children) counseling and supportive services for children, and KAR-GO (Keeping Autos Reliable – Gas & Oil) Program to pay for repairs, tires, registration, and gas. All donations directly assist with meeting the essential needs of families with children; obtaining a driver's license, assistance with medical needs, paying rental deposits, providing families with gas cards, and covering childcare amongst many other necessary services that help a family to get back on their feet.
Any easy way to make a difference is a monthly donation through the Coffee Club. Make an automatic monthly donation of any amount and then join us at a quarterly morning "Coffee Club Break" at Woodforest Downtown Conroe. To donate, visit FamilyPromiseofMC.org/coffee-club.
Consider making a difference to families in OUR community while experiencing a friendly competitive event. The Family Promise 2019 Bed Races and Chili Cook Off could be a tradition that gets everyone excited about making a difference in the lives of homeless children and their families who are without a bed.
Family Promise is a national non-profit organization with over 200 affiliates across the country. Our local affiliate, Family Promise of Montgomery County has the ability to help 4 homeless families at a time through the weekly rotation of faith communities with a collaborative mission to help families increase their job readiness and re-gain stability leading them to become self-sustainable once again. Families with children are given an opportunity to participate in a 90-day comprehensive program with a personalized plan to reach attainable goals with their case manager. Parents are required to attend weekly Life Skills sessions with topics that include Good Parenting, Stress Management, Family Safety, and most importantly, Proper Money Management. Families are provided meals, clothing, childcare, transportation, shelter, and compassionate care through partnering churches and volunteers in the community. Click here to learn more about Family Promise, Hello Woodlands' Nonprofit of the Month for May.