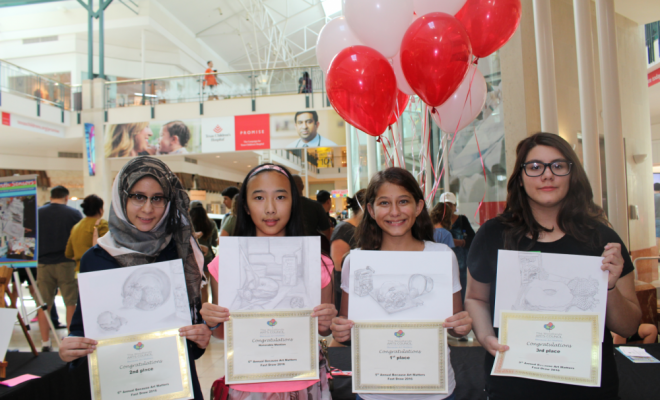 Art & Culture
7th Annual Fast Draw Competition Set for September 14
By |
THE WOODLANDS, TX – It's time for local middle school students to sign up for the 7th annual Fast Draw Competition scheduled for Saturday, September 14, 2019 from 10:00 am – noon in the area in front of Dick's Sporting Goods at The Woodlands Mall. Sponsored by The Woodlands Arts Council in partnership with The Woodlands Development Company, an affiliate of the Howard Hughes Corporation, the event brings talented students together to draw a "mystery object" in 45 minutes.
The artwork will be judged by arts professionals. The winning students will be awarded gifts donated by The Woodlands Mall. Participation is limited to the first 40 students who sign up, so reserve your spot now! Click here to sign up.
"This is a truly fun competition that encourages young students to express themselves through the arts," said Jenny Wright, Executive Director of The Woodlands Arts Council. "The time limit makes the event even more exciting and stimulating for these kids and everyone watching. The 'mystery object' to be drawn will be selected by the sponsors and slowly revealed prior to the event!"
Fast Draw is one of three educational outreach events hosted by The Woodlands Mall and presented by The Woodlands Arts Council each year. Summer Art Workshop, held in July, and the Photography Contest, planned for November, are other fun arts events for different age groups held at The Mall. These events are part of the cultural and educational outreach arm of The Woodlands Arts Council – Because Art Matters – that presents a wide variety of programs for artists of all ages throughout the year.
The Woodlands Arts Council is a 501(c)3 nonprofit organization whose mission is to provide regional cultural and educational enrichment opportunities that encourage, support and promote the performing and visual arts. For more information, visit TheWoodlandsArtsCouncil.org.