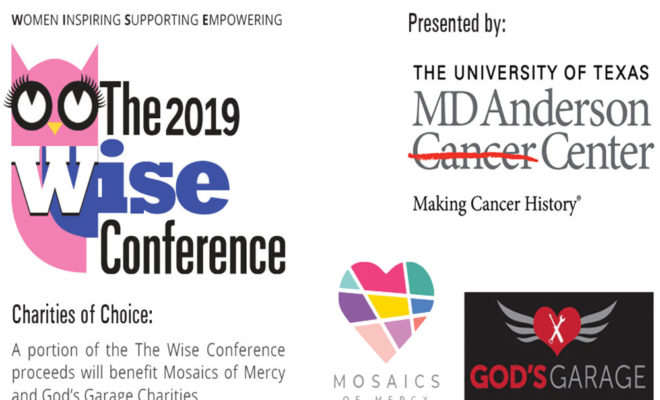 Business
Annual WISE Conference Announces Local Nonprofit Beneficiaries
By |
THE WOODLANDS, TX – The 2019 7th Annual WISE Conference has announced their charities of choice for the conference scheduled for September 25 at Lone Star College, 5000 Research Blvd. from 9:00 a.m. to 4:00 p.m. "Women Helping Women" is the motivation behind the collaboration between the two organizations that founded the conference in 2012, Montgomery County Association of Business Women (MCABW) and Women on a Mission to Earn Commission (WOAMTEC).
Each year, the WISE Conference planning committee chooses a local charity to offer a portion of the proceeds. The 2019 WISE Conference will benefit Mosaics of Mercy, an organization serving the community for mental health and addiction recovery, and God's Garage, an all-volunteer non-profit organization with a mission to help single mothers, widows, and wives of deployed military by providing free vehicle repairs and free vehicles.
"We are thrilled with the news of being selected as one of the charities", said Sherry Burkhard, Mosaics of Mercy. "We are especially excited that by partnering with the WISE Conference, more women in need will be rescued from difficult and challenging situations with resources."
Mosaics of Mercy was created to fill the high priority need in the community for a central connection point around mental health. They do this by creating connections to knowledge (education), initiating connections to mental health resources (navigation), and allowing for connections to God, creativity and community (cultivation). Serving both men and women, Mosaics of Mercy fosters a safe environment where brokenness can be acknowledged and resources can be accessed. They focus on cultivating mobilization, empowerment, hope, and healing to those with mental health concerns. Learn more at www.MosaicsofMercy.com.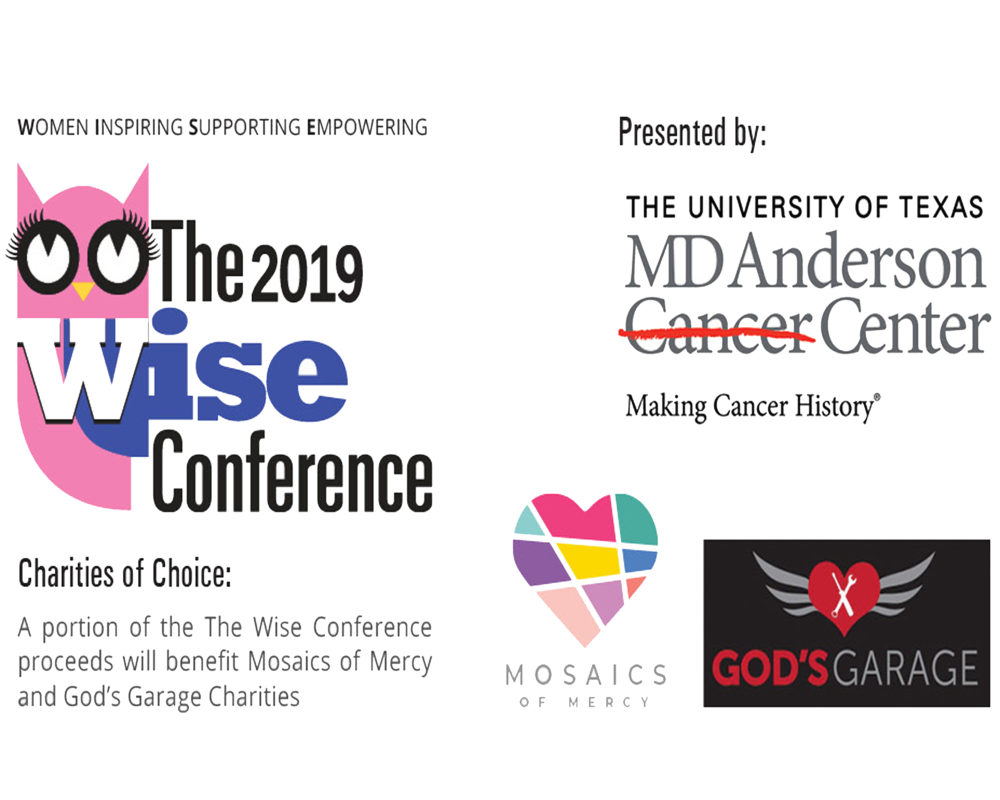 God's Garage is solely dependent on donations to rescue women from significant transportation challenges by granting qualified recipients free vehicle repairs and free vehicles so they can drive to their jobs, travel to medical appointments, take their kids to school, and maintain their overall independence.
"We don't charge anything for labor and try to help with parts as we can," said Matt Zielinksi. "We also give vehicles away to those in need. God's Garage is a group of volunteers consisting of lead technicians, trainees in the automotive trade, and a Master Technician, helping women to bridge troubles times in their lives." Read the story about God's Garage or donate at www.GodsGarage.org.
Sponsored by The University of Texas MD Anderson Cancer Center, The 2019 Wise Conference Committee is pleased to announce the Keynote Speaker, Jessica Buchanan, a Humanitarian worker kidnapped by Somali land pirates and held hostage for 93 days with her colleague amid 26 gun toting and drugged captors who restrained her, psychologically tormented her, and constantly threatened beheading. Facing life or death issues daily, President Obama ordered Navy Seal Team 6 to rescue both Jessica and her colleague. Learn more about her story at www.JessBuchanan.com.
Committee member and event coordinator, Dawn Candy, said the committee has worked since the day after the conference last year to plan for the 2019 event with speakers that will motivate and inspire women professionally and personally to achieve more and never give up.
"We are thrilled to have a number of outstanding non-profits in our community to choose to be our charity. The nonprofits we chose resonated within our group for what they represent to women and men alike in the community," said Candy. "Please look them up and learn more about their cause to share with someone you know in need."
Sponsorships and tickets for the Wise Conference are available at www.TheWiseConference.com.