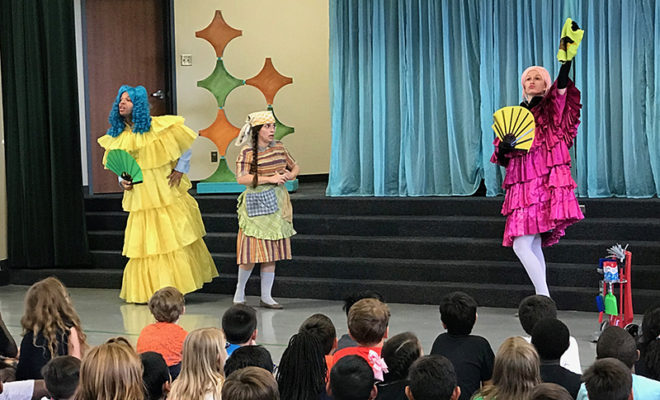 Art & Culture
Arts Council, Opera Bring Bilingual Performances to Title I Schools
By |
THE WOODLANDS, TX – School field trips traditionally mean traveling off campus, but The Woodlands Arts Council (TWAC), in conjunction with the Houston Grand Opera (HGO), have been bringing fine arts experiences into schools in Montgomery County this fall.
Under the direction of HGO Stage Manager Ryan Barrett, a cast and crew have given bilingual performances of "Cinderella in Spain" to students at Glen Loch Elementary in The Woodlands, Magnolia Elementary in Magnolia, and San Jacinto Elementary, Smith Elementary and Hauke School in Conroe. Performances are scheduled for Rice Elementary, Reaves Elementary and Houston Elementary schools in Conroe before the end of the year.
Chonda Rehbein, elementary music teacher at San Jacinto gave thanks for the opportunity. "Our campus continues to buzz with excitement and I'm sure it will be on their minds for some time. Thank you for making a lasting, positive impression on our students and staff."
Tricia Howard oversees the Title I outreach programs for TWAC and says the opportunities to provide cultural experience opportunities to Title I schools are made possible through sponsorships.
"We are very grateful to Waste Connections for providing funding for Glen Loch Elementary and Houston Gulf Energy Corporation for underwriting the Magnolia Elementary programs," Howard said.
San Jacinto Principal Jamie Almond shared her gratitude to TWAC, "Thank you for bringing this cultural arts opportunity to our school, as otherwise it is highly unlikely that our San Jacinto students would experience the Houston Grand Opera outside of the school setting," she said.
The Woodlands Arts Council provides regional cultural and educational enrichment opportunities that encourage, support and promote the performing and visual arts in our community. From the award winning Woodlands Waterway Arts Festival to the year-round community and educational outreach programs of Because Art Matters, the council has one primary goal – making our community better, Because Art Matters! For more information on The Woodlands Arts Council's education and outreach programs go to www.thewoodlandsartscouncil.org.