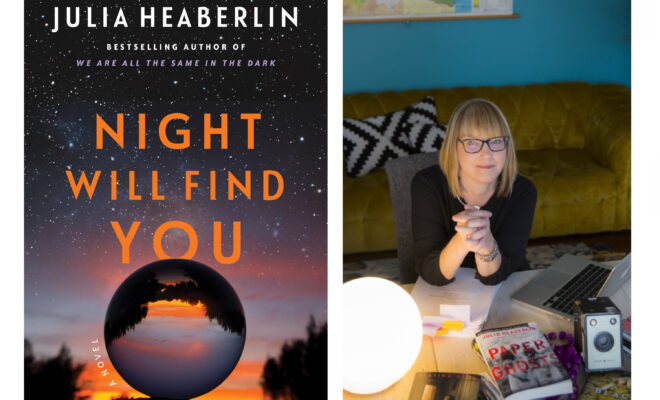 Art & Culture
Author Julia Heaberlin Coming to Village Books June 28
THE WOODLANDS, TX – Village Books is delighted to welcome acclaimed author Julia Heaberlin to its neighborhood bookshop on June 28 at 7 p.m. (with doors opening at 6:30 p.m.) Heaberlin will be introducing her latest thriller, Night Will Find You, which will be published June 20.
Of the novel, Publishers Weekly's starred reviewed said, "This gripping page-turner from Heaberlin conceals its secrets from even the cleverest readers…Vivian is an intelligent, perceptive character who's a pleasure to spend time with, and when the plot kicks into gear, it's nearly impossible to stop reading. This is Heaberlin at her best." And Kirkus Reviews calls it, "Mysterious, sexy, and smart."
Heaberlin is the internationally bestselling author of six thrillers, including Night Will Find You, We Are All the Same in the Dark, Paper Ghosts, and Black-Eyed Susans. Her books have sold in more than twenty countries.
We Are All the Same in the Dark won the 2020 Writers' League of Texas award for fiction, and Paper Ghosts was a finalist for Best Hardcover Novel at the International Thriller Awards. Before writing novels, Heaberlin was a journalist for the Fort Worth Star-Telegram, The Dallas Morning News, and The Detroit News, which fed her interest in true crime and the forgotten stories of victims, a theme she carries into her fiction. 
In Night Will Find You, Vivvy Bouchet, scientist and reluctant psychic, is brought in to find a girl who went missing long ago. Bouchet is an astrophysicist in Texas, devoted to science, but a boy she saved as a young girl has become a cop who continues to believe she can see things no one else can. When he begs for help on the high-profile cold case of a kidnapped girl, Vivvy steps back into the ocean of voices that once nearly drowned her. She is forced to team up with detective Jesse Sharp, a skeptic of anything but fact. When Vivvy becomes the target of a conspiracy theorist podcaster, she fights back with both her scientific mind and her inexplicable gifts, hoping to lure a kidnapper, find a child who haunts her, and lay some of her own ghosts to rest. Night Will Find You is published by Flatiron Books, an imprint of Macmillan Books.
"I am so excited to welcome Julia Heaberlin to Village Books," said Village Books Owner Teresa Kenney. "Ever since I read Paper Ghosts, I have been hooked on her suspenseful thrillers. Her novels grip you from page one and don't let go until the final page. And because Texas is the setting, there is always a geographic familiarity that makes the books even more chilling."
To reserve a seat for the evening, go to JuliaHeaberlin.eventbrite.com. Village Books requests that, for signing, copies of Night Will Find You be purchased through the bookshop. Individuals can prepurchase books in the store or online here.
Village Books is located at 9955 Woodlands Parkway, Suite F, The Woodlands, Texas 77382. It is open Monday through Saturday 10 a.m. to 5 p.m. and Sunday Noon to 5 p.m. More information about Village Books, its mission, and its events can be found at myvillagebooks.com.