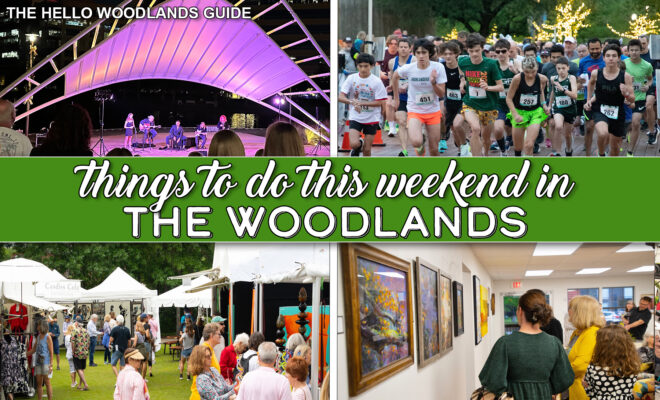 Art & Culture
Things to Do in The Woodlands This Weekend, June 2-4
By |
Looking for something to do in The Woodlands area this weekend? Find out what's happening the weekend of June 2-4, including a museum family day, an anime convention, a community-wide pool party, and more!
Friday, June 2, 2023
Author visit with Nancy Devereaux
The Woodlands Children's Museum presents an Author Visit with Nancy Devereaux, who will read her book, Ms. Nancy's Dance Class. The book gives a step-by-step look at the world of beginners' ballet and tap. Author/dance instructor Nancy Devereaux (Ms. Nancy) will read her book on stage; and as she gets to the dance moves in the story, the children will be invited to stand and perform the various moves. The reading will be immediately followed by a meet-and-greet, where Ms. Nancy will sell and sign her book until 12:15 pm. The event begins at 11:00 am. Learn More
Family BINGO Night
Every first Friday of the month, The Woodlands Township hosts a fun-filled family BINGO night. Prizes awarded for good BINGOs. Snacks will be provided on a first-come, first-served basis. Due to the event selling out, pre-registration is required. Fee: $5 Per Person. Location: The Recreation Center at Rob Fleming Park. Time: 6:30 – 8:30 p.m. Learn More
Live on the Lawn at Market Street
Enjoy live music on the lawn at Central Park in Market Street with Sarah Kelly Music School from 6:30 – 8:00 pm on Friday nights. Blankets and lawn chairs welcome. Learn More
Saturday, June 3, 2023
Art & Lit featuring the book Too Much Glue
Village Books, a community-focused independent bookstore right here in the neighborhood, hosts a monthly book club, writing classes, book signings, and special events. Learn more about Village Books and upcoming events at MyVillageBooks.com. On June 3 at 1:00 pm, join Village Books for Art & Lit, featuring the book Too Much Glue. The cost is $10 payable to Ardest Gallery. This project is supported by the artist Microgrant from The Woodlands Arts Council. It's the perfect activity for preschool kids up to age 8. Learn More
Cochran's Crossing Village Association Pool Party
Bring your family and join your friends & neighbors at the free annual Cochran's Crossing Village Association Pool Party featuring games for all ages, prizes, food, giveaways, live musical performances by students, and more! Everyone is welcome to attend. The pool party will be held at Bear Branch Pool, 5200 Research Forest Dr, The Woodlands, TX 77381 from 10:00 am to 1:00 pm. Learn More
Fired Up Tours – College Park
Experience the lights and sirens of public safety equipment, explore a fire truck & police patrol vehicle, and learn more about National Night Out! The College Park Fired Up Tour will be held at The Woodlands Fire Department Station 6, 1100 Windsor Lakes Boulevard, The Woodlands, TX 77384 from 10:00 am - noon. Learn More
KimoKawaii Anime Experience and Convention (June 3-4)
The KimoKawaii Anime Experience and Convention features a cosplay contest, voiceover sessions, gaming tournaments, panels, artists, exhibitors, voice actors, and so much more! KimoKawaii will be held at the Lone Star Convention Center from 10:00 am – 6:00 pm June 3, and 10:00 am – 5:00 pm June 4. Learn More
Museum Family Day
The Pearl Fincher Museum of Fine Arts offers free Family Days with hands-on art projects, artist demonstrations, performances, and more. Projects are designed for ages 5 and up, and can be enjoyed by both children and adults! Visit the Pearl on Saturday, June 3rd to see the opening of the new summer exhibits, and enjoy hula hoop performers at 11:30, art cars, art activities and new creations by the Houston Brick Club! The museum is located at 6815 Cypresswood Drive, Spring, TX 77379. Learn More
Waterway Nights Summer Series
Enjoy live music by local and regional performers in the picturesque setting of Waterway Square at Waterway Nights. Waterway Square is located at 31 Waterway Square Place, The Woodlands, TX 77380. Coolers, picnic baskets, blankets and lawn chairs are permitted. All entertainment is weather-dependent and subject to change. Concerts are from 6:30 - 8:30 pm. The performer on June 3 will be Mike Donnell (Texas Country). Learn More
Janet Jackson at The Cynthia Woods Mitchell Pavilion
The Cynthia Woods Mitchell Pavilion presents the Janet Jackson: Together Again tour with Ludacris, live onstage at 8:00 pm. Learn More
Sunday, June 4, 2023
Cars & Coffee for a Cause
The Woodlands Car Club (TWCC) enthusiasts gather at Market Street the first Sunday of each month from 6:30 – 10:00 am to provide a morning gathering to show off special vehicles within the car community, be a supportive partner with Market Street and the local community, share information about needful non-profit organizations in Montgomery County, and to give back monetarily as well. TWCC collects coins/change to donate to the Market Street "Change for Charities" program that will benefit non-profit organizations in Montgomery County. Learn More
Plan Ahead: Upcoming Events
Sign up for the Disney The Little Mermaid Jr. Summer Camp at Teora Music School, with sessions June 5 and July 10, 2023. Students will be guided to work on Musical Theatre performance which will include solo, duet, ensemble singing, acting, dancing, and character development, to help them reach their highest potential. The June camp runs from June 5–23, with a public performance on Saturday, June 24. This 3-Week camp is designed for individuals with varied levels of singing and movement ability, and NO AUDITION IS REQUIRED! Learn more and sign up today at www.teoramusic.com/summer-musical-theatre-camp.
Wine & Food Week (June 5-11)
The beloved week-long Wine & Food Week returns June 5-11 with "Wine + Food = Art" to celebrate the creativity and passion found in the heart of the wine and food industry. Featuring hundreds of wines, scores of celebrity guests, and a list of fresh culinary faces, get ready to raise a glass to an epicurean masterpiece which for 19 years remains one of the best wine and food events in the region. Get tickets today for this culinary extravaganza—the 19th Anniversary celebration of Wine & Food Week.
Fan favorites are back including Wine Around the World Wednesday; Rose' Way, A Sweet Soiree at The Peach Orchard Venue; Ladies of the Vine Tasting, Luncheon, & Panel Discussion, at The Club at Carlton Woods, and Sips, Suds & Savor. The week culminates with the grand dame — the elaborate Wine Rendezvous Grand Tasting & Chef Showcase at The Woodlands Waterway Marriott Ballroom where acclaimed chefs compete for the coveted Chef of Chefs Award presented by Goya Foods and a $5,000 cash prize. Event information and tickets at wineandfoodweek.com.
Ardest Gallery Grand Re-Opening (June 10)
Ardest Gallery, a local fine arts gallery, is relocating from Magnolia to The Woodlands and hosting its Grand Re-Opening event on Saturday, June 10 from 4:00 – 8:00 pm at 25200 Grogan's Park Drive, The Woodlands, TX 77380. The solo show by award winning Houston artist Robyn Crowell entitled "Femme and Flora," will open the same evening. The gallery currently represents nearly 30 top Texas 2D and 3D visual artists. In addition to its core artists, the gallery hosts ongoing events such as monthly group art shows, Coffee Talk with an Artist, Art to Lunch in partnership with local restaurants, poetry readings, musical performances and art classes/workshops for all ages and skill levels. Learn More
Symphonic Tribute to Elvis (June 14)
Long live the king. This man and his music need no introduction. He's the polarizing force that popularized some of the greatest music to ever be recorded or performed live. He's the icon that made sideburns and bell bottoms the talk of the town. He's the undisputed king of rock and roll. And now, his music comes to The Pavilion's Main Stage with the potent power of the Houston Symphony behind it. Elvis' music is pure rock 'n' roll glory, and the Houston Symphony has long proven capable of taking that kind of glory to the next level. Learn More
---
Check back on Hello Woodlands' Calendar Page and the monthly 31 Things to Do list for more events as they come up!
Have an event coming up or want to highlight your business? You can sponsor one of these popular weekend guides! By sponsoring a guide, your company name (organization or event) and logo will be included on the featured photo of the article published on the Hello Woodlands website. Your company name will also be included within the article along with a paragraph sharing more about your business with your logo and a link to your website. Email info@hellowoodlands.com for more information.