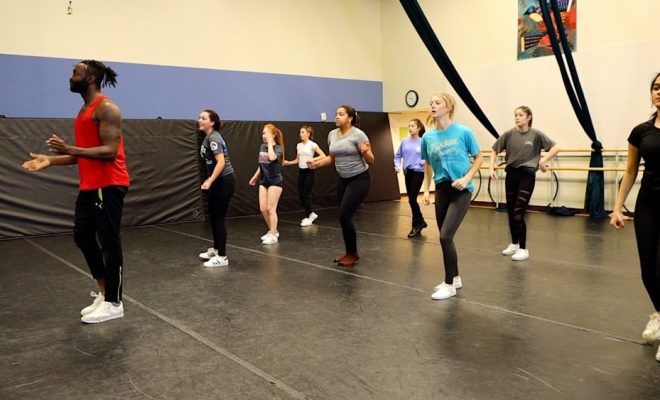 Photography by Rod Prado, Hello Woodlands
Art & Culture
Breakdancer Stephane Fiossonangaye works with Cooper Students
By |
Stephane Fiossonangaye (a.k.a. B. Boy Crazy Monkey) visits The John Cooper School! Stephane Fiossonangaye is an International Breakdancer, Artist, Performer, Acrobat, Stuntman, Martial Arts, Capoeira, and Rider who recently visited The John Cooper School in The Woodlands, Texas to teach and work with students in the aerial arts class.
Watch our video to discover what happened during the class on the Hello Woodlands YouTube Channel:
Thanks to The John Cooper School's aerial arts instructor, Elizabeth DeMonico, the students had the incredible opportunity to work with the professional Cirque du Soleil dancer who has an incredible dance and stunt background.
Stephane Fiossonangaye's experience includes:
Choregrapher for One Night for One Drop "Amanzi" by Cirque du Soleil
Main character for the show KA by Cirque du Soleil
Acrobat and Breakdancer for Monster Company with world's best stunt riders
Judge at the COMIC CON for the promotion of the KA's Comic Book • Capoeira performer for One Night For One Drop
Promotion for the show KA at AMERICA'S GOT TALENT, DAYTIME EMMY AWARD, ROCK N' ROLL LV MARATHON and HIP HOP INTERNATIONAL
RED BULL BC ONE (Top Sixteen breakdancers in the world)
Stuntman on various movies with the Eastwood Action Stunt Team
Stephane also is a Hip Hop Teacher, International Breakdancer (world champion), Motorcycle driver, Horse rider, and has professional skills in Air Bag High falls, Gymnastics, Acrobatics, Martial arts (Capoeira, tricking, kickboxing), and speaks two languages, French and English.
Visit Stephane Fiossonangaye's YouTube page at www.youtube.com/user/crazuisse
Established in 1988, The John Cooper School is a Pre-K through Grade 12 independent, college preparatory school that has a current enrollment of 1,284 students. In the Upper School, dance is offered at beginner, intermediate and advanced levels, based on the student's level of experience. Instruction in the unique art of aerial arts, also known as "silks," is also offered at all three levels for Middle and Upper School students under the direction of Elizabeth DeMonico. Learn more about The John Cooper School at www.johncooper.org
Videography by Rod Prado, HelloWoodlands.com
Edited by Jennifer Bruse, HelloWoodlands.com
Music: "Exit the Premises" Kevin MacLeod (incompetech.com) Licensed under Creative Commons: By Attribution 4.0 License https://creativecommons.org/licenses/by/4.0/
Advertisement