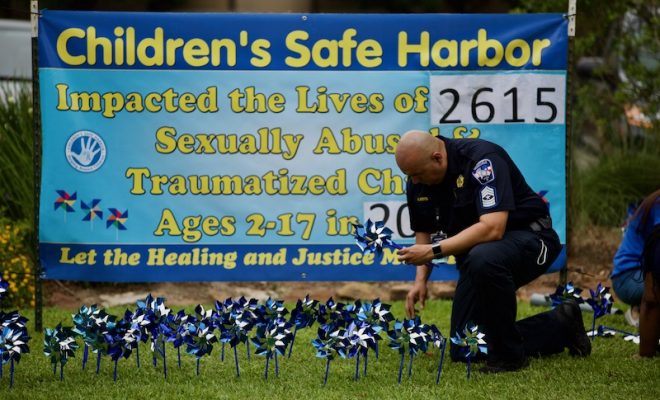 Photography by Rod Prado, Hello Woodlands
Art & Culture
Children's Safe Harbor Pinwheel Art installation in The Woodlands
By |
For the past seven years at the end of April, deemed National Child Abuse Prevention and Awareness Month, Children's Safe Harbor has installed an interactive art display of pinwheels representing the number of children who were provided the unique service of a forensic interview in the previous year. A forensic interview is the first step into this children's advocacy center which opens the door for children (ages 2-17) and their families to all other services of advocacy and healing.
Children's Safe Harbor is one of 71 children's advocacy centers in Texas that coordinate with law enforcement and CPS to support the investigation and healing of children who have been sexually assaulted, severely physically assaulted, sexually trafficked or exploited or who have witnessed violent crimes such as rape, murder and domestic violence.
Since 2013, the Pinwheel Art Display has been installed on the grounds of the Alan B. Sadler Administrative Building in downtown Conroe the majority of the time. This year and in 2019, Children's Safe Harbor brought the Pinwheel Art Display to The Woodlands on the grounds of the Montgomery County Ed Chance Courthouse Annex on Lake Robbins Drive to celebrate the commitment across south Montgomery for the children's advocacy center program. The Pinwheel Art Display will move across Montgomery County in future years.
A total of 2,615 pinwheels were installed by Children's Safe Harbor's staff, board of directors and members of the Montgomery County Child Abuse Multi-Disciplinary Team on Tuesday, April 28, 2020. These 2,615 pinwheels continue to represent a steady increase in numbers of children served year after year. From 2018 to 2019, this 17% increase represents 466 additional children offered our unique services on the road to healing, justice and hope.
Watch the installation in the video and photos below:
Videography by Rod Prado and Edited by Jennifer Bruse of Hello Woodlands
Photography by Rod Prado of Hello Woodlands
According to Kari Prihoda, Program Director of Children's Safe Harbor, the increase of cases in 2019 reflected several high months: April 267 and May 247 respectively and 274 in October (the largest number of children served in any month in over 21 years!)
Children's Safe Harbor (CSH) offers specialized services to traumatized children ages 2 through 17 and their families on a centralized campus facility. Children are able to share their experiences of abuse through a unique narrative investigation process called a forensic interview. Specialized medical evaluations and weekly individual, family and group counseling services are all available at no cost to the child victims and their non-offending family members as a nationally-accredited nonprofit organization serving Montgomery, San Jacinto, and Walker counties.
"We leave the pinwheels out all day in an effort to share with our community the staggering numbers of child abuse and child sexual assault that is occurring right here in our county and to visually thank them for their support," explained Dr. Constance. "These pinwheels not only represent the number of children who came through our doors last year, but their spinning in the breeze also represents each child's movement forward towards justice and healing to get their lives back. Especially in these unprecedented times of the coronavirus, our children's advocacy center has been open and serving families alongside law enforcement and CPS as first responders and we are so grateful to have the opportunity to install our art display."
CSH board member Shanna Redwine, Chief of Special Victims Division of the Montgomery County District Attorney's Office, said, "As a prosecutor and a member of the Board of Children's Safe Harbor, I can tell you that this organization is on the front lines of protecting children. In 2019, Children's Safe Harbor saw 2,615 children due to a concern for abuse or neglect and they welcomed and served each and every one of them with the highest degree of professionalism. Children are at an even greater risk of abuse during this time of stress and isolation caused by the COVID-19 virus and I am grateful to have Children's Safe Harbor as a partner in the fight to protect children."
Gordy Bunch, Chairman of the Board of Directors of The Woodlands Township, added, "This is a very important issue that affects all of Montgomery County, including The Woodlands. The Township board and staff support all of the efforts of Children's Safe Harbor. While all these cases are unfortunate, it is great to see people fighting on the behalf of our community."
Reporting suspected child abuse is obligated by law. If you suspect a child is in immediate danger, call 911 or contact the Texas hotline of abuse and neglect at (800) 252-5400.
Visit www.onewithcourage.org for a list of resources.
Children's Safe Harbor is a 501c3 nonprofit corporation. For more information, or to make a donation in honor of their 21 years of exceptional service, visit www.ChildrensSafeHarbor.org