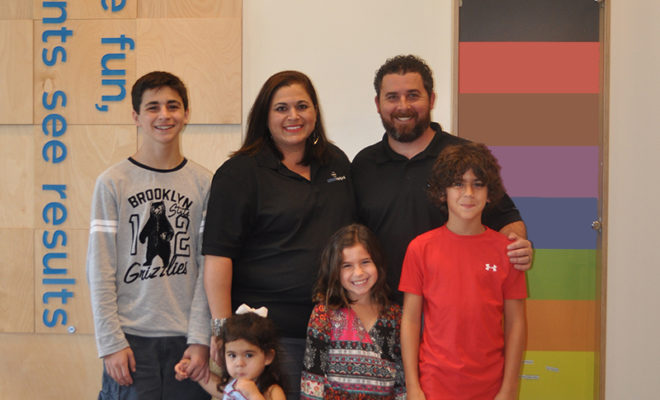 Photo by Tiffany Marascio
Business
Locally-Owned Code Ninjas Makes Coding Accessible and Fun for Kids
By |
Coding and computer proficiency are in high demand in the workplace and in everyday life. Starting early is important for a good foundation. Code Ninjas, which opened June 2, 2018, is a new locally owned and operated coding learning center dedicated to teaching kids the basics of coding and beyond. Centrally located in the Cochran's Crossing shopping center at the corner of Research Forest and Gosling Road, Code Ninjas offers classes for children as young as age 7.
You can often find owner Gina Hyman, her husband Matt, and one or more of her four children onsite. She and her husband are both originally from Louisiana but moved to The Woodlands because of the oil and gas industry. Gina decided to purchase Code Ninjas after she moved to The Woodlands, revealing how she discovered the franchise: "It was by accident. My friend was opening one up in my hometown and needed the rolodex of contacts in my head for a Center Director. When she told me the idea I was sold," said Hyman.
Gina's interest in coding classes for kids started out of a need for consistency in class structure for her own son. "I had been looking for something like this for my own son here in The Woodlands. Everything I found was either taught at one school but not another. Some programs were taught and then stopped after completion with nothing to continue on to. Some were focused mainly on robotics and my son wanted coding. As a parent, I wanted something consistent. I wanted a path for him to follow where at the end, there was a result. It was equally important to me for my son to socialize with other like minded kids. Up until recently, coding was mostly a solitary skill," she explains.
"After talking about my own struggles with other parents who have like minded kids, it felt natural to close a gap in the community. There was a need and I feel like Code Ninjas fills that need," said Hyman.
Gina's own experience with coding was not engaging enough for her to continue. "I took a coding class in high school. It wasn't nearly as fun and interactive as what we have and I lost interest," she states. "My son did a project in 5th grade on what he wanted to be when he grew up. Through that exploration, coding video games is what he settled on."
Through her own experience at home and in her business, Gina shares her tips on keeping kids engaged in coding. "Kids MUST have fun! If they aren't having fun, they won't continue. They will disengage and begin looking at coding like it's more school work. I want this to be an experience. If we let them clown around a little and ask each other how to make the ball bounce super fast or super slow, they will be curious and try it. If they don't get to be silly with the games they create then they won't create anymore. We also let them have a break if they need to and do a snap circuit or code a robot. Sometimes it helps to step away and do something else and come back to the project 10 minutes later," she shares. "Sources have shown us repeatedly that tech jobs will be abundant in the future and there will not be enough qualified applicants.  Teaching kids coding this early is only preparing them for a growing job market."
Hyman is also passionate about getting girls involved in STEM. "My enrollment is only 17% female," she points out. "I want to change that. Girls show the same interest as boys in STEM activities but the interest dies off around 5th grade. I've read several studies this last year on why and I now want girls to be riskier in their education. I want them to explore and get hands on experience. I want girls to know that coding doesn't have to be just for video games and robots. There is whole world out there for them to get involved in," she said.
The Code Ninjas teachers are referred to as Code Senseis, in keeping with the ninja theme. The Woodlands area has been the perfect place to find qualified teachers for her coding classes. "I have been blessed with the coolest and most brilliant staff," said Gina. "I started by word of mouth. As word got around, I was lucky enough to get an announcement at College Park with the Texas Torque Team! I am so lucky! I also have some Senseis from The Woodlands High School, the Academy of Science and Engineering, Lone Star, U of H,  and UT – Austin. Almost all of them are in Computer Programming."
The classes at Code Ninjas are based on a belt system, like karate. All students start at the while belt level. Students progress through a series of "belts" to finally become a black belt, which takes several years. The coding gets more involved as the classes progress and the projects and games get harder but are still designed to remain fun and engaging.
Not all kids are ready to get involved in computers and coding at age 7. "I think kids let you know when they are interested in them," said Gina. "I have four kids. Like most, they liked screen time at an early age. I think you have to do what works best for your family," she said. "I do, however, believe they need to learn typing as early as possible. They are so used to touch screens these days. The don't have proper keyboard placement and don't know all the functions of a keyboard," she stated.
Gina and her family enjoy The Woodlands and their busy lives. She shares about her family and life: "I've been married to a pretty awesome dude for 16 years. He remembers birthdays and anniversaries and I am terrible at it. We have four amazing kids ages 13, 11, 7 and a 2 year old boss we all answer to. We are also crazy enough to own two very spoiled dogs and a feline roommate that graces us with his presence when he is hungry. When I am not feeding all the heartbeats that live at my house, I enjoy being a realtor. Real estate is like a ball of yarn and I like to straighten it all out for my clients. On the off chance I have some down time, I enjoy tennis with my friends, kayaking with my family, the beach and cooking."
To learn more about Code Ninjas, visit the website at www.codeninjas.com.