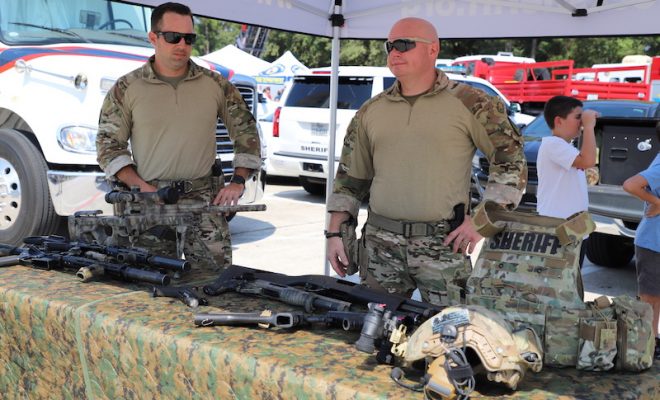 Photography by Rod Prado, Hello Woodlands
Events
Community Safety Expo highlights public safety in The Woodlands
By |
The Woodlands Township hosted the National Night Out Community Safety Expo on Saturday, October 5, 2019, from noon to 3:00 p.m. at Northshore Park. The free, family-friendly event highlighted public safety in the community and was held in advance of National Night Out, set in The Woodlands for Sunday, October 13, 2019.
View the photos from the event on the Hello Woodlands Facebook page!
The Community Safety Expo was a day of food, fun and public safety demonstrations for the entire community. Attendees had the opportunity to meet public safety personnel, climb aboard equipment from local, state and federal agencies and learn about the role of public safety in the community. The various agencies and groups were in attendance and had information and giveaways to distribute about fire safety, crime prevention and emergency preparedness along with health and wellness information.
National Night Out is an annual community-building campaign that promotes police-community partnerships and neighborhood camaraderie to make neighborhoods a safer, better place to live. National Night Out is designed to:
Heighten crime and drug prevention awareness.
Generate support for local anti-crime efforts.
Strengthen neighborhood spirit and police-community partnerships.
Send a message to criminals letting them know neighborhoods are organized and fighting back.
For more information about National Night Out events in The Woodlands, please visit thewoodlandstownship-tx.gov/NationalNightOut.