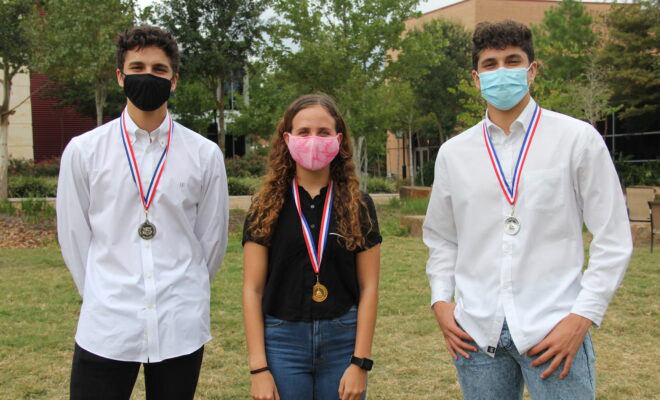 Lifestyle
Cooper Students Earn Congressional Awards
By |
THE WOODLANDS, TX – Amber Navarra, a junior at The John Cooper School, and fellow Cooper students, seniors Emiliano Plaza and Sebastian Plaza, have all been named Congressional Award Gold Medal honorees.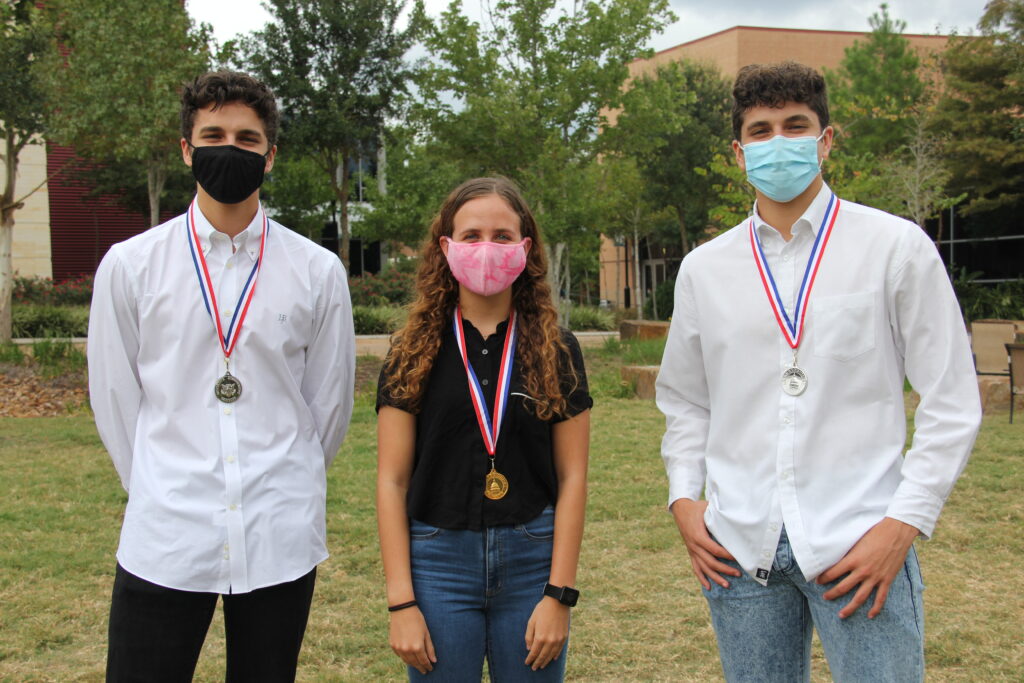 Navarra, who previously earned bronze and silver congressional medals, was awarded the 2020 Congressional Award Gold Medal and attended a virtual ceremony that took place from Washington, D.C. on September 26. Navarra was one of the featured speakers in the online event that featured breakout sessions focused on networking and topical discussion panels. The Congressional Award website said the following, "The virtual event celebrated 478 of America's most deserving student leaders who have committed themselves to years of goal-setting and community engagement in order to earn Congress' highest honor for youth."
Sebastian and Emiliano Plaza were notified last month of being named two of twelve 2021 Congressional Award Gold Medal honorees from Texas and, having already received bronze and silver medals, will be recognized and receive their gold medals at a ceremony in Washington, D.C. in summer, 2021.
The awarding of a Congressional Award Gold Medal is based on four criteria: 400 cumulative hours of public service, 200 hours of physical activity, 200 hours of personal growth and an exploration which is designed to show independence and immersion in a different culture. All students were required to write about the impact of the experiences that were to take place outside of school activities.
Navarra, who has attended Cooper since pre-kindergarten, accumulated 400 hours of community service in 24 months through her involvement with a local chapter of The National Charity League (NCL). Working with her mom in NCL, a mother-daughter service organization, she enjoyed working in a wide variety of service opportunities, and especially enjoyed coordinating the monthly bingo event for senior citizens as well as a holiday toy drive. Her personal development criteria was accomplished by doing 200 hours of competitive dance in tap, ballet and jazz. Navarra is also a member of Cooper's cross country team, a STEM Club board member, Vice President of the Interact Club and member of the MPAC (Medical Professions at Cooper) Club.
In order to fulfill the exploration requirement, Navarra planned a five-night, six-day trip for her family of four to the Grand Canyon. "I learned a great deal through the process, and it was very nice to be acknowledged with the Gold Medal," she said.
The Plazas have been Cooper students since eighth grade and have both played varsity soccer since their freshman year – Emiliano playing right mid-field and right wing and Sebastian playing left mid-field and left wing. They formed the Club Presente to do service work in May 2018 with their brother Santiago Plaza, a Cooper alumnus, and fellow Cooper students Sophia Guiot and Diego Guiot. They delivered breakfast bags to seniors through Meals On Wheels, volunteered with transportation of patients at Memorial Hermann Hospital-The Woodlands, and initiated a project to fabricate masks and face shields to assist with pandemic efforts. The two honorees also initiated an Instagram page, @helpstopthespread, to share how to get involved.
The brothers each said they learned how taking initiative can really make a positive impact. "Once you start, you just keep going," Emiliano said. "If you can help just one person, it makes you see volunteering differently." Emiliano Plaza has worked on Cooper's Habitat Project and been involved in the Film Club. He plans to study civil engineering from a structural standpoint, as he wants to study earthquakes; an interest he shares with his father. Sebastian Plaza has made two narrative short films and two experimental short films and is on the Film Club board. He wishes to study cinematography, particularly from the visual perspective of camera work and lighting. The brothers planned a 10-day family trip to Japan; each planning five days, to fulfill the exploration requirement.
Both Plazas are very grateful for the recognition they have received and continue to enjoy service opportunities. "If you start doing service work, friends notice, then they also want to know how they can help," Sebastian said. "It starts a ripple effect in your community, which is great."
The John Cooper School is a PK-12 independent, college preparatory day school that has been serving The Woodlands and greater Houston area since 1988.
For more information, visit www.johncooper.org.