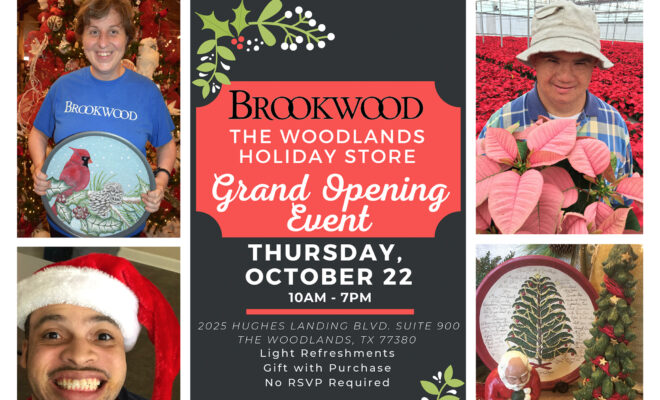 Business
Brookwood Holiday Store now open Hughes Landing
By |
THE WOODLANDS, TX – The Howard Hughes Corporation® (NYSE: HHC) is pleased to announce a partnership with The Brookwood Community, a non-profit educational, residential and entrepreneurial organization for adults with disabilities. The Howard Hughes Corporation is providing complimentary usage of prime retail space in Hughes Landing® in The Woodlands® for their Brookwood Community's Holiday Store from October 16 through December 23, 2020, to sell a variety of handcrafted items and gifts made locally as well as their popular favorite, poinsettias.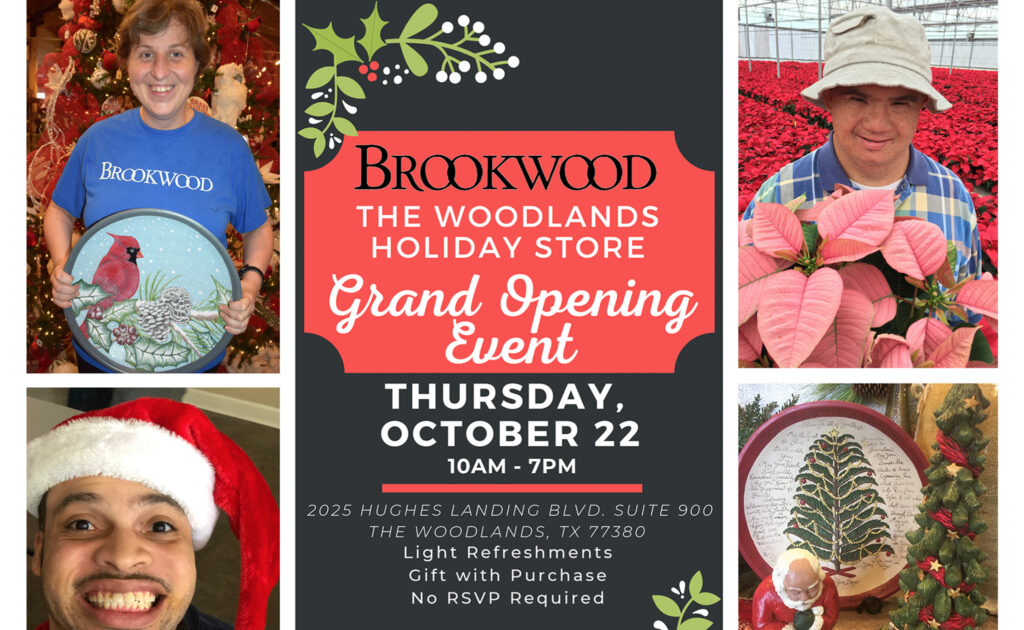 "This year has been particularly challenging for non-profits, so we jumped at the chance to provide this tremendous organization with a complimentary holiday pop-up store location," said Jim Carman, President, Houston Region for The Howard Hughes Corporation. "Our support of Brookwood is another example of HHCares, our company-wide social responsibility program which includes community-focused philanthropy through financial donations and volunteerism." Annually, The Howard Hughes Corporation donates to over 130 causes at local non-profit organizations in the Greater Houston area.
The Brookwood Holiday Store is opening the storefront at 2025 Hughes Landing in suite 900, adjacent to the new multifamily residences, Two Lakes Edge, and Whole Foods® Market. The award-winning, 79-acre Hughes Landing is a mixed-use development and features a walkable setting along 200-acre Lake Woodlands.
"We are thrilled to open a seasonal retail location at Hughes Landing," said Elizabeth Ingram Carlyle, Chief Operating Officer for The Brookwood Community. "Through the grace of God, The Brookwood Community provides an educational environment that creates meaningful work, builds a sense of belonging, and awakens genuine purpose in the lives of adults with disabilities. The Howard Hughes Corporation has graciously provided the retail space to us rent-free. Brookwood truly appreciates this opportunity to sell its beautiful Citizen-made products, delicious food items, famous poinsettias and other seasonal gifts."
The holiday gift store will open on Friday, October 16 with days of operation and hours set for Tuesdays through Saturdays from 10:00 am to 5:00 pm. An official community grand opening will be celebrated on Thursday, October 22, from 10:00 am to 7:00 pm.
Carlyle continued, "Most holiday bazaars in the Greater Houston area are canceled this year which, of course, significantly impacts Brookwood's revenue. This retail outlet for our Citizen's products will help support Brookwood's vision to change the way the world thinks about adults with disabilities. Since Brookwood will be starting a new day program at The Woodlands United Methodist Church in January 2021, we are especially grateful for this opportunity to showcase our Citizen products."
For more information on The Brookwood Community, visit BrookwoodCommunity.org/.
The Woodlands is a 28,000-acre master planned community located 27 miles north of downtown Houston. Throughout its 46-year history, The Woodlands has led the way among master planned communities that practice environmental preservation. It is home to over 118,000 people, and over 68,000 people work in the community. The Woodlands is one of the most successful master planned communities in Texas and the nation. The Woodlands was named "Trailblazer of the Year" in 2018 by the Greater Houston Builders Association. The community was also consecutively named "Humanitarian of the Year" in 2019, 2017, 2016 and 2007, and "Master Planned Community of the Year" in 2015, 2010 and 2007, by the Greater Houston Builders Association. For more information, visit TheWoodlands.com.

The Howard Hughes Corporation owns, manages and develops commercial, residential and mixed-use real estate throughout the U.S. Its award-winning assets include the country's preeminent portfolio of master planned communities, as well as operating properties and development opportunities including: the Seaport District in New York; Columbia, Maryland; The Woodlands®, The Woodlands Hills, and Bridgeland® in the Greater Houston, Texas area; Summerlin®, Las Vegas; and Ward Village® in Honolulu, Hawaiʻi. The Howard Hughes Corporation's portfolio is strategically positioned to meet and accelerate development based on market demand, resulting in one of the strongest real estate platforms in the country. Dedicated to innovative placemaking, the company is recognized for its ongoing commitment to design excellence and to the cultural life of its communities. The Howard Hughes Corporation is traded on the New York Stock Exchange as HHC. For additional information visit HowardHughes.com.