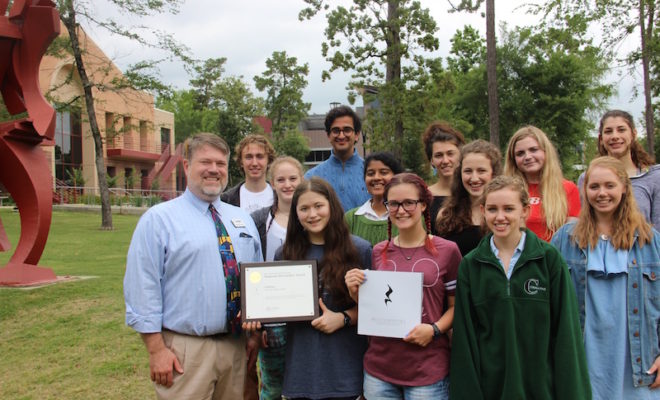 News
Cooper's Literary Magazine Awarded "Pulitzer of Student Journalism"
By |
For the first time in the school's history, The John Cooper School's literary and arts magazine, Inkblots, that is produced by a staff of Upper School students, has earned the highest honor given by the National Scholastic Press Association (NSPA). The 2016 edition, entitled Silent Symphonies, was one of seven schools in the country to be awarded a Pacemaker Award, described as "the Pulitzer  of student journalism."
The annual publication is a "triple crown winner" this year, according to faculty advisor Peter Elliott, because it is the only school to have received highest honors from the three top scholastic journalism organizations. In addition to the NSPA award,Silent Symphonies was one of 11 publications nationwide to be awarded a Gold Crown from the Columbia Scholastic Press Association (CSPA). The magazine also received the Highest Award, the top honor given by the National Council of Teachers of English (NCTE).
As a Crown Award winner, Silent Symphonies was distributed digitally to over 3,000 CSPA member schools nationwide as an example of excellence. The CSPA summary stated, "Silent Symphonies is anything but silent. The well-written words, accomplished images and polished design can't be ignored by readers. This fantastic magazine gives a professional feel, but never loses the identity of the students."
Editors of the book included Sadie Robb, Gibson Field, Nikki Juszczak, Meredith Brus, Claire Cromley, Seth Dickens, Marina Ferguson and Nina Rivela. The collection is explained in the introduction of the book as follows: "You have opened a book of voices. Some whisper. Some stutter. Some shout. Think of each voice as a different melody, some ignored for ages, and listen as they form a symphony so powerful that it cannot be ignored." Staff members included Spencer Anderson, Catalina Cura, Vani Desabhotla, Cameron Fisher, Pamela Fojtasek, Sophie Frusco, Gurtej Singh Gill, Elizabeth Morris, Susie Teuscher, Connor Weinman and Wesley Wilgrubs.