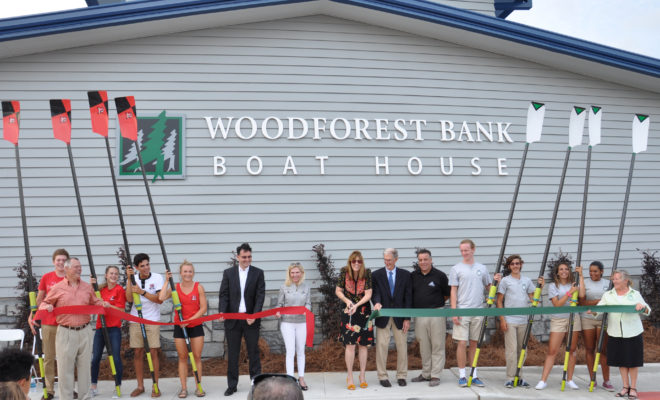 Events
Woodforest Bank Boat House opens in Northshore Park
By |
The Woodforest Bank Boat House opens today in Northshore Park, located at 2505 Lake Woodlands Drive in The Woodlands, Texas. The brand new 7,000-square-foot boathouse facility on the waterfront of Lake Woodlands provides a home for the Rowing Club of The Woodlands and Parati Competitive Rowing, and includes space open to the public.
Woodforest National Bank, headquartered in The Woodlands, was the main contributor, funding more than 75 percent of the cost to build the boathouse facility. This public/private partnership is the first of its kind in The Woodlands, with the Woodlands Township providing the land and the clubs raising money privately to build the boathouse.
"This is an exciting time to be in The Woodlands," said Cathy Nash, CEO of Woodforest National Bank. "Rowing embodies the values of hard work, discipline and teamwork. By partnering with The Woodlands Township, Woodforest National Bank is honored to ensure this important and growing sport has the opportunity to thrive within our community with this new, permanent facility."
For more information about The Woodforest Bank Boat House and Northshore Park renovations, please contact The Woodlands Township Parks and Recreation Department at 281-210-3800, or follow The Woodlands Township Parks and Recreation Facebook Page at www.facebook.com/townshipparksandrec.
Fast facts about The Woodforest Bank Boat House
Owner: The Woodlands Township
Users: The Woodlands Township, Rowing Club of The Woodlands and Parati Competitive Rowing
Purpose: Provision of a public boat storage facility for residents of The Woodlands and the development of a permanent facility for rowing in The Woodlands
Partners: Woodforest National Bank, The Woodlands Township, Rowing Club of The Woodlands and Parati Competitive Rowing
Builders, Architects: Frost Construction; Burditt Land | Place
Costs: $650,000
Location, address: Northshore Park, 2505 Lake Woodlands Drive, The Woodlands TX 77380