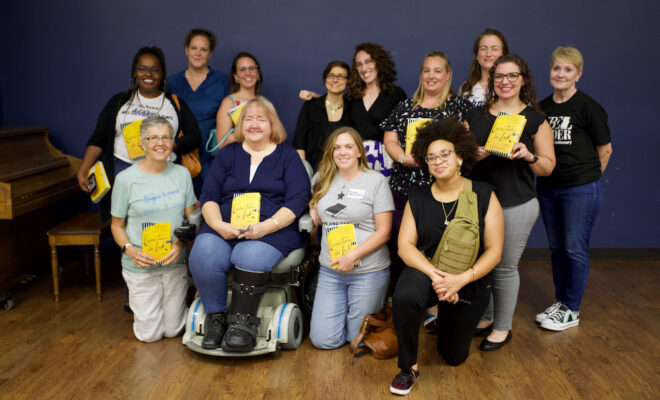 Photo Credit: Jennifer Bruse, Hello Woodlands
People
Corrections in Ink: A Conversation with Author Keri Blakinger
On the evening Wednesday, August 17, Village Books hosted a conversation with award-winning journalist and author Keri Blakinger who discussed her book Corrections in Ink with journalist Alex Stuckey in front of a crowd of fans and book lovers. The event was held at the South County Community Center located at 2235 Lake Robbins Dr in The Woodlands.
View photos from the event on the Hello Woodlands Facebook page, on Instagram, and YouTube:
The New York Times called Keri Blakinger's first book "Brave, brutal . . . a riveting story about suffering, recovery, and redemption. Inspiring and relevant." Publisher St. Martin's Press describes Corrections in Ink as "an electric and unforgettable memoir about a young woman's journey―from the ice rink, to addiction and a prison sentence, to the newsroom―and how she emerged with a fierce determination to expose the broken system she experienced." Keri Blakinger is currently an investigative reporter covering criminal justice and injustice for The Marshall Project. She previously worked for the Houston Chronicle and was a member of the Chronicle's Pulitzer-finalist team in 2018. Her 2019 coverage of women's jails for The Washington Post Magazine helped earn a National Magazine Award. Before becoming a reporter, she did prison time for a drug crime in New York.
Teresa Kenney, owner of Village Books, opened the event and introduced Keri Blakinger and Alex Stuckey. Alex Stuckey is an investigative reporter for the Houston Chronicle, 2017 Pulitzer Prize and 2022 Livingston Award winner, and also received the Charles E. Green Award for Star Reporter of the Year in 2022. Alex Stuckey, a friend and self-proclaimed fan of Keri Blakinger, led the conversation and discussed the writing process of her first book, how her life, experiences, and relationships influenced the book, and what she is up to now – including discussing her work on the fires in Texas prisons to talking about the possibility of a second book in the works. At the end of the conversation, Blakinger took questions from the audience and signed books that were available to purchase from Village Books.
To learn more about Keri Blakinger, visit KeriBlakinger.com and follow her on Twitter.
Purchase Corrections in Ink and support our local community bookstore by visiting Village Books in person or online on their website here.
Village Books, the community-focused independent bookstore in The Woodlands, is owned by Teresa Kenney and hosts book signings, a monthly book club, writing classes, and special events. Learn more about Village Books and upcoming events at MyVillageBooks.com.
Source: Village Books