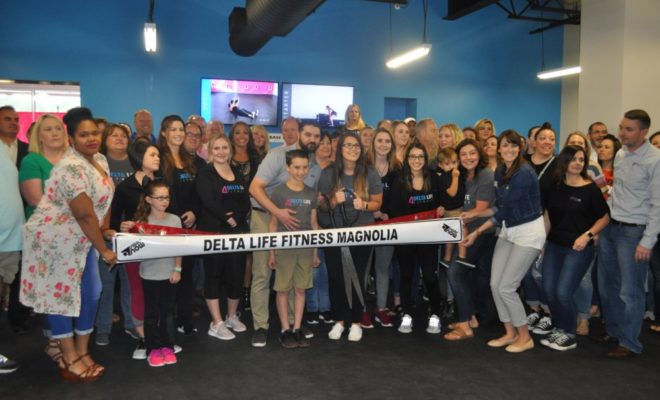 Fitness & Sports
Delta Life Fitness Opens First Montgomery County Location
By |
CONROE, TX – Delta Life Fitness (DLF), the unparalleled women's-only group training franchise, opened their first Montgomery County location in the community with a Grand Opening event on Friday, April 5 with several local Chamber of Commerce locations including the Greater Magnolia Parkway Chamber of Commerce and The Woodlands Area Chamber of Commerce. DLF/Magnolia is located at 525 Woodland Square Blvd, in Conroe at FM 1488 and Old Conroe Road, near the Xscape Theatre. The franchise is owned and managed by franchisees, Cindy and Josh Irvine.
Cindy is passionate about the brand and how it stands out amongst other fitness venues. As a leader Cindy shares her excitement with her staff as they encourage other women to support each other and go beyond what they think they can do physically.
"I am so blessed and excited about this opening! We moved here from Beaumont to be part of this community with DLF. The brand is fantastic! I have gained so many solid female relationships through DLF. You bond together through the commitment of doing YOU," said Cindy Irvine. "It's truly empowering to be able to make women feel good about themselves at any level of fitness."
The brand's 30 locations (and counting) across the US are effectively changing women's lives through the trademarked "Tone and Torch" classes. The DLF workout is broken into intervals of cardiovascular and strength training. This women-specific method was designed to help members maintain a target heart rate zone that stimulates metabolism and increases energy. Participants use a variety of equipment including TRX suspension training, free weights, and battle ropes, allowing one to burn up to 900 calories, including after-burn. The results of these workouts include more overall energy, visible toning, and weight loss.
In December DLF was named one of the top 100 Game Changer Franchises of 2018 by Franchise Directory Magazine. Franchise Magazine is the guidebook for those interested in learning more about franchise opportunities across the country. Other franchises listed include Sports Clips, Allstate Insurance, Fast Signs, Learning RX, Kona Ice, and Cinnaholic.
"Delta Life Fitness has found their niche by focusing on meaningful growth and improving their brand. Investing in Delta Life has been life changing for my family, I love how we know exactly who we serve, and we truly do serve them better than anyone else," said Cindy Irvine.
Women of all ages and fitness levels can benefit from DLF. The work outs are specifically designed for hard working, intelligent, multi-tasking women that want a non-judgmental, women friendly environment that promotes a neighborhood family bond. Every workout is tested to ensure maximum calories burned during each workout, including the effects from post-workout calorie burn. It's built exclusively for women to reach their goals in a fun always changing work out environment in just 30 minutes-because women lead busy lives. And childcare is provided!
"The support from the community is overwhelming with well over 100 people here at the Grand Opening," said Leah McCoin, sales associate at DLF. "Cindy is so passionate and dedicated to making sure everyone has one they need to feel supported."
In their first week of opening Magnolia had signed up 62 members from the community. No Annual contract is required to be part of the DLF community. See immediate results via a heartrate monitor worn during each 30-minute workout session with statistics on calories burned, average heart rate, and how you compared to other women in the class. A little competition is motivating!
New member Margie Taylor has not done a workout like this before. "I have been a runner for over 30 years. This is completely different from anything I've ever done. The areas are segmented into 4 bases (stations) with 2 different movements at each base. The instructor warms you up, then while you are still warming up, she shows you how to do each movement at the bases. I find the "how to" video screens in front of each base extremely helpful in completing the moves in the short 20-30 seconds intervals. And because you have on the heart monitor that is hooked up to their app, you get immediate results that are measurable before you leave the building."
Alicia Cornett, trainer at DLF, commented, "It is not your normal workout atmosphere. It is ALL women with different body types, all ages, and the ladies applaud each other after they finish in the workout-so uplifting and motivating."
Come try out a few classes for free and see what it is all about at the newest location at 525 Woodland Square Blvd, Suite 180, Conroe, near the XScape Theatre off FM 1488. Childcare included.
Delta Life Fitness is an all women-focused boutique fitness brand offering its participants an effective and results-orientated total body workout to get in shape and lead a healthier lifestyle. Find out more about becoming involved with Delta Life Fitness by visiting www.DeltaLifeFitness.com or their Facebook page at www.Facebook.com/DeltaMagnolia.