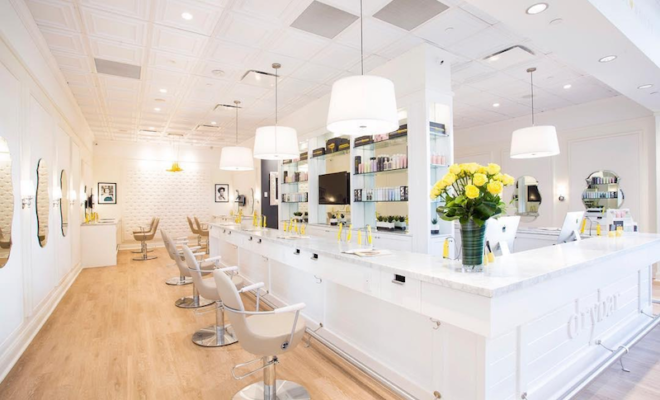 Business
Drybar to open in Market Street early November
By |
Early November 2018, Drybar will have the grand opening of Drybar The Woodlands at Market Street. The 2,331-square foot location will consist of 10 styling chairs and all of the signature elements that define the unique Drybar experience.
Named one of the top "100 Brilliant Ideas of 2010" by Entrepreneur Magazine and New York Magazine's Boom Brands of 2013, Drybar is based on the simple concept of focusing on one thing and being the best at it: Blowouts. The idea was a natural one for curly haired founder Alli Webb, a longtime professional stylist, who constantly found herself overpaying for blowouts at traditional salons.
The new location will offer all of Drybar's signature services including a full style menu, signature in-shop services, and their own brand of hair styling products and tools.
Drybar's Full Style Menu features multiple options with creative names such as The Straight Up, The Manhattan, The Cosmo, The Mai Tai, The Cosmo-Tai, Southern Comfort, Dirty Martini, The Uptini, Old Fashioned, Shirley Temple or a style from the braid bar.
Drybar's Signature In-Shop Services range from a Classic Blowout, Uptini (aka an updo), Mudslide Treatment, Bay Breeze Hydrating Shot, Shirley Temple (special service available for ages 10 and under), Barfly Memberships, Dry Pro styling, weddings, group specials and parties.
In addition to 100+ locations throughout the US and Canada, their growing product line (created specifically for the perfect blowout), is sold through their own shops, as well as Sephora, Nordstrom, Ulta and Bloomingdale's. Drybar's Line of Professional Hair Styling Products & Tools includes favorites like Buttercup Blow-Dryer, On the Rocks Shampoo and Conditioner, Triple Sec 3-in-1, Mr. Incredible Leave in Conditioner, Prep Rally, Sake Bomb Nourishing Conditioner and Detox Dry Shampoo.
The newest location will maintain Drybar's signature design, including custom Italian chairs, tufted fabric walls, marble bars with built-in phone docking stations and flat screens featuring cult favorite chick flicks but will also feature some new additions. The shop will offer dry-styling, consultations with Drybar's trained stylists including an interactive quiz to find what hair product works best with your hair type, as well as a test & try station to play with Drybar's entire product line for customers before purchasing.
"Drybar is based on a simple philosophy: Focus on one thing and be the best at it. For Drybar, that's blowouts."
Drybar The Woodlands at Market Street will be located at 9595 Six Pines Drive Suite 425 with the following hours (tentative and subject to change):
Monday – Wednesday 9AM-6PM
Thursday – Friday 7AM-8PM
Saturday 8AM-8PM and Sunday 9AM-7PM
Appointments will be able to be booked online at www.thedrybar.com, through the Drybar iPhone app or by calling 877.379.2279.