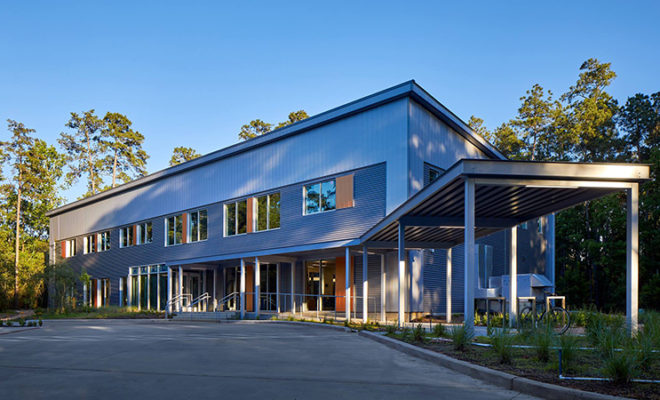 Business
HARC Earns First ENERGY STAR Certification
By |
THE WOODLANDS, TX – The Houston Advanced Research Center (HARC) has announced that the organization's headquarters in The Woodlands, Texas has earned the U.S. Environmental Protection Agency's (EPA) ENERGY STAR® certification for superior energy performance.
"HARC continues to demonstrate true environmental leadership by reducing harmful greenhouse gas emissions that are proven to contribute to climate change," stated Jean Lupinacci, ENERGY STAR Director for Commercial & Industrial Buildings. "Today, 45 percent of U.S. emissions are attributable to commercial and industrial buildings, which is why improving energy efficiency is so critical for our future."
ENERGY STAR certified buildings and plants are verified to perform in the top 25 percent of buildings nationwide, based on weather-normalized source energy use that considers occupancy, hours of operation, and other key metrics. ENERGY STAR is the only energy efficiency certification in the United States that is based on actual, verified energy performance.
"We're honored to earn the ENERGY STAR for superior energy performance in this first year of operation at HARC and appreciate the efforts of everyone who has been involved in the efficient operation of the building," said Lisa Gonzalez, President and CEO. "We showcase our building as a living lab and saving energy is just one of the ways we show our community we care, and that we're committed to doing our part to protect the environment and public health, both today and for future generations."
Gonzalez credits this success to several advanced sustainable strategies used to power the LEED Platinum building. These include a geothermal heat exchange system, an air-tight high-performance building envelope and rain screen, and roof-mounted solar photovoltaics that provide a portion (presently about 15%) of HARC's electricity. Additional solar panels will be installed by November 2018, with the goal of becoming a Net Zero energy building. Particularly impressive is the facility's 50% energy savings (compared to LEED base targets).
On average, ENERGY STAR certified buildings and plants use 35 percent less energy, cause 35 percent fewer greenhouse gas emissions, and are less expensive to operate than their peers—all without sacrifices in performance or comfort. HARC's building scored a 92 for its ENERGY STAR Rating – out of a possible 100 points. This high rating, based on the performance of the building, is due in large part to sustainable facility operations of the facility management team and the HARC staff. For more information about ENERGY STAR for Buildings and Plants, visit www.energystar.gov/buildings.
HARC is a nonprofit research hub providing independent analysis on energy, air, and water issues to people seeking scientific answers. Its research activities support the implementation of policies and technologies that promote sustainability based on scientific principles. HARC is a 501(c)(3) nonprofit organization building a sustainable future in which people thrive and nature flourishes. For further information, contact HARC at (281) 364-6000 or visit www.HARCresearch.org.