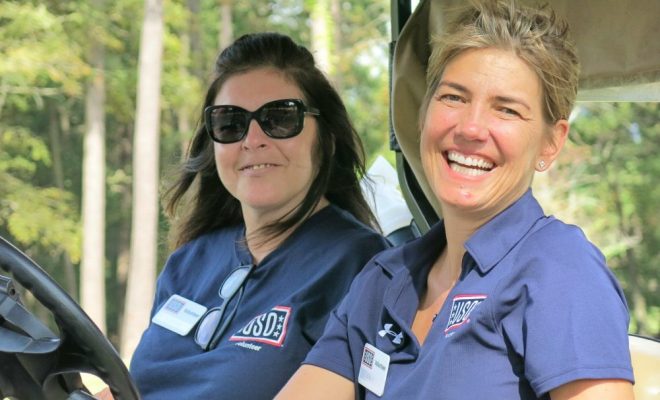 Events
Events Supporting Local First Responders & Military
By |
Attend a gala, BBQ cook-off, golf tournament, or even take a training course at the Montgomery County Sheriff's Office to support those who protect us – our first responders and service members. There are several local organizations that give back in many different ways, such as providing mental health treatment, organizing social outings for first responders and military, and sending care packages to those deployed away from home.
---
Emergency Chaplain Group, a nonprofit organization that offers crisis chaplaincy services to emergency service personnel and their families, is hosting its 8th annual Hope for Heroes gala on Saturday, October 12 at The Woodlands Waterway Marriott & Convention Center.
The gala is Emergency Chaplain Group's yearly opportunity to raise funds and awareness for the organization in a festive evening filled with entertainment, education, and guests.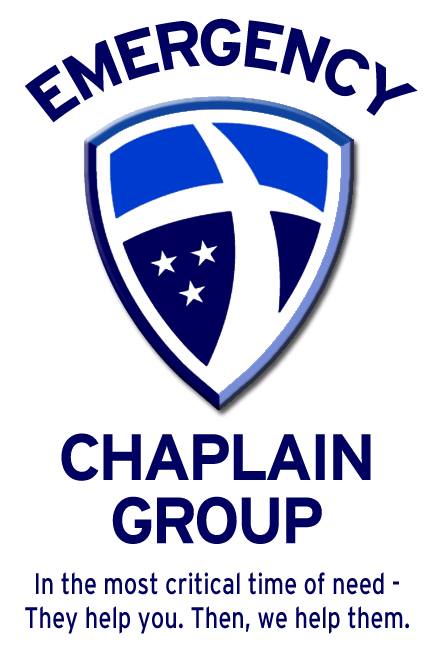 This year's spotlight entertainer is world-renowned 'speed artist' Michael Israel. Past keynote speakers have included world-famous comedian and author David Naster and author of the book and subject of the motion picture 90 Minutes in Heaven: A True Story of Death and Life, Don Piper.
Founded in 1998, Emergency Chaplain Group is a group of specially trained chaplains who respond to the needs of the first responder community both on-scene and "behind-scene," with an emphasis on Critical Incident Stress and Post Traumatic Stress services. The services offered by the nonprofit 501(c)(3) group are without regard to religious affiliation (or lack thereof). For more information, visit www.emchap.org or call 855.4EM.CHAP (855.436.2427).
---
Support the military by collecting items at National Night Out neighborhood parties. A full list of items needed is available at www.thewoodlandstownship-tx.gov/nationalnightout. Donated items will be collected at The Woodlands Township Town Hall located at 2801 Technology Forest Blvd., October 14-18, 2019, from 8:00 a.m. to 5:00 p.m.
Care packages for deployed troops will support Operation Military Embrace (OME). OME is a 501(c)(3) Texas-based military support organization with active officers, directors and volunteers committed to helping wounded service members. OME is dedicated to assisting America's seriously injured and ill warriors and their families in their time of need.
Connect with local law enforcement by organizing a neighborhood party during National Night Out. The event is an annual community-building campaign that promotes police-community partnerships and neighborhood camaraderie to make neighborhoods a safer, better place to live.
---
Mark your calendars and come join The Montgomery County Sheriff's Office for coffee and fellowship at Starbucks located at 500 Rayford Road in Spring for Coffee with a Cop. Join Deputies from Montgomery County Sheriff's Office to discuss local matters, build relationships, and drink coffee on October 19, 2019 from 8:00 – 10:00 a.m.
Coffee with a Cop provides a unique opportunity for community members to ask questions and learn more about the Sheriff's Office work in the community.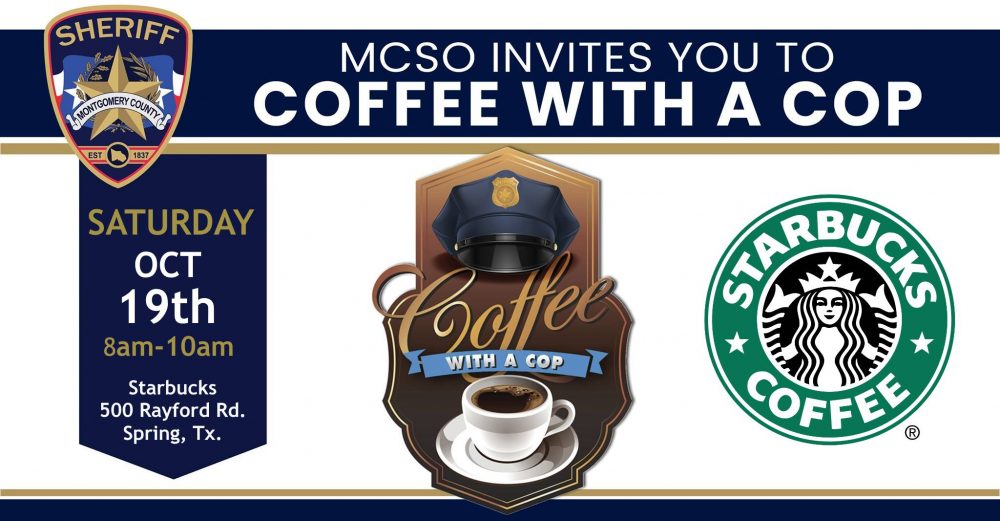 ---
Come out and enjoy some BBQ prepared by some of the best BBQ teams in Texas as they compete in a cook-off to raise money for the nonprofit organization Casualties of War at Southern Star Brewing Company.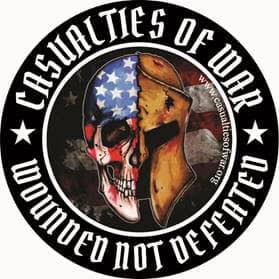 Throughout the day attendees can enjoy beer and BBQ, an incredible lineup of favorite Texas musical artists, activities for the kids, and shop from tons of vendors. General admission (All You Can Eat) is $30, veterans, law enforcement, and first responders are free, family of veterans, law enforcement, and first responders are $15, and children 11 & under are free.
Casualties of War is a 501(c)(3) nonprofit focused on helping veterans and first responders become successful in life as well as reconnect individuals into a positive and supportive group in which to face this world.
---
The 7th annual United Service Organizations (USO) Woodlands Classic Charity Golf Tournament will take place on Monday, November 4, 2019, on the Palmer Course at The Woodlands Country Club. The golf tournament is USO Houston's signature fundraising event.
The USO Woodlands Classic includes a golf tournament, dinner buffet, live and silent auctions, and an amazing performance from the iconic USO Show Troupe. 2019 marks the 7th year that Outlook Financial Group will host this event.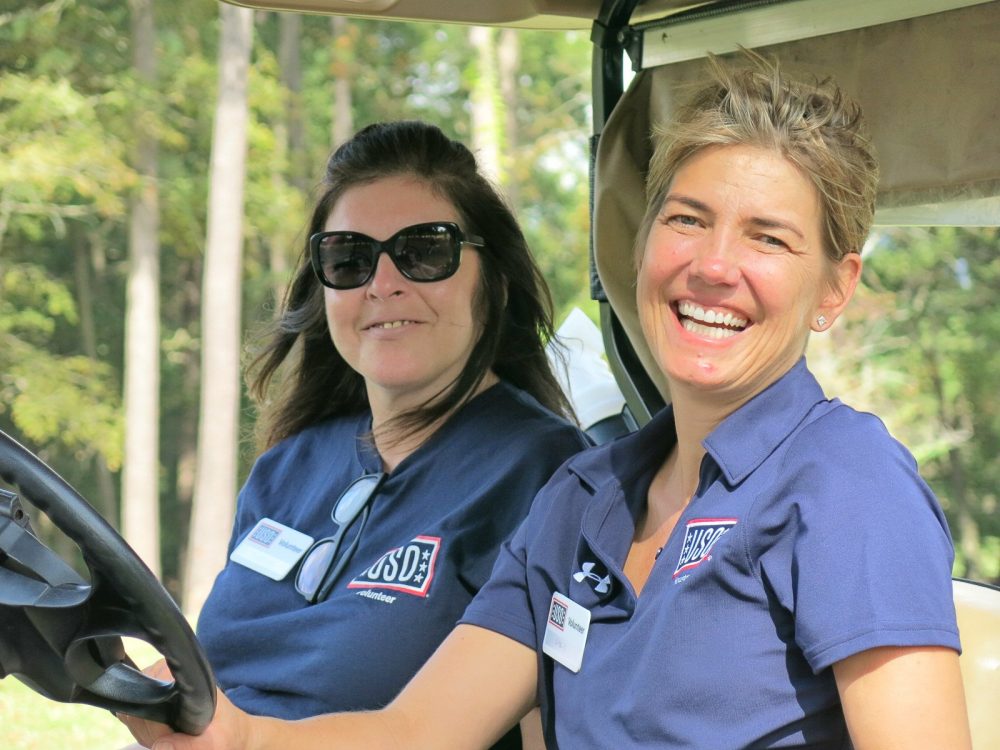 Thanks to individuals and companies that supported the 2018 USO Woodlands Classic, more than 50,000 military members were connected to USO programs and centers.
The USO is a private, non-profit, non-governmental organization founded via congressional charter in 1941 to support active military and their families. The USO strengthens America's military service members by keeping them connected to family, home, and country, throughout their service to the nation.
---
Cooking 4 Courage is an annual event with the purpose of raising funds for, bringing awareness to, and honoring our veterans, active military, and first responders.
The event is anchored by a Lone Star BBQ Society sanctioned BBQ cook-off, which is currently the second largest in Montgomery County. The event includes guest speakers, food & craft vendors, carnival games, TUFF Kids cook-off, and a kids zone, as well as live and silent auctions at the Montgomery County Fairgrounds.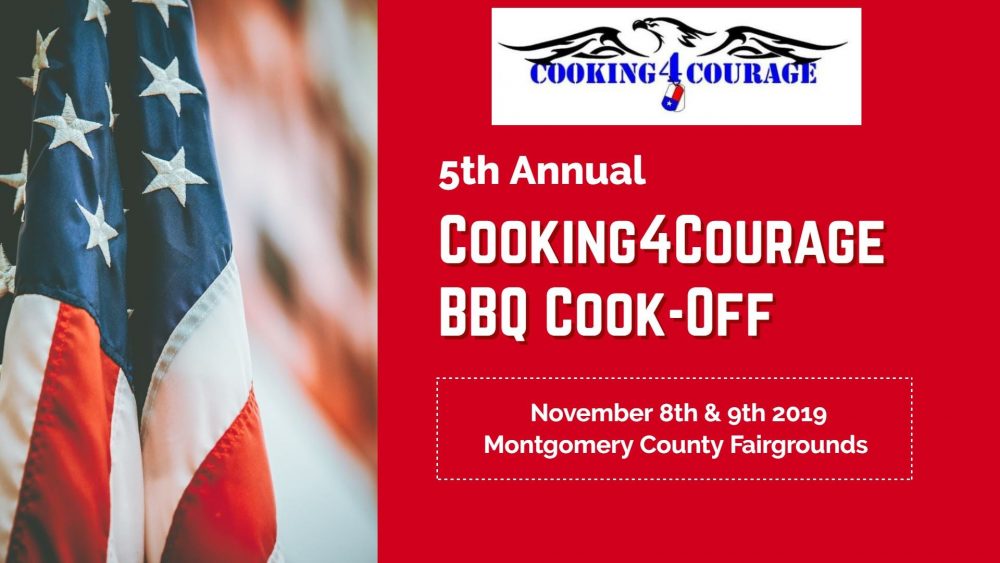 ​VFW Post 4709 sponsors a free veteran's dinner, open to all veterans, Saturday, November 9 from noon – 6:00 p.m. Evenings are capped off on stage by Texas country music.
Funds raised are used for PTSD recovery, re-acclamation and employment as a civilian, and other local veteran and first responder supported causes.
TUFF (Texans United for Freedom) is a 501(c)3 non-profit organization based in Montgomery County, Texas. The organization assists and raises awareness of the battles our military officials face after their service is complete, by arranging and organizing community social events that will give citizens a chance to show appreciation and support to members of our service and first responders.
Lone Survivor Foundation restores, empowers, and renews hope for wounded service members, veterans and their families through health, wellness, and therapeutic support.
Tri-County Behavioral Healthcare's mission is to enhance the quality of life for patients and communities by ensuring the provision of quality services for individuals with mental illness, substance abuse disorders and intellectual/developmental disabilities.
VFW Post 4709 has many programs and services that work to support veterans, service members and their families, as well as communities worldwide. The Veterans of Foreign Wars is a nonprofit veterans' service organization comprised of eligible veterans and military service members.
---
Held at the Big Barn at Dosey Doe, the Operation: Holidays For Heroes Veterans Dinner will honor local military veterans with a full evening of food and fun from 6:00 – 10:00 p.m.
The Presentation of Colors will be performed by The Woodlands High School AFJROTC. Morgan Luttrell, former U.S. Navy Seal, former Navy Seal Lieutenant, and former Senior Advisor of Veteran Relations with the Department of Energy is the special guest speaker for the evening. After speaking, Luttrell will have a Q&A and photo session. Tyler Tillman will provide live musical entertainment. Dinner will be a BBQ buffet with all the good old Texas favorites, and veterans will leave with a special gift.
---
The Woodlands Township will be honoring the military men and women who have served our nation Monday, November 11, 2019 at Town Green Park from 4:30 – 5:30 p.m. The Veterans Day Tribute will feature a presentation of colors and musical performances. A care package drop-off booth will also be on site to accept donations of recommended items to be shipped to the troops abroad.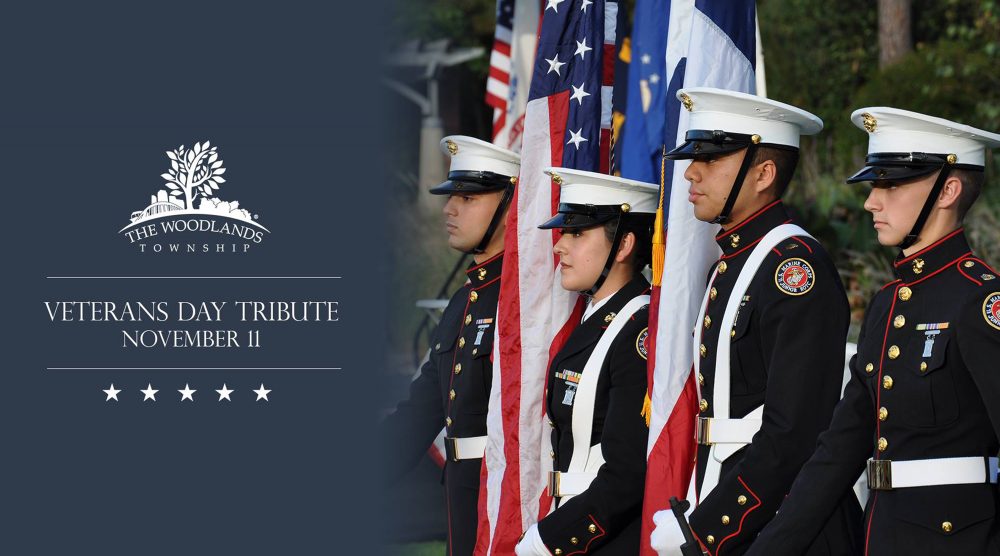 For the most up to date information on the day of the event, including weather updates or postponement of any kind, please follow The Woodlands Township Parks and Recreation Facebook page. For more information on the event and for a list of recommended items for care packages, click here.
---
Come make paracord bracelets, cards, and blankets for deployed service members and veterans with Stronger to Serve. Stay after for some more family fun while enjoying delicious food and drinks at Deacon Baldy's.
Participants will also get active and strong playing fun family games led by The Ms. Fit Mom, Lauri Mazeikas.
To help cover service project supplies, the cost is $10/person or $20/family.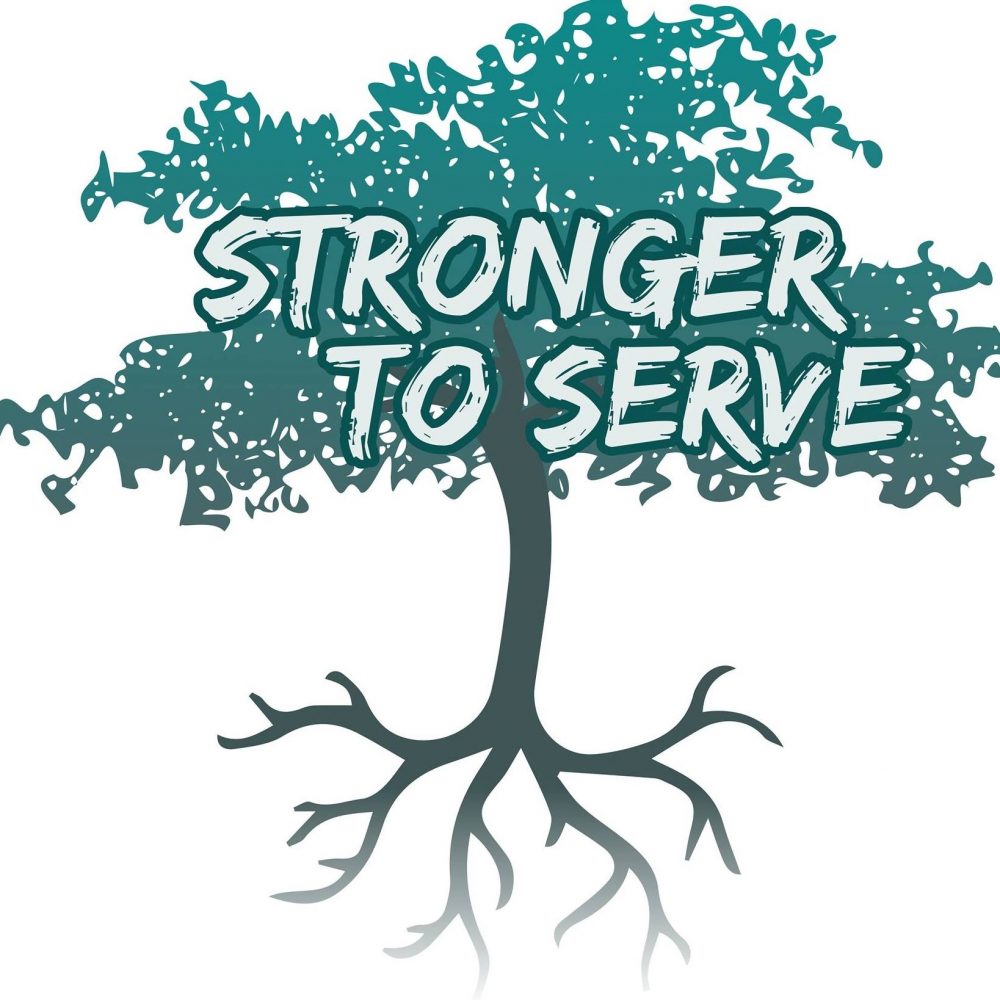 Stronger to Serve is a 501(c)3 nonprofit that combines fitness with service to inspire healthy, compassionate leadership. The organization promotes getting active while volunteering, and teaches empathy and perseverance. Learn more about Stronger to Serve, a recent Hello Woodlands' Nonprofit of the Month, at https://hellowoodlands.com/nonprofit-of-the-month-stronger-to-serve/.
---
The goal of the Citizen's Academy is to foster a relationship between the Sheriff's Office and the community. Students are selected from applicants who reside in or are employed in Montgomery County and meet the entry requirements.
By providing information to the community, and developing an understanding of how their Sheriff's Office operates, it develops a better working relationship for all. It will also provide opportunities for ongoing communication between the members of the community and the Sheriff's Office. This partnership is the most practical, efficient, and powerful tool in the fight against crime.
Class size is limited to approximately thirty-five students and the course of study is spread over fifteen weeks, with a three-hour class each week. Classes will be held weekday evening after normal business hours.
Instructors include members of the Sheriff's Office from divisions such as Administrative staff, Patrol, Special Investigations Unit, Criminal Investigations Division, Training Academy, Communications, and Crime Scene Investigations.
The Montgomery County Sheriff's Office's mission is to provide professional detention and law enforcement service to its community through meaningful partnerships to enhance the quality of life for citizens, businesses, and visitors through efficient and innovative public safety practices. The office is budgeted for approximately 850 employees making it the seventh largest sheriff's office in the State of Texas. There are a little under 500 sworn peace officers allocated for the agency. Twenty-one percent of the sworn positions are supervisors in the rank of Sergeant and higher with the remaining 79 percent of the agency's sworn officers dedicated to line-level duties.
---
*Article updated October 7, 2019 at 9:23 p.m. to include Montgomery County Sheriff's Office Coffee with a Cop.