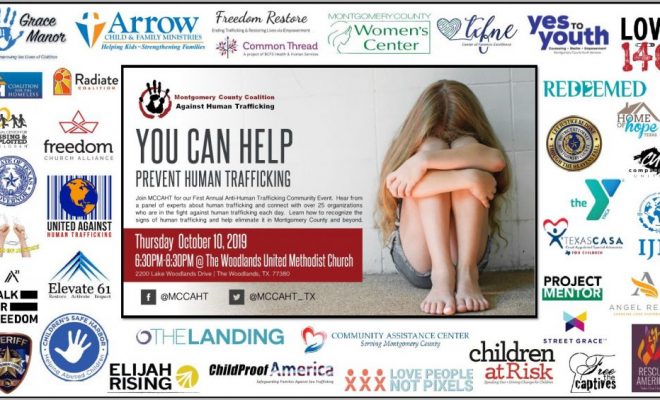 Events
MCCAHT Hosts 1st Annual Anti-Trafficking Community Event
By |
THE WOODLANDS, TX – The Montgomery County Coalition Against Human Trafficking (MCCAHT) is hosting the 1st Annual Anti-Trafficking Community Event on Thursday, October 10, 2019 from 6:30 p.m. to 8:30 p.m. at The Woodlands United Methodist Church.
During this event, attendees will hear from a panel of local experts who are engaged in the fight against human trafficking and child exploitation in our region. Attendees can also engage with over 35 organizations who are devoted to anti-human trafficking work – education, awareness, prevention, enforcement and prosecution, and victim care.
This is a FREE event and open to the public.
Established in 2015, the MCCAHT is a partnership of local, state, and federal law enforcement agencies, governmental and non-governmental organizations, churches, social service agencies, advocacy groups, and individuals with a mission to eliminate human trafficking in Montgomery County, Texas.
Participating organizations include:
Yes to Youth MCYS
Arrow
Elevate 61
Hands of Justice
Compassion United
Angel Reach
United Against Human Trafficking (UAHT)
CASA
Love 146
Grace Manor
Redeemed
BCFS Common Thread
Freedom Restore
YMCA International
Love People Not Pixels
National Center for Missing/Exploited Children (NCMEC)
Project Mentor
The Landing
Radiate Coalition
Montgomery County Women's Center
International Justice Mission (IJM)
Elijah Rising
Freedom Church Alliance
Children at Risk
A21 (Walk for Freedom)
Texas Forensic Nurse Examiners (TxFNE)
Community Assistance Center
Free the Captives
Montgomery County District Attorney's Office
Department of Homeland Security
Montgomery County Sheriff's Office
Coalition for the Homeless Houston
Street Grace
Children's Safe Harbor
Rescue America
Childproof America
Home of Hope
Office of the Governor
Montgomery County Constable Pct. 3