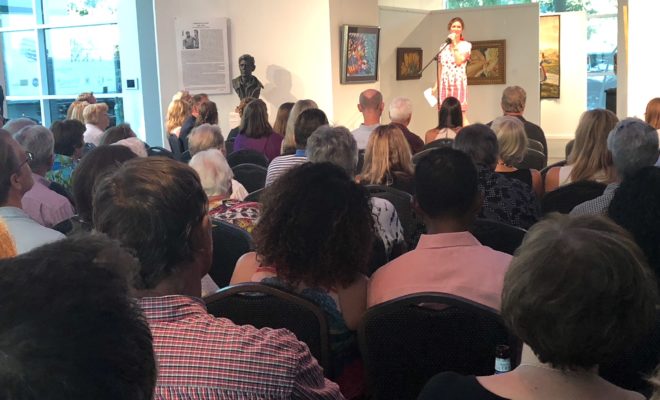 Art & Culture
Glade Foundation Event Honors Veterans for July 4
By |
THE WOODLANDS, TX – The Glade Arts Foundation hosted two events on July 2nd to honor veterans and celebrate our freedom for the 4th of July.
On Monday, July 2, the Glade Arts Foundation celebrated the opening of "Sacrifice Has a Name; And a Face," in support of veterans and those currently serving in the military. The exhibit, titled "Conflict Zone," featured photographs of the triumphs and sacrifices individuals have made in wars fought for the United States. The exhibit will be on display during the month of July. Exhibits include the first 30 dog tags from the Afghanistan and Iraqi War and photography from Vietnam, Iraq, Afghanistan, and Ukraine wars.
Glade Gallery provided an exhibit tour in company of the exhibit curator and art, activities & games for children. Live music was provided by Purple Heart recipient Lance Pettis. Brunch bites were provided courtesy of Victory Pie Company, a local business which takes a portion of all profits from its' fresh handmade artisan pies to support veterans as well as widows and orphans of veterans.
Jose Palafox, United States Veteran and local business owner of Starfox Financial Services, LLC, read the Declaration of Independence as an annual tradition.
Later in the evening, the Glade Arts Foundation presented the "Freedom to Laugh," comedy show, with hors d'oeuvres provided by Kirby's and entertainment provided by Nora Lynch, Andy Huggins of America's Got Talent fame, and Phil Palisoul, who often performs for troops. The Glade Arts Foundation emphasized that our freedom to laugh and live were granted by our veterans.
100% of proceeds from ticket sales from the evening went toward providing Healing Arts programs for veterans and their families. Proceeds also benefited the children through the Glade Arts Foundation Veteran's Outreach Program in Healing Art Classes. Veterans and current military personnel with military ID had free admission.
View photos from the events on the Hello Woodlands Facebook page!
The Glade Cultural Center, home of the Glade Arts Foundation and Glade Gallery located at 2000 Woodlands Pkwy, is open Tuesday through Sunday, and will be closed July 4th. Learn more at GladeArtsFoundation.org.