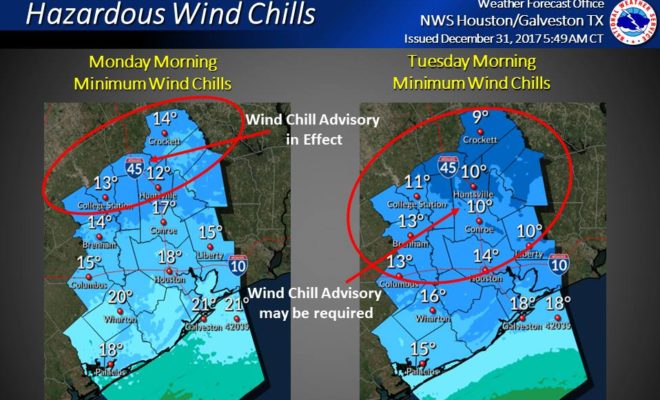 Weather
Hard Freeze Warning to start the New Year
By |
MONTGOMERY COUNTY (December 31) – The much anticipated strong cold front will push through today, we will experience high temperatures this morning and will slowly fall through the day.
As much colder temperatures are expected in the wake of the cold front, The National Weather Service has issued a hard freeze warning for Montgomery County and other surrounding counties until 10:00 A.M. January 1, 2018 (Monday morning). It is expected that parts of these counties will endure temperatures at or below 25 degrees for about 4 to 6 hours.
The cold weather will hang around much of the week ahead and additional Hard Freeze Warnings/Wind Chill Advisories look likely both Tuesday and Wednesday.
This will be prolonged event, if you haven't already, prepare now for this wave of cold weather. Be sure to protect your pets, pipes and plants.
For help and information on preparing for disasters, download our new preparedness app ReadyMCTX to your mobile device. Now is the time to prepare.
To receive emergency alerts to your phone or email from Montgomery County Office of Emergency Management, register at https://www.mc911.org/page/ecd.AlertMCTX. When you are creating your profile, you must check the box next to Share my Smart911 Profile with TX-Montgomery-County-911 to support emergency preparedness.
Source: Montgomery County Office of Homeland Security and Emergency Management, www.mctxoem.org