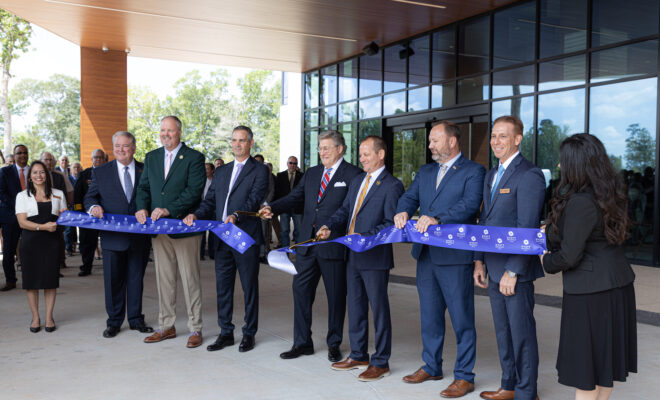 Photo Credit: Rod Prado
Business
Hyatt Regency Conroe opens with Ribbon Cutting and Grand Opening Ceremony
By |
Hyatt Regency Conroe opened on May 25, 2023 with a Ribbon Cutting and Grand Opening Ceremony.
View photos on the Hello Woodlands Facebook page:
Watch the video of the ceremony on the Hello Woodlands YouTube channel:
Hyatt Regency Conroe has 250 guest rooms, including 13 suites and 11 accessible rooms, with complimentary Wi-Fi, modern bath amenities like Smart Mirror featuring ideal lighting and 65" flat screen televisions with streaming capabilities.
The new contemporary hotel features a variety of dining options reflecting local and fusion cuisine: Avenue A, the hotel's lobby bar and lounge, Conroux, the hotel's full-service restaurant, and a 24-hour market with a coffee shop. Hyatt Regency Conroe's food and beverage program will be led by Executive Chef Christian Brady with support from an experienced culinary team.
Hotel guests can also enjoy a landscaped outdoor pool, 24-hour fitness center, and dog-friendly conveniences.
Hyatt Regency Conroe boasts two ballrooms and six meeting rooms, more than 30,000 square feet of flexible meeting and event space, and the 14,000-square-foot Regency Ballroom can host events for up to 1,000 attendees.
Situated in Conroe's Grand Central Park, Hyatt Regency Conroe is located at 1001 Grand Central Parkway, Conroe, TX 77304.