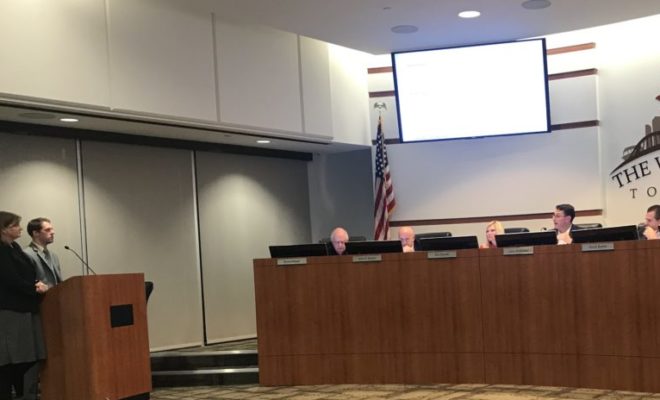 News
Incorporation Study Update at The Woodlands Board Planning Session on February 27
By |
The Woodlands Township Board of Directors held a Planning Session on Wednesday, February 27, 2019, at 6:00 p.m., at the office of The Woodlands Township, 2801 Technology Forest Blvd, The Woodlands, Texas.
Public Comment
Public Comments were accepted and made prior to the consideration of the Incorporation Planning Study.
A suggestion was made to review an analysis of Roundrock and Sugar Land, review backup options for contract services, comparison of peer city total budgets, and competitive tax rates for business and homes.
A suggestion was made towards maintaining and valuing the uniqueness of The Woodlands. "The day you incorporate you better have services that are as good or better than what we have now… Find peer cities in Texas that are equal or better than us. We are unique. You haven't heard from experts developing a city of 120,000."
"The Woodlands Township is not in any danger of being annexed by Houston. Annexation is a political scare tactic. It is a political tactic in my opinion. Why incorporate at all?" The suggestion was made that the tea party was behind incorporation. "Stop wasting the tax payers dollars."
Randy Johnson, CEO of Montgomery County Hospital District, introduced Chief Campbell who will being working closely with The Woodlands. Learn more about Chief Campbell here
"Annexation was not a risk factor in causing the study. Thoroughfare plans in expansion were helping address issues. Those issues are now disappearing. Novak report is premature and misleading – which talks as annexation as a pro. In the recent study, 70% of residents are happy and did not want to incorporate. We need to be honest and clear with people when talking about pros and cons. We need to be talking about 'why now?' They don't talk about the increased cost of incorporation. I don't understand the need to establish new building codes. I think we are unique that The Woodlands is covered by covenants and restrictions."
Chairman Gordy Bunch rebutted, "This board did not use annexation as a trigger point."
Incorporation Planning Study Update with the Novak Consulting Group
Julia Novak presented an update on the Incorporation Planning Study website. The website has received 1,100 visits since January 23. 37 registered to participate on the website. 17 additional questions have been submitted. The average time of response of the submitted questions is 1.5 business days.
After the January 23 planning session, the model was updated to include revenue estimates with a 5 year financial plan.
The Novak Consulting Group continued their analysis with the Law Enforcement – Hybrid Model plan. The 2018 Matrix Study assumed $14.7 million per year on average. The net additional cost to the new city was $3.8 million, year 4 and beyond. An all in-house department would also require an estimated $16.8 million in one-time capital costs for capital equipment, land acquisition and facility construction.
Animal control research on functions and staffing levels. Costs would be $681K including 7 FTES and a contract for shelter services, start up costs are estimated at $275K for vehicles and equipment.
Incorporation Pros and Cons
"There is no empirically correct answer on to or not to incorporate, there are advantages and disadvantages," Julia Novak shared.
Annexation and identity – eliminates the possibility of being annexed by Houston or Conroe.
Self determination – What type of services do you want to have? Provides the ability to establish service levels and tax rates.
Advantages of owning and taking control of own infrastructure: Transportation, New Revenue Services, Enhanced Local Control and Influence, Emergency Response.
Responsibility of additional asset maintenance and providing services. There is risk and reward.
Increased staffing costs, revenue tradeoffs, and an irrevocable decision. The Woodlands can't change back to a Township once incorporated.
Questions, Answers, and Statements made by the Board on the provided report
$16.8 million can be broken down into different buckets including land, public building.
The goals was to select a model with the highest revenue, lowest expenses.
The financial model allows us to see an impact of possible decisions. We are still in the optionality phrase.
Will we have increased costs at date well before the needing to incorporate?
What are the low municipal court and enforcement pros? We would have a defined legal process. Covenant violations could be rectified through municipal court. For example, the fireworks ban is currently unenforceable. But it would be enforceable and could be addressed if The Woodlands incorporated.
The request to include Creekside – address issues as in a different county. Response: Creekside is 100% part of plan. The Woodlands is in two counties. Law enforcement in Montgomery County does not currently have control of Creekside Park. 12 deputies in Harris county cannot cross the creek. In incorporation, The Woodlands Police department would provide services to all, including Creekside. The Hybrid model does not mean less police or less than a full force police department.
A Home Rule Charter would comprised, if created, of our residents. The community would have the opportunity to vote to absorb MUDs if desired. A Home Rule Charter would determine and could adopt long term rules for residents. The Woodlands would have the ability to create and write rules as a completed community. With original residents, why not codify and protect our community?
Will the quantity of officers will decline if become a city? Yes, have ability to provide more coverage in Hybrid model. No intentions of reducing coverage of police in Creekside.
City Marshall and police department would have the authority enforce ordinances. Police officers would be sworn in. In a 5 year plan, The Woodlands should have a plan to show the steps of the transition from the hybrid plan to full blown plan.
The Board was not reviewed in at the Commissioners Court. Discussions are ongoing, with a goal to have fair and transparent agreement with Montgomery County.
"There is no peer city for what we are attempting. It's not our decision, it's yours. It would be criminal not to plan. If you don't have a roadmap, how do you not make a decision?" stated Bruce Rieser
Ann Snyder shared a statement, "I've struggled with this. There's not someone like us. My husband and I chose The Woodlands 30 years ago because of George Mitchell's dream. His dream was exceptional in so many ways…  What makes us exceptional or different from cities, many books have identified… We have one chance to do it right. Why do we need to be like other cities? Why look at something that is different when we have created such an exceptional place to live? …Should we consider something else?"
Gordy Bunch responded, "The community voted in 2007 to form a Township, voted to transition from a home association into a sales tax. In 12 years there is not a transition plan to go from a Township into a City, and that is a failure. We now have a contract to assume [a police department] for a cost. We don't know if this is going to happen, but if it does we and our contracted services have a five year plan. Not having a plan is planning to fail."
"I'm not suggesting we don't have a plan, I'm suggesting we look at a different option," replied Ann Snyder.
Jon McMullan responded, "This is complex, I am dedicated to do this right. We need to do our due diligence. We thought we had to take the MUDs, that is false. There is a lot of new information we are getting through this process. I think we should move forward in this process. Each one of us was elected to apply our opinion on this. I think we should finish this process. We need a plan."
Bruce Reiser continued, "We do not know how yet. When we now how, then we can discuss how much. We need to finish the how. It doesn't mean the community would be like any other city in Texas. We need to maintain and protect what we built here. We don't have to do it now, but it may be a tool used to protect. [The Woodlands] is not going to change."
Per Bunch's request, Novak reviewed the current model with turned on various initiatives, including the hybrid police option. The public works model is not turned on. The model reflected a 5 year plan and changes based on initiatives. The model used actual numbers from 2013 and reflected the options from the new services, initiatives added.
The Board of Directors continued to discuss the need to continue with the study and move include addition areas of analysis in the scope of the study.
Gordy Bunch stated, "This is not a 2019 ballot issue. We did ask Novak to bring back an additional proposal for additional services."
The request by the board to Novak to have a future focus and scope to include:
Law enforcement. How much would a full force comparable services cost included Creekside Park, Grogan's Mill – all the villages – based on safety.
What does the Hybrid model fully entail?
Public Works analysis
Franchise fee – costs, if any required
In regards of legal advice, a discussion of Senate Bill 6 was held pertaining to the agreement with Conroe and Houston. The question was asked, "How it does or does not apply to The Woodlands?" Snyder emphasized the need to discuss the bill and present information on the website transparently and publicly.
Bunch confirmed The Township was working with two law firms that have experience and are qualified, but did not handle a Township or city the size of The Woodlands. Bunch also noted the current law enforcement study also did not include Alpha Omega Patrol head counts and there are omissions in other areas. Bunch stated, "We want to find the right answers."
The discussion continued in the second session of Public Comments with the board.
From the discussion and statements from the Board of Directors, the study will continue and may take months to complete another analysis addressing a review of law enforcement, the hybrid model, public works, and franchise fees.
Learn more about the Incorporation Study at www.thewoodlandsincorporationstudy.com.
The next planning session to discuss incorporation-related matters is scheduled for Thursday, March 21. The regular Board meeting will be held at 4 p.m. and the planning session will begin at 6 p.m. on this date at The Woodlands Township, 2801 Technology Forest Boulevard, and are open to the public. Additional planning sessions may be scheduled in the future.
For more information, agendas, meeting minutes, and video of the meeting, visit www.thewoodlandstownship-tx.gov.
Stay tuned for more updates on the Incorporation Study and Board of Directors meetings on the Hello Woodlands website, social media, and e-newsletter.