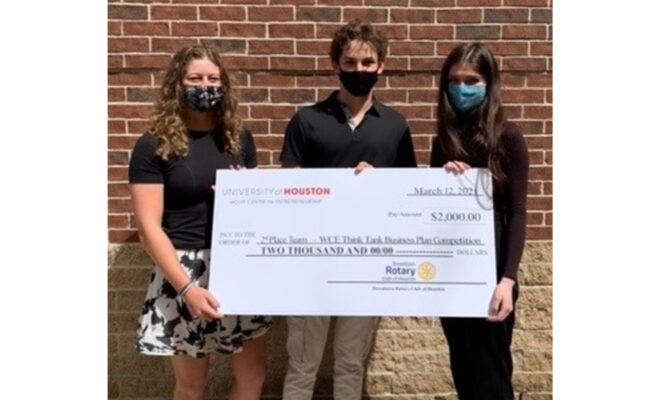 Lifestyle
John Cooper School Students Develop Winning Think Tank Business Plan
By |
THE WOODLANDS, TX – The John Cooper School is proud to announce three of its students competed in the University of Houston Think Tank Business Plan Competition. The group competed against ten other area teams, and won 2nd Place. Beto Valenzuela, Tillie Claggett and Lucienne Moran accepted a $2,000 award.
"The competition allowed us to truly understand what it takes to start a business, and that experience was invaluable," said Beto Valenzuela, Upper School Student. "We were so surprised about getting 2nd place! It's awesome to know the pros believe our hypothetical business has real potential," said Lucienne Moran, Upper School Student.
"I am so incredibly grateful for this opportunity to expand my breadth of knowledge about all things entrepreneurship and would like to thank the University of Houston and the judges and organizers for putting this event together during these trying times. I would also like to thank my teammates for all their hard work and our faculty sponsor, Donielle Albrecht, for the time and effort she contributed to making GUARDIAN a success," said Tillie Claggett, Upper School Student.
The team submitted a business plan and received coaching and mentoring from the C. T. Bauer College of Business. For more details about the competition visit https://www.bauer.uh.edu/undergraduate/summercamp/business-plan.php. 
The John Cooper School is a PK-12 independent, college preparatory day school that has been serving The Woodlands and greater Houston area since 1988.
For more information, visit www.johncooper.org.