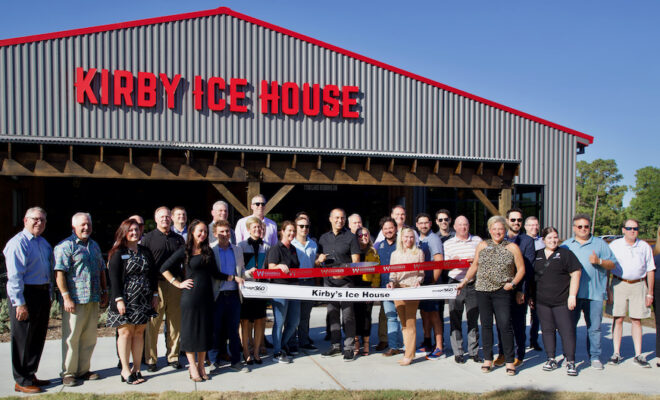 Photo Credit: Rod Prado, Hello Woodlands
Food & Drink
Kirby Ice House opens this week in The Woodlands
By |
The Howard Hughes Corporation partnered with the popular Houston patio bar, Kirby Ice House, to build its third Houston region location on over four acres in The Woodlands Town Center. Kirby Ice House is planning to officially open its new location at 1700 Lake Robbins Drive this Wednesday, September 28 at 2 p.m.
On the evening of Monday, September 26, Kirby Ice House – The Woodlands had its ribbon cutting in a private ceremony with The Woodlands Area Chamber of Commerce.
Get a preview and view the ribbon cutting of the Kirby Ice House – The Woodlands on the Hello Woodlands Facebook page and on Instagram:
The Kirby Ice House – The Woodlands location is at the northeast intersection of Six Pines Drive and Lake Robbins Drive, across from The Cynthia Woods Mitchell Pavilion, and has parking next to the venue. The Woodlands location will be the largest indoor area for Kirby Ice House, and its first indoor/outdoor bar with sliding windows with over 70 HDTVs and 120 taps for beer plus a 141-foot bar, claiming to be the longest bar in Texas.
The dog-friendly ice house has a similar format to the Upper Kirby and Memorial locations, with over 10,000 square feet of indoor bar space and over 18,000 square feet of backyard space with room for outdoor games, food trucks, and events. Guests will be able to enjoy variety of draft beers, cocktails, wine, spirits, purchase items from food trucks scheduled on location daily, plus sit and relax indoors and outdoors – including a lounge area on the patio.
Learn more and get updates about Kirby Ice House – The Woodlands by visiting their website at https://kirbyicehouse.com/the-woodlands/