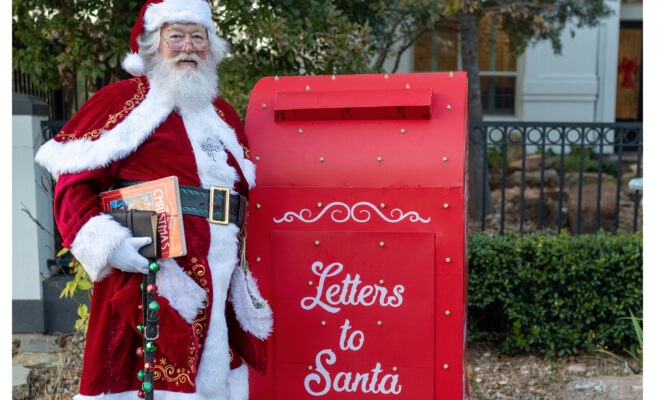 Lifestyle
Letters to Santa in Local Family's Santa Mailbox Receive Responses from North Pole
By |
Children are getting their letters to Santa answered thanks to a local family. Located in Creekside Park, Santa's mailbox, in front of Jennifer and Jared Dunn's residence, has been a hotspot for letters to Santa from toddlers to teenagers.
The idea for the mailbox started when the Dunns decided to fill in a void in their front yard. "We moved into our new home in March and noticed one of our flower beds was empty and facing toward a park where many children play. We thought the bed would be a perfect place for seasonal decorations, and the Santa Letters mailbox was what we went with for Christmastime," said Jared Dunn.
The Dunns had no idea the mailbox would be such a hit. "While we were setting it out, we figured one or two children might put a letter in it, but the response has blown away our expectations. It has truly taken on a life of its own," revealed Jared Dunn.
The Dunns began receiving a tremendous amount of letters, many of which left return addresses and asked for responses. They decided they could not let the kids down, so they got some North Pole Stationary and got to work.
The Dunns created an entire scenario for the return letters, thinking ahead through the process. All responses come from a "Senior Elf" in the North Pole Evaluations Department. Jared Dunn explained, "We didn't want to write the letters directly from Santa, as he is very busy (obviously) and we know children often interact with Santa at the Mall or Photo Shoots and it would look bad if they asked about the letters and he didn't remember them. I know my daughter would totally question Santa if she saw him and ask about the letter she sent, so we thought an Elf was the safer way to go."
The Senior Elf, Trinket, works in the North Pole Evaluation Department, where the Dunn's imagined kid's letters are first screened before passing them along to Santa for final review. The messages that are sent back are mostly standard, but each one is customized a little for each household and are meant to feel like a unique and special response. To keep the letters as "authentic" as possible, each one is signed by Trinket:

The letters are printed on special North Pole stationary that is meant to look very official. "Obviously, the North Pole Evaluations Department would have MANY letters to screen, so responses must be efficient and concise," continued Jared Dunn. "On the outside of the letters, we address them in gold ink, use holiday stamps, and the return address is just a North Pole Air Mail stamp. The whole process takes a few minutes for each letter and we usually take care of it at night after the kids go to bed."
Jennifer Dunn has been dedicated to making sure each letter receives a response. When one child's letter had a specific request but did not have a return address, she took to Facebook track down the owner to make sure he would get his letter answered, attaching this photograph: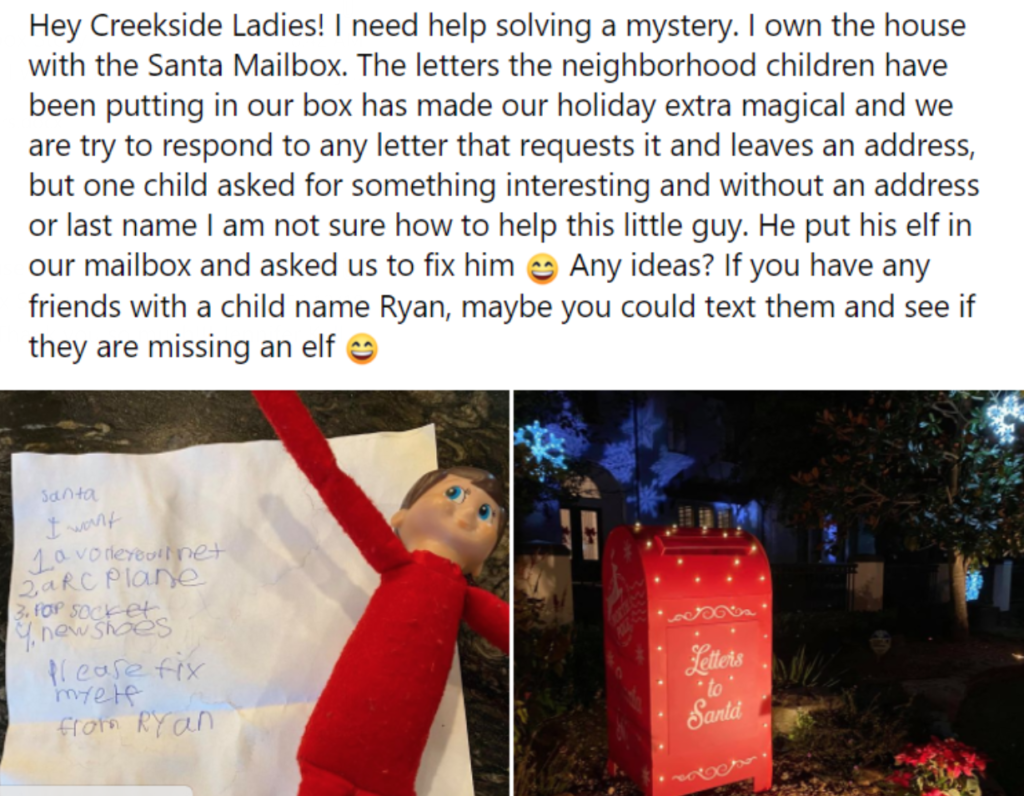 The process has kept the magic and the spirit of Christmas alive for the Dunn Family, despite the challenging year. "2020 has been a difficult year and we are missing seeing our family this holiday season, but this has made the year truly magical for us," said Jared Dunn.
"This is our first year doing it and we hope to do it in the future. Right now, our children are young and they believe the North Pole sent us the mailbox to set out on the corner and that it is our job to pass along letters to Santa," he continued.
Although the family has not kept an exact count, they estimate they have received over 100 letters and sent at least 50 responses this year.
"The children in the community are truly wonderful and ask for both funny and kind things for others," revealed Jared Dunn. Some of the requests have included:
An RC submarine (with arms)
A baby leopard, along with two adult leopards
A robotic fly (for spying on/chasing people)
A request to repair their Elf on the Shelf along with the actual elf chucked in the mailbox
Permission to play with their Elf on the Shelf
A list of dinosaurs by their scientific name
Toys for all the children who do not have any
Happiness for their parents
To see family the haven't been able to see this year