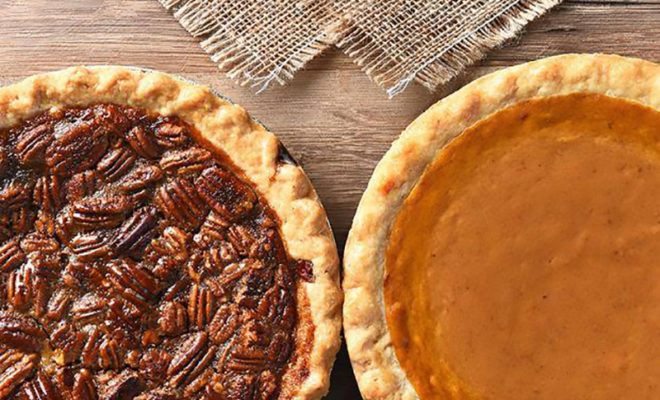 Food & Drink
Local Pie Guide
By |
Local area restaurants are ready for the holidays with a wide selection of pies. From sweet to savory, gluten free to sugar free, there are many options so you can leave the pie baking to the experts this holiday season.
Victory Pie Company takes a portion of all profits from its' fresh handmade artisan pies and supports veterans as well as widows and orphans of veterans, so you can order your pie knowing you are doing good in your community. The local eatery offers made from scratch savory and sweet pies. The restaurant also offers coffee to go with your pie from "Battleship Beanery" which is a veteran-owned local roasting company. It is currently taking orders for Thanksgiving pies and has an entire section of its menu dedicated to Thanksgiving pies.
Pie Town Cafe and Desserts, located in Shenandoah, offers 10 inch and personal size pies – with pumpkin and pecan pie as holiday favorite flavors plus gluten free and sugar free options are available. Pie Town Cafe is already accepting orders for the holidays by phone or in-store until the Tuesday before Thanksgiving.
In 2001, the family opened Pie Town Cafe. The menu has expanded to include more than 35 pie flavors (50+ flavors during the holidays), sandwiches and more food choices. The family recipes are old-fashioned, family and staff tested and approved, use butter with no lard, and the goods are baked fresh every day. The family has made pies together from scratch alongside baker Carlos Reyes who has over 36 years of baking experience – with 16 of those years working at Pie Town Cafe.
Montgomery Bakehouse is a Conroe based family owned bakery with has a generations-long family history in baking. The bakery is taking Thanksgiving orders and can even take orders online.
Crave Cupcakes has a different take on pies – a pecan pie cupcake! It's a vanilla bean cupcake filled with pecan pie topped maple buttercream frosting and garnished with maple glazed pecans. Crave Cupcakes also offers pumpkin cupcakes. Ordering several to feed guests at a Thanksgiving meal is a fun alternative to pie with the same flavors.
Sweet Revenge Bake Shoppe has many different pie flavors in time for Thanksgiving in addition to the traditional favorites, pumpkin and pecan. Thanksgiving dessert orders may be placed over the phone or in person.
Pie in The Sky is ready for the holidays with sweet potato, pumpkin, and southern pecan pie. Pie in the Sky even offers mail order pies.