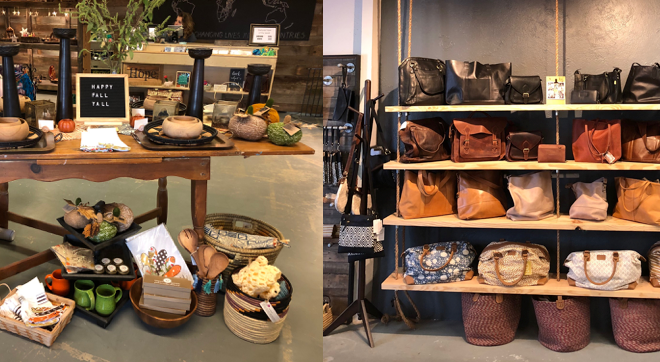 Art & Culture
The Mercy House: Shopping for a Cause
By |
By Amanda Poole
What if you could make a global impact in the lives of others this holiday season, simply by shopping locally? The Mercy House, lovingly known as 'The Big Red Barn," on 1488 gives you the opportunity to do just that.
By shopping at the Mercy House this holiday season and throughout the year, you will be helping fund maternity homes in Kenya for young girls ages 12 to 16 who have been rescued from unimaginably situations and extreme poverty. The Mercy Shop partners with 25 artesian groups in 55 different countries. The proceeds of every item you purchase are divided evenly between the artesian group it came from, and the women in Kenya.
Mercy House began in 2010 after Kristen Welch's entire life shifted. When she was asked to go on a trip with Compassion International and blog about the life in country, she absolutely couldn't pass it up. Little did she know that this would be the one trip that drastically changed the course of her life. She saw young girls, ages 12 to 16 being sold into the sex trade by their mothers, so that they would have food to eat.
"When I got back home to my life here in The Woodlands, I had to ask myself what I was going to do about this. I had the resources and the platform with my blog, and I knew I had to do something. I knew my life, and the lives of my family, was going to change."
Already having a love for fashion and accessories, she knew she could channel a once unhealthy drive to have more, to a business that would change women's lives around the world. The Mercy Shop started out purely as Fair Trade Friday, an accessory subscription box that employed and empowered these young women to provide for their families. They teach the women living in each of the now three maternity houses, how to make jewelry. This jewelry is then delivered right to your door each month. This provides funding for the homes, and helps to create a sustainable skill for these young women and their families.
Mercy House Global has since rescued forty young women and has built three homes. Two of the homes are the emergency maternity homes where they are allowed to live for two years. If the women need a third year for whatever reason, they are allowed to move into the transitional home. They recently just started a new artesian group with the mothers of seven of the women who live in Mercy House.
"The ultimate goal of Mercy House is to reconcile these women with their families by creating jobs for these women, and their mothers."
I did make sure to ask Kristen what her staple Mercy House items are, and she said, "Root Collective booties, world changer bracelets, and my leather JOYN bag. I wear those three almost every day! It looks like there will be beautiful weather for the Holiday Market this weekend, so grab your family and knock out your holiday shopping all in one place! Make sure and follow Mercy House online at mercyhouseglobal.org , and on Facebook and Instagram!