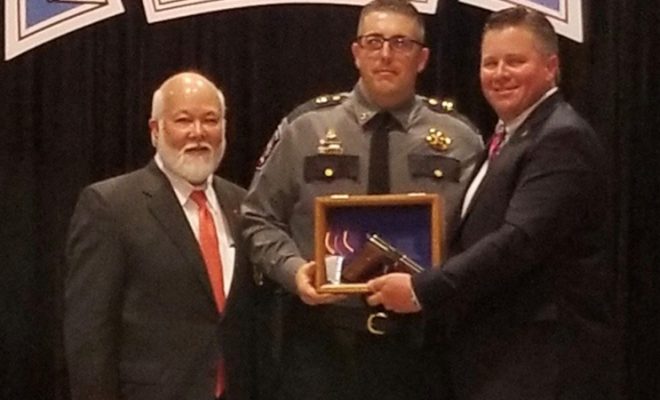 Hurricane Harvey
Montgomery County Constable Pct. 4 Captain Honored at Heroes Awards Banquet
By |
EAST MONTGOMERY COUNTY, TX – The 100 Club hosted its 65th Annual Heroes Awards Banquet on Thursday, May 16, 2019. Captain Buck Clendennen was one of The 100 Club's 69 Law Enforcement Officers and Firefighters that was recognized for going above and beyond the call of duty. During the banquet, each Officer received a Sig Sauer Model 229, Semi-Automatic Commemorative Pistol and an etched, jade glass award.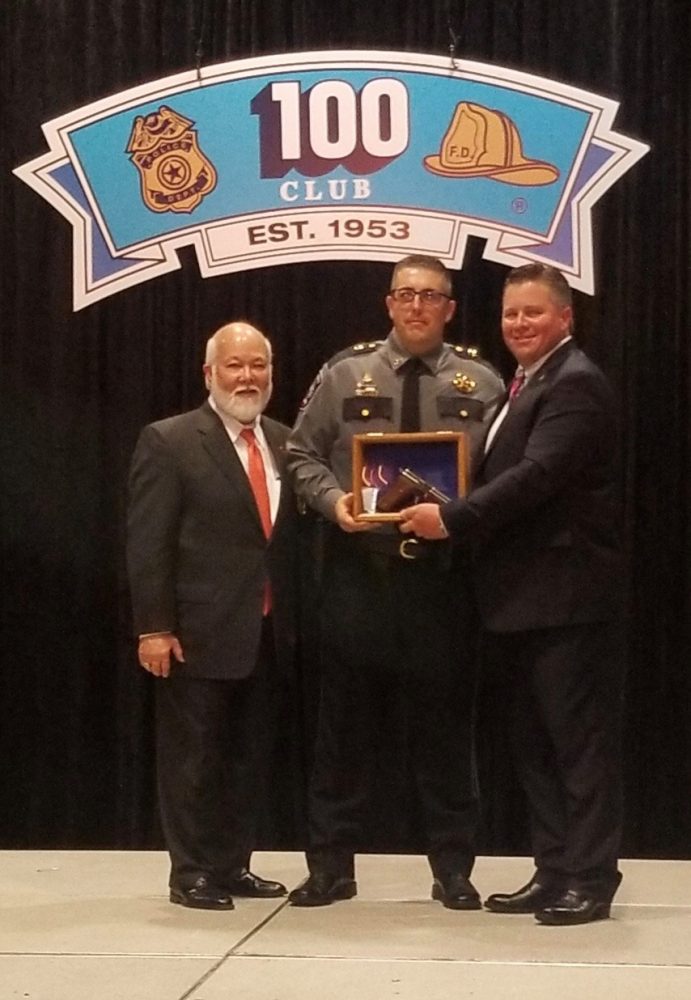 The program recognized his achievements and courageous rescue. "A 15-year veteran of law enforcement, Montgomery County Constable, Pct. 4 Captain Buck Clendennen oversees the Special Response Group (SRG) and the Swift Water Rescue Team (SWRT) in addition to supervising the patrol division. With more than 20 years of experience in water rescue extending back to his firefighting days, Clendennen has developed and grown the Pct. 4 SWRT to be one of the largest and best in the area. The team conducted a large number of water rescues during Hurricane Harvey, and on March 29th, 2018, the team was ready for action again when a flash flood hit the east Montgomery County area."
The program continued, "On a nighttime call to assist water rescue, Clendennen and his team met up with firefighters at the scene and deployed on an airboat near two flood victims were clinging to trees. The victims had been driving along a flooded roadway when their vehicles were swept off the road. Putting his own life at risk, Clendennen attached a line to his vest and then, through a swiftly moving current, swam to the tree and successfully pulled one of the victims to safety while the firefighters rescued the second victim. Clendennen put his love for and skill in water rescue on full display that dark night, and thanks to his selfless efforts, a life was spared from the treacherous flood waters."
Captain Clendennen was proud to receive this award stating, "I'm humbled by this award and honored to represent my agency this way." Constable Rowdy Hayden could not be more proud of the leadership, honor and dedication Capt. Clendennen shows each day, towards keeping the residents of east Montgomery County safe and secure.
The 100 Club is a non-profit organization that provides financial support to the families of law enforcement and firefighters that were killed or catastrophically injured in the line of duty in and around 32 counties surrounding Houston, TX. If you'd like to support The 100 Club, please visit www.the100club.org.
The Montgomery County Pct. 4 Constable's Office has an authorized strength of 33 sworn full time deputies and 15 sworn reserve deputies, as well as 5 civilians. East Montgomery County is a dynamic growing community of over 104,000 people, just north east of Houston, Texas covering over 232 square miles. The Constable's Office works out of the East Montgomery County Courthouse Annex building in New Caney, Texas. The main purpose of the office is civil process and Justice of the Peace, Pct. 4 bailiff duties. The Montgomery County Pct. 4 Constable's Office also provides 24/7 patrol coverage as well as Criminal Investigations, K9, SRT, SRG (Riot Team), I.C.A.C (Internet Crimes Against Children), Honor Guard, and Swift Water Rescue Operations. For more information, visit www.mcco4.org.
Sources: Montgomery County Constable, Pct. 4 Office Facebook Page, Montgomery County Constable, Pct. 4 Office Website