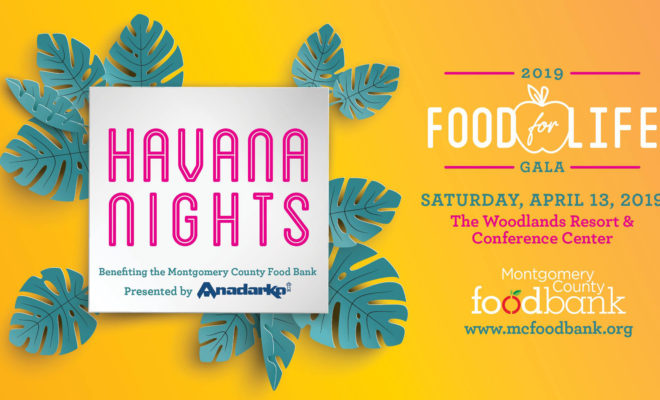 Events
Montgomery County Food Bank hosts "Food For Life" Gala April 13
By |
MONTGOMERY COUNTY, TX – As its major fundraising event to benefit the food insecure in our local community, the Montgomery County Food Bank will host its 3rd Annual "Food For Life" gala on Saturday, April 13 at The Woodlands Resort and Conference Center.
Themed "Havana Nights" celebrating A Giving Community, this year's gala is presented by Anadarko Petroleum Corporation.
According to Allison Hulett, President and CEO of Montgomery County Food Bank, over 76,000 people in Montgomery County – one in four – are food insecure, of which more than a third are children.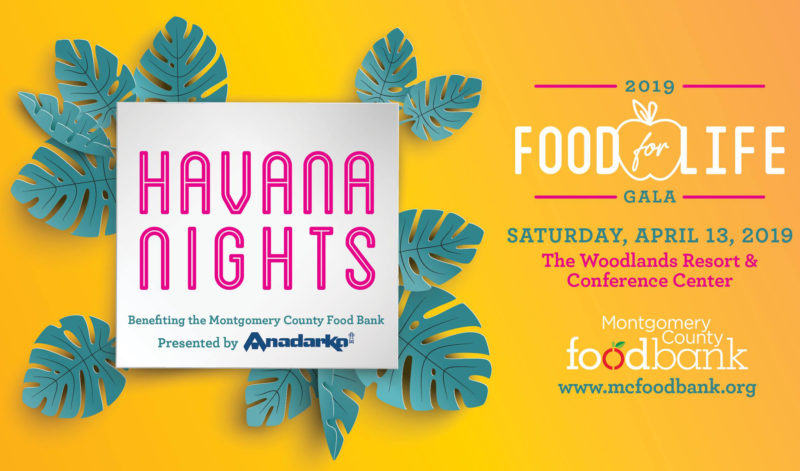 "Food insecurity strikes in any number of ways, and is the cornerstone to a household budget,"  explains Hulett. "Assistance here helps families get back on their feet, seniors pay for their healthcare needs, or children to flourish in school. With our many partners, we can truly make a difference in our county. The Food for Life Gala is a great way to support our mission with a fun, meaningful evening."
Leading the committee this year are gala co-chairs Shelley Madison and Rachelle Adamson, both of Wells Fargo. Tickets are $150 each and sponsorship levels range from $1,750 to $50,000. For tickets and sponsorship information email Lindy Johnson at ljohnson@mcfoodbank.org.
Montgomery County Food Bank began in 1985 as a door-to-door operation run out of car trunks by a small group of volunteers wanting to serve those in need in their community. Throughout the past 30 years, generous donors and volunteers have built it into an organization capable of distributing over 8 million pounds of food annually. The Food Bank also hosts mobile food distributions, offers nutritional education programs, emergency assistance in the time of a disaster or crisis, and provides meal programs for children and senior citizens.
Montgomery County Food Bank is 501(c)(3) chartered by the state of Texas and is a member of the Texas Food Bank Network and Feeding America. Its headquarters is located at 1 Food For Life Way in Conroe, near Hwy. 242 and I-45, just north of The Woodlands. For more information, to book a tour or volunteer at the facility, or to make a monetary donation or food contribution, visit www.mcfoodbank.org or call 936.271.8800.