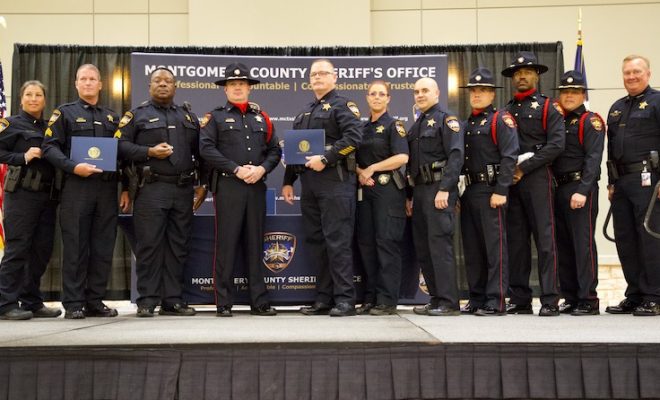 Photography by Rod Prado, Hello Woodlands
Events
Montgomery County Sheriff's Office Promotion and Awards Ceremony
By |
The Montgomery County Sheriff's Office Promotion and Awards Ceremony was held on Tuesday, June 16, 2020 at the Lone Star Convention Center located at 9055 Airport Rd in Conroe, Texas.
Presented by Sheriff Rand Henderson, the event acknowledged those who have shown exceptional and outstanding merits that exemplifies the sheriff's goals for the agency.
The program reenforced the Montgomery County Sheriff's Office's vision and mission stating, "Our Vision is to serve as a role model for the public safety services in our State. Our Mission is to provide professional detention and law enforcement service to our community through meaningful partnerships to enhance the quality of life for our citizens, businesses and visitors through efficient and innovative public safety practices. Along with these ideals comes our four guiding principles: Professional, Accountable, Compassionate, and Trusted. Our values represent our "P.A.C.T." with the community. It is the core of the unspoken and implicit agreement between citizens and their peace officers. With each individual thoroughly reviewed and carefully chosen, Sheriff Rand Henderson has assigned those being recognized today to safeguard the community's trust through these standards."
View the event photos taken by Hello Woodlands's Rod Prado:
During the ceremony, the following promotions and awards were announced.
Promotions
Patrol East Division: Ali Carter, Administrative Assistant
The Woodlands Township Division:

David Kelman, Detective
Vicente Suarez, Detective

Criminal Investigations Division: Kimberly Christensen, Crime Scene Investigator
Executive Division

Jacob Butler, Communications Supervisor
Shauntell Harder, Warrants Supervisor
Courtney Moore, SOCU Supervisor

Administrative Services Division: Malissa Westerfield, Specialist
Homeland Security Division: Thomas Porter, K9 Specialist
Law Enforcement Services Division:

Paige Sykes, Fleet Inventory Control Manager
Scott Grap, Mechanic III
Awards
Community Action Partner Award
Joe Haliti with Joe's Italian Restaurant
Joe Haliti, the owner of Joe's Italian Restaurant in Conroe, Texas has been a long-time community partner of the Sheriff's Office. Joe has always had a heart to serve and gives back to his community and first responders. When the COVID-19 pandemic hit, Joe's selflessness and giving heart went into full action, followed by his many employees who tirelessly worked to support the Montgomery County area first responders. For over six weeks beginning in April, Joe donated nearly 1700 fresh-made meals to Sheriff's Office personnel. This does not include the meals he provided to all other first responders and medical personnel in the county amounting to over 25,000. Joe and Joe's Italian Restaurant gave those serving on the front lines during this pandemic a light in the darkness. Joe's servant heart is an example for us all.
Compassionate Award
Sergeant David Foreman, Specialist Richard Jackson and Detective Burdette Taylor
Specialist Jackson presented a high level of professionalism and compassion to a victim of a sexual assault and her family. During the investigation, Specialist Jackson learned that the victim had been a victim of sexual assault in the past. Specialist Jackson, was able to build a rapport with the victim's mother and victim, which aided in the investigation. Specialist Jackson utilized and exhibited the core values of the Montgomery County Sheriff's Office laying the groundwork for the cooperation of the victim and family for Detective Taylor.

Detective Taylor conducted a follow up interview, during which the victim's mother expressed her heart felt gratitude and confidence in the Montgomery County Sheriff's Office, due to the professional and compassionate actions displayed by Specialist Jackson and Detective Taylor. Due to their compassion to the victim and mother, Detective Taylor was able to successfully apprehend the suspect in this investigation.

Sergeant Foreman while off duty and volunteering during the Blue Elf event, was on the phone and in communication and guiding the investigation as needed. His experience and leadership during the investigation led to the successful arrest of the suspect. The victim and the mother were both grateful of the compassion Sergeant Foreman showed as he constantly provided updates to the family.
Compassionate Award
Deputy Jason Rose

On December 14, 2019, Deputy Rose, along with representatives from Wal-Mart, the Faith United Methodist Church and Sunshine Through The Rain, hosted "Shop with A Cop" at the Wal-Mart on Sawdust Road. Deputy Rose planned this event over nearly nine months. The event involved twenty children of various ages who each received a $200 gift card to shop at their leisure. Deputy Rose coordinated numerous deputies with the Sheriff's Office to assist the children with their shopping. The event was successful and there are plans to continue this kind gesture for more holidays to come.

Unit Citation Award
Honor Guard
| | | |
| --- | --- | --- |
| Sergeant Edd West | Detective Brad Curtis | Deputy Justin Kellas |
| Detective Charlie Sullivent | CSI Erin Vasquez | Deputy Devin Mayes |
| Lieutenant Stephanie Logan | Detective Burdette Taylor | Deputy Jacob Underwood |
| Sergeant Weldon Richards | Specialist James Hulse | Deputy Danny Dickson |
| Detective Keith Echols | Deputy Kelen Powell | Deputy Michael Sparks |
On December 21, 2019, San Jacinto County Sheriff's Office Deputy Brian Pfluger was tragically killed in a motor vehicle accident while responding to a call for service in his county. San Jacinto County reached out to the Montgomery County Sheriff's Office Honor Guard for assistance in presenting line of duty death honors to Deputy Pfluger, as their agency and honor guard was deeply affected by the death of their law enforcement brother.
Due to the holiday season, many of the honor guard team members were already on scheduled time off, or had personal plans during that week. Upon hearing of the loss of our San Jacinto Brother, and the need to pay formal honors at Deputy Pfluger's memorial service, many honor guard team members rearranged their holiday schedules and family events so as to commit their time and training to participate in rehearsals to hone their skills for the community viewing in Coldspring, Texas on Thursday, December 26th, and at the actual service in Pflugerville, Texas on Saturday, December 28th.
The dedication of the honor guard team members being recognized today, went above and beyond expectation as they selflessly demonstrated their dedication to honoring a fallen law enforcement brother.

Unit Citation Award
San Jacinto County Sheriff's Office Patrol Volunteers
| | | |
| --- | --- | --- |
| Captain Tim Holifield | Deputy Aaron Cross | Deputy Adam Robertson |
| Lieutenant Clay Swilling | Deputy Joshua Franklin | Deputy Zach Winford |
| Sergeant David Foreman | Deputy Andrew Hilgers | Deputy Clifford Wood |
| Detective Andrew Senn | Deputy Matthew Jones | |
Also relating to the tragedy in San Jacinto County involving Deputy Pfluger, Sergeant David Foreman, in consultation with Lieutenant Clay Swilling and Captain Tim Holifield reached out to Sheriff Greg Capers of the San Jacinto County Sheriff's Office, volunteering to provide patrol coverage in that county as to allow the deputies normally scheduled for duty to attend the memorial service of their fallen brother in Pflugerville, Texas.
With one team working from 6am to 2pm, and another working from 2pm to 10pm, the above MCSO personnel provided field coverage on Saturday, December 27th, running multiple calls for service. The professionalism of these MCSO deputies shined as they worked in unfamiliar areas.
The dedication of the personnel being recognized today went above and beyond expectation as they selflessly demonstrated their dedication to honoring a fallen law enforcement brother and his agency.

Life Saving Award
Deputy Brady Farr
On December 17th, 2019, Deputy Brady Farr responded to a welfare check involving a female who was not alert, not breathing while EMS was on the line giving CPR instructions to a family member. Deputy Farr arrived on scene to find the victim still positioned on a bed in the master bedroom. Deputy Farr moved the victim to the floor, where CPR efforts could effectively be administered. Deputy Farr administered CPR for several minutes until Magnolia Fire Department could take over.
Montgomery County Hospital District advised that, without a doubt, the CPR being performed by Deputy Farr contributed to the woman's life being saved. Deputy Farr's action reflects great credit upon himself and the Montgomery County Sheriff's Office.

Lifesaving Award
Deputy John Warren and Deputy Kevin Hataway
On April 9, 2020, Deputies Warren and Hataway responded to a welfare check in reference to an unresponsive male. When they arrived, they found a medic supervisor providing CPR. Both deputies immediately took over CPR for approximately 4 minutes giving the medic supervisor time to connect and operate the lifesaving equipment. Eventually, they were able to regain a pulse on the male who was transported to Conroe ER.

The medic supervisor later stated that the deputies' proactive action helped provide critical assistance in efforts to preserve the man's life and he was very appreciative of the assistance both deputies provided, especially in the trying times of the COVID-19 pandemic.

Meritorious Service Award
Specialist Steven Ortiz

Specialist Ortiz's willingness to investigate cases and his tenacity to never stop running down leads culminated to the capture of two suspects. The suspect in the first case was wanted for sexual assault and had a prior charge of aggravated sexual assault of a child for which he never appeared in court. The suspect faked his death in August 2016, but due to Specialist Ortiz's persistence, he located the suspect in Colorado and brought him to justice in February 2020. The suspect in the second case had a warrant for Capital Murder. Specialist Ortiz worked with a United States Marshal Service liaison that coordinated with the Mexican authorities on numerous occasions attempting to capture the suspect. Ultimately the suspect was apprehended in Mexico and extradited back to the United States in August 2019.
Specialist Ortiz's persistence and investigative skill-set reflect great credit upon himself and the Montgomery County Sheriff's Office.

Meritorious Service Award
Jessica Wright
Jessica Wright embodies the values of the Montgomery County Sheriff's Office in her daily work. Jesse has worked diligently to improve the functions and outcomes of the Property and Evidence and Crime Lab sections.

Since early 2018, Jesse has worked tirelessly with IT personnel and a software vendor, even outside of normal work hours, to upgrade the Evidence Management System. Not only is the software used for evidence management, but the system is used exclusively by the Crime Lab staff for processing and documenting evidentiary material.
Jesse's efforts to prepare and implement the upgraded evidence management system proved beneficial to all its users, enabling MCSO to prepare for future growth and ultimately saving Montgomery County tens of thousands of dollars with her efforts.

Meritorious Service Award
Deputy Blake LaPaglia
On April 16, 2020, Deputy LaPaglia began investigating an online solicitation of a minor and harboring case. During the investigation, Deputy LaPaglia obtained critical evidence and coordinated with other MCSO units, the Real Time Crime Center, and other agencies, that ultimately ended in the recovery of the missing juvenile and reunited her with her family.

Thanks to Deputy LaPaglia's perseverance, he was able to rescue a child from being trafficked. Deputy LaPaglia is commended for his hard work in saving this young woman and the family from what could have been a tragedy. Deputy LaPaglia's compassion and professionalism is an outstanding example of what it means to be a Montgomery County Sheriff's Deputy.

Meritorious Service Award
Specialist Maggie Moseley
In November 2017, Specialist Moseley was tasked with locating, organizing and updating all of the Sheriff's Office policy manuals. This required Specialist Moseley to locate and catalog thousands of documents from various personnel and divisions. Specialist Moseley combed through hundreds of policy by memo emails and put those into the correct policy. Specialist Moseley called, researched and gathered policy from numerous other law enforcement agencies to update MCSO's policy to current public safety standards and practices that fit the agency. Thanks to her attention to detail the current policy is a drastic reduction in length and is well organized and written.

To ensure that a thorough review of policy was cooperative, Specialist Moseley immediately organized dozens of meetings over several months involving committees who reviewed the policy and made recommendations. Once the committee met, a line by line review was conducted and suggestions or changes were made. Specialist Moseley ensured that there were no conflicts between sections and that it was well organized and fluid. Throughout this process Specialist Moseley exhibited great organizational skills with her detailed notes on all developments and revisions.
Specialist Moseley's diligence to this task and meticulous research has provided the Montgomery County Sheriff's Office with a comprehensive policy manual that we can all be proud of.
Meritorious Service Award
Sergeant Buster "Butch" Emmons
Butch retired from the Montgomery County Sheriff's Office in December of 2006 where he served as the sergeant over the Crime Laboratory from 1992 to 2006. Prior to that, he was an arson investigator with the City of Houston. During his career, he was recognized several times for his excellence in service including being honored by the 100 Club. He is a teacher, mentor, friend and father figure to many of us. This commendation is not only about Butch's illustrious career as a supervisor and an investigator, it is about his passion and work ethic since retiring.

Since retirement, Butch has worked part time in the Crime Lab evaluating all latent print cards submitted and entering them into the Automated Fingerprint Identification System (AFIS). Since retirement, through the end of 2019, Butch has searched over 2,800 cases, entered over 3,200 latent prints and identified close to 1,200 latent prints to possible suspects on crimes ranging from criminal mischief to capital murders.
Butch has continued to mentor new crime scene investigators that have come into the laboratory as well as college students that spend time in the internship program. He also volunteers his time for special events. Butch continues to demonstrate and share his passion for the science of fingerprint examination and crime scene investigations to this day, and is being honored for his contribution and continued commitment to excellence in the forensic sciences.
Combat Cross
Deputy Matthew Jones
On November 5, 2019, deputies with Montgomery County Sheriff's Office were involved in a vehicle pursuit where the suspect was temporarily able to elude units. A search was conducted of the residence where the vehicle was registered, but the suspect was not found. A few minutes after the search was terminated, Dispatch was contacted by a third party advising the suspect had just called him from inside his mother's residence. The suspect was observed by responding deputies inside the residence and entry was made.

The suspect was located hiding in a small bedroom closet. He then exited the closet holding a knife and refused verbal commands to drop it. Multiple "tasers" were deployed but were ineffective. The suspect advanced towards an MCSO deputy, with the knife still in hand, forcing Deputy Jones and two additional officers from other agencies to fire multiple handgun rounds ending the immediate threat. Unfortunately, the suspect succumbed to his injuries and was pronounced deceased.
If it were not for Deputy Jones making the difficult decision to use deadly force, one of his fellow partners could have been seriously injured or killed. Deputy Jones is being recognized for his bravery and professionalism exhibited in this stressful situation that every law enforcement officer in this country hopes not to endure.


Combat Cross
Specialist Brian Treille
On May 17, 2018, Montgomery County swat and the Crisis Negotiation Team were activated for a barricaded subject with a possible hostage. It was learned an armed male suspect had a female victim held against her will. The male suspect stated he would not go back to prison and would kill the victim and "shoot it out" with the police. While on scene, swat personnel could hear a female crying and pleading to be let go as the suspect threatened her. Due to the deteriorating situation, a hostage rescue was approved. The suspect had barricaded the door which would only open approximately twelve inches. Specialist Brian Treille was the point man and gave verbal commands to the female victim and ordered the suspect to show his hands. The suspect pointed a weapon towards the door where swat was located. Specialist Treille fired his weapon and stopped the threat. By not hesitating to take action, Specialist Treille is credited with saving the hostage's life as well protecting the other entry team members.

Specialist Treille's actions in the face of a hostile engagement are a great credit upon himself and the Montgomery County Sheriff's Office.


Combat Cross
Sergeant Brett Veith and Deputy Zachary Vercher
In the early morning hours of February 22, 2017, Deputy Zach Vercher and Sergeant Brett Veith were dispatched to a residence in the Jacobs Reserve neighborhood. The caller, an 11-year-old boy, stated his dad was stabbing his mom. Both officers arrived on scene quickly and were able to get the boy safely out of the house. They entered the residence and found the female had been stabbed and had subsequently passed away. Both Deputy Vercher and Veith then encountered the suspect in a bedroom. The suspect was non-compliant and approached them in a threatening manner with a knife. Both deputies discharged their service weapon in self-defense, striking the suspect and ending the threat to save their own lives.

As a result of their heroic actions, the child was saved and turned over to family. Deputy Vercher and Sergeant Veith are being be recognized for the bravery and professionalism they showed in a stressful, volatile situation that every law enforcement officer in this country hopes to not have to endure.
SERVICE AWARDS
Employees with 30 Years of Service
Melvin Franklin
Employees with 25 Years of Service
| | | |
| --- | --- | --- |
| Christopher Byer | Jerry Lafferty | Rodger Thompson |
| Todd Dishman | Duane Lebeau | Tracy Wade |
| Pamela Gibson | Jason Moore | Felicia Webb |
| Rand Henderson | Lockey Murray | Mark Wright |
Employees with 20 Years of Service
| | | |
| --- | --- | --- |
| Brian Bagwell | Roland Henrici | Kelley Ray Smith |
| Hayley English | John Niquette | Jeffery Vanmeeteren |
| Stephen Gaudern | Daniel Rodriguez | Eric Ward |
| Ward Hammons | | |
Employees with 15 Years of Service
| | | |
| --- | --- | --- |
| Howard Ansley | Jacqualine Lunsford | Bradley Phelan |
| Jody Armstrong | Robert Martin | Dianna Smith |
| Christopher Azwell | Kimberley McCarty | Chana Woodrow |
Employees with 10 Years of Service
Christopher Arnold
Brandon Bartoskewitz
Corey Brummett
Bradley Curtis
Keisha Davis
Michael Dietrich
Richard Durbin
Jason Hammons
David Holden
Christopher Irvine
Ryan Jones
Thomas Lambert, III
Travis Lawson
Ryan Mathis
Jackie Mitchell, Jr
Eduardo Nava
Christina Roberts
Christopher Roberts
Margarito Rosales, Jr

Karen Rosario
Teri Ross
Kenith See
Suzette Stalinsky
Zachary Vercher
Leslie Walker
Garvie Walker
Justin Wilkerson
Jessica Wright

Employees with 5 Years of Service
Gladys Acosta
Kevin Adams
Brian Ashton
Alexandra Carter
Ashton Childers
Burdette Deyo, Jr
Kenneth Dunlap
Edward Fisher, III
Brian Fleming
Peter Gavrilos
Amber Gifford
Christopher Gutierrez
Juan Hernandez
Marquis Hines
Alexander Hons
Teraz McCray
Stephen Mitchell
Magdalena Moseley
Jacqueline Muratorri
Pamela Neibarger
Danielle Ortiz
Jordan Pankratz
Cristian Perez
Justin Pierce
Flora Ramirez
Conrad Rappleyea
Jacob Rodgers
James Russell
Andrew Senn
Ashlee Shaw
Brian Smith
Jeremy Smith
Collin Snowden
Christina Stewart
Kyle Sullivan
Burdette Taylor
Steven Thomas
Whitney Walton
Shelton Ward
Ashtin Wells
Jeannette Zicafoose
Source: Montgomery County Sheriff's Office