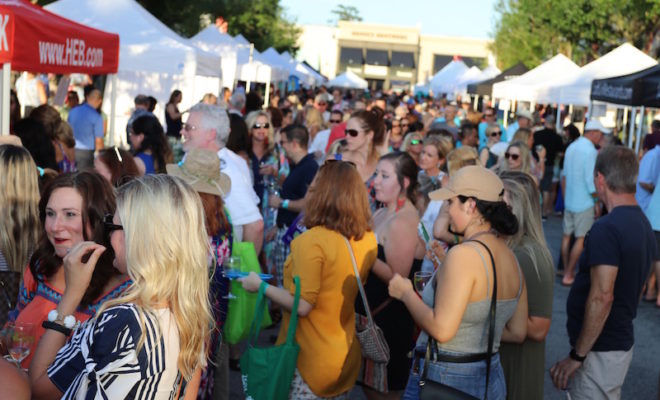 Calendar
Parrotheads and Wine Lovers Walk in Market Street
By |
Wine Lovers and Jimmy Buffett fans known as "Parrotheads" made their way to Market Street in The Woodlands to enjoy fine wines, foods, and shopping at Wine and Food Week's H-E-B Wine Walk on Thursday, June 8th.
This year, the Wine Walk was held just before the Jimmy Buffett Concert at The Cynthia Woods Mitchell Pavilion allowing fans to enjoy the best of both celebrations. There were many "inspired flavors" at this year's Wine Walk as island sounds from Kelly McGuire that had crowds swinging and swaying while sipping on their favorite beverage. Attendees grabbed keepsake Wine and Food Week glasses and enjoyed an evening out with friends as Market Street that was blocked off and transformed into a wine walkabout with wine industry experts sharing their fruit of the vine.
Guests walked from tented tasting station to station in the main area surrounding a live music stage with performances throughout the evening. The festival-like atmosphere allowed attendees to sip on wines from around the world, sample foods, view demonstrations, and enjoy an offering of Chef selections.
A portion of the proceeds from the popular annual event went to The John Cooper School's Signature Author Series where award-winning novelists and best-selling authors like Barbara Bush, Cheryl Strayed, Dave Berry, Mitch Albom, Anthony Bourdain, John Grogan, Nicholas Sparks, Candace Bushnell, Kathryn Stockett, Jodi Picoult and Tyler Florence speak about their backgrounds and overall experience as writers.
Jimmy Buffett fans had the opportunity to visit the "Wine Walk Parrot Cage" which featured wine-based margarita, sangria and wine, themed décor, and a home base for party central. People watching was at its best as fans sported their favorite Parrothead attire and pre-partied before the big concert.
Take a tour of the event LIVE with Hello Woodlands:

View photos from the event on the Hello Woodlands Facebook page!
Join us for more fun and delicious events plus stay tuned for more live videos and photos from Wine and Food Week!
EVENT SCHEDULE
Friday, June 9 – Sips, Suds & Tacos
Sips, Suds & Tacos

Location: The Woodlands Waterway Marriott Hotel & Convention Center
Time: 6:00 – 9:00 PM
Cost: $20.00
Event description: The doors open at 6:00 pm for wine and craft beer sampling and the aromatic tacos will rev up any appetite. At 6:30 pm, the tacos are served and then it's "game on" for the Taco Take-Down. Guests will choose their favorite taco while the judges choose theirs and restaurants and chefs compete for the coveted Taco Takedown Trophy. Attendees can enjoy ice cold craft brews or a choice from scores of wines; plus there's live music so the party doesn't stop when bellies are full. Dance the night away to the sounds of an energetic mariachi band through 9:00 pm. Each guest ticket includes entrance into the event, high energy music, tacos from competing chefs, interactive activities and one drink card good for five tastings or one full beverage of your choice and more! Additional tasting tickets will be available on site at $1 per drink sample ticket.
Saturday, June 10 – Platinum Wine Vault Ultra Premium Tasting; Wine Rendezvous Grand Tasting & Chef Showcase
Platinum Wine Vault Ultra Premium Tasting

Location: The Woodlands Waterway Marriott Hotel & Convention Center
Time: 4:30 – 6:30 PM
Cost: $250.00
Event description: An exclusive tasting where participants mix and mingle with experts well-versed in the finest of wines. A luxurious affair with highly acclaimed wines for discriminating collectors and enthusiasts. Each participant receives a premium keepsake wine glass and rubs elbows with visiting special guests and experts. $250 per person entry fee includes access into the Platinum Wine Vault, the Wine Rendezvous Grand Tasting, the "Mercedes-Benz of The Woodlands Luxury VIP Lounge" and the opportunity to mix and mingle with special guests. The Platinum Wine Vault closes promptly at 6:30 pm. The Wine Rendezvous Grand Tasting & Chef Showcase begins at 7:00 pm.

Wine Rendezvous Grand Tasting & Chef Showcase

Location: The Woodlands Waterway Marriott Hotel & Convention Center
Time: 7:00 – 10:00 PM
Cost: $125.00
Event description: Tabbed as one of the most spectacular wine and culinary events in the country, the "Wine Rendezvous Grand Tasting & Chef Showcase," presents guests with the opportunity to slip into their finest threads and be in the company of serious wine enthusiasts and outstanding culinary talent. It all takes place within the glistening atmosphere of The Woodlands Waterway Marriott Hotel and Convention Center which provides the ultimate experience of elegance and charm. The Chef Battle is for the $5,000 cash prize and the coveted Waterford Crystal Chef of Chefs award trophy. Sixty accomplished Chefs from near and far are personally invited to showcase their talents for the attending guests and esteemed judges as they bring their best and take out all the stops. Guests can enjoy chef demonstrations, over 500 wines and food from 60 restaurants. The Champagne Cove will greet patrons upon arrival and offer an array of sparkling selections to start their experience. Finish a fabulous evening on a sweet note with desserts by renowned pastry chefs vying for the "Just Desserts" Award. Enjoy selections of confectionery perfection as the night's dessert extraordinaire is crowned. A limited number of upgrades are available into the Mercedes-Benz VIP Experience, stocked full of premium wine selections not available on the general tasting floor. Guests of the Mercedes-Benz Lounge will rub elbows with the Wine & Food Week's special guests, winemakers, culinary judges and authors while enjoying créme de la créme wine selections in their upgraded keepsake glass.

VIP Experience – Mercedes-Benz VIP Lounge and Wine Rendezvous Grand Tasting Combo

Location: The Woodlands Waterway Marriott Hotel & Convention Center
Time: 7:00 – 10:00 PM
Cost: $175.00
Event description: The Mercedes-Benz VIP Premium Lounge rolls out the red carpet to greet guests in swanky style. Wine & Food Week celebrities, wine experts, leading area chefs, authors and food judges flow in and out of the area while all sipping the premium wine selections. All upgraded VIP guests will be greeted with a large keepsake wine glass and top-of-the-line wine selections that aren't on the general tasting floor – all in posh comfort and lounge seating. The Wine Rendezvous Grand Tasting & Chef Showcase has gained a national reputation as being on the "grandest" wine and food events in the country. Attire ranges from business chic to sequins.
Learn more about Wine and Food Week and purchase tickets at www.wineandfoodweek.com.