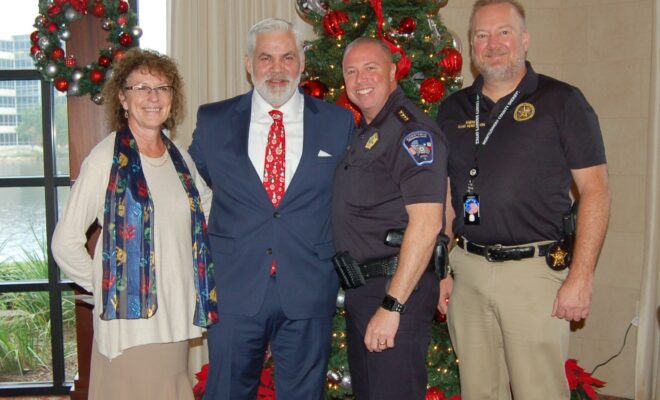 Lifestyle
Pct. 3 Constable Ryan Gable's office Raises over $44,000 to benefit Children's Safe Harbor at Fundraising Breakfast
By |
THE WOODLANDS, TX – It was a sold-out crowd of 273 guests that arrived early in the morning of Dec. 9, 2021 as Montgomery County Pct. 3 Constable Ryan Gable's office hosted its seventh annual fundraising breakfast to benefit Children's Safe Harbor at Truluck's Seafood Steak and Crab House – The Woodlands.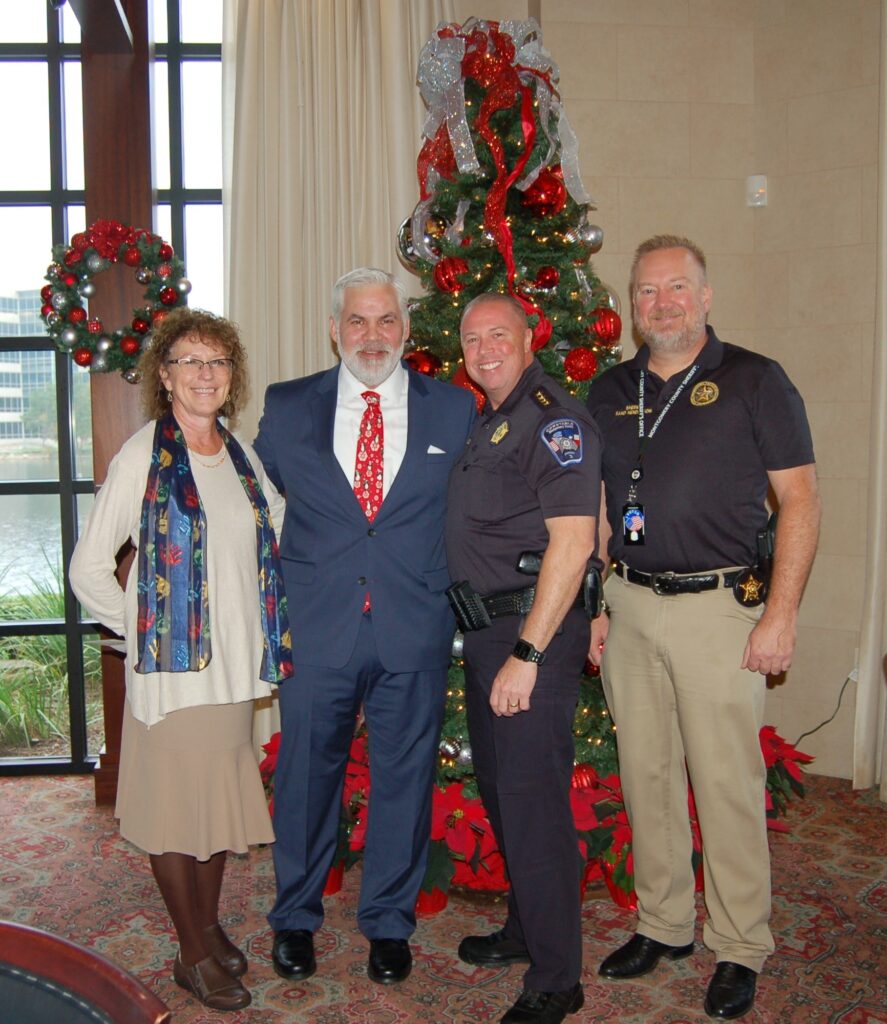 Chris Davis, managing partner of Truluck's – The Woodlands, underwrote the full cost of the breakfast (the food and his staff) so that 100% of the proceeds from each $30 ticket sold went directly to benefit Children's Safe Harbor, which serves child victims of sexual assault, severe physical abuse, trafficking, neglect, and trauma. The fundraising was further boosted by many significant donations, raising a total of $44,124.00, the most ever from the morning event.
Montgomery County District Attorney Brett Ligon kicked off the giving spirit with a presentation of $5,000 for mental health services for child abuse victims and their families. He challenged guests to donate generously to raise a matching contribution. According to executive director Victoria Constance, Ph.D., Children's Safe Harbor currently has an unprecedented 43 families on a waiting list for mental health services.
As Constable Gable addressed the participants in attendance, he stated, "We are in our seventh year of hosting these breakfasts to help support the important work that Children's Safe Harbor provides for the youngest, most vulnerable victims in our community. Chris Davis and his phenomenal team at Truluck's turned out an incredibly delicious meal in their beautiful lake-front restaurant. Their generosity helped to boost the fundraising tremendously and we are thankful for their giving spirit. My office is happy to be a part of an event that supports such a worthwhile cause that works so diligently to help broken kids get the help they need to get through trauma. We are truly blessed to have Children's Safe Harbor in our community."
Brett Ligon, Montgomery County District Attorney, also had the opportunity to speak with those in attendance. As he spoke, his passion filled the room. "The type of work that Children's Safe Harbor does underscores our community's will that children shall and must be protected," said Ligon. "I believe there are two types of warriors, the warriors of the dark and the warriors of the light. The warriors of the dark are the members of our district attorney's office that seek to hold child predators accountable for their horrific actions. The warriors of the light are the women and men of Children's Safe Harbor, who help lift up victims and give them a voice through their investigations, advocacy and mental health program. In our county's courtrooms, the light beats the dark so that sin does not prosper."
"The collaboration of the morning was absolutely incredible!" said Dr. Constance. "The conversations, the passion in the room and the marvelous food, service and beautiful venue of Truluck's all culminated in generous contributions to help make an impact for our children and families during this season of need, light and blessings. Even during the pandemic, our work never stopped. We continue to strive to manifest justice and healing for crimes against children and those who have witnessed horror. We currently have 43 families on a waiting list for our mental health services and trauma-focused care, a waiting list that we have never had of this magnitude before."
"The increasing need for mental health services is the top priority for us currently, so that children and their families can get help and light of healing and justice. We so appreciate the level of support that was raised by so many caring individuals thanks to Constable Ryan Gable, District Attorney Brett Ligon's challenge donation and Truluck's as they hosted an amazing morning."
Children's Safe Harbor is a 501c3 nonprofit corporation. For more information or to donate, visit www.ChildrensSafeHarbor.org.